Kids Christmas Treasure Hunt
Printable Party Game
Are you looking for something fun and different to do with your kids this Christmas Season? Why not challenge them to a Christmas Treasure Hunt with clues, puzzles, riddles, and of course TREASURE!
This printable Christmas game  comes in a ready-to-print download, all you have to do is hide the clues and watch the fun begin.  This is the perfect activity to entertain the kids and do a little something different this Holiday season, it would also work great for a special classroom or youth group activity!
This Christmas game was created to make the hiding location customizable - that means YOU get to choose the hiding locations so this party hunt can be played ANYWHERE!

---
WHAT MAKES THIS KIDS CHRISTMAS
TREASURE HUNT CLUES UNIQUE?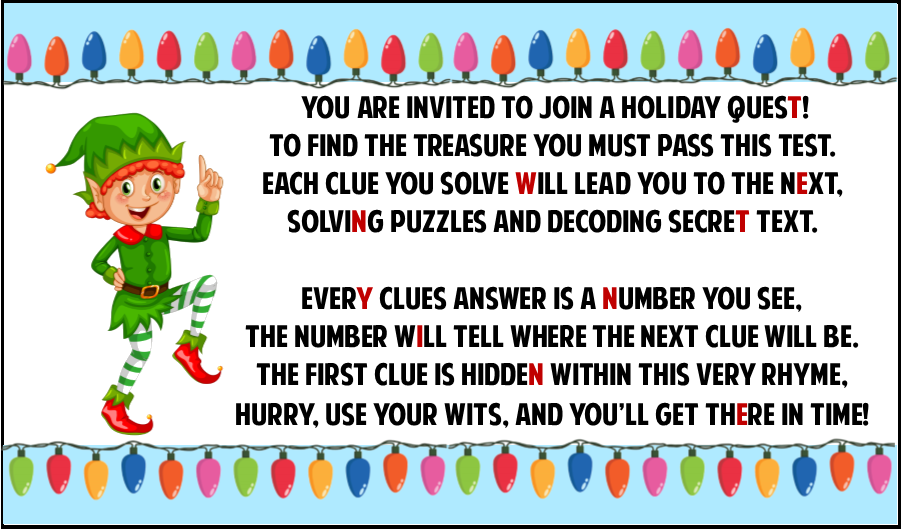 ABOVE SHOWN: SAMPLE CLUE THAT STARTS THE GAME!

Players work together to solve the clues.  Each clue is a fun brainteaser centered around the all things Christmas.  Each clue has a numerical answer - See clue above for example. When players figure out what the answer is they find that number on their clue locator sheet.  The clue locator sheet is numbered 1- 50, and you type in all the hiding locations before the game (you only need 11 hiding places, the rest are all decoys). 
If they answered correctly then the answer number will lead to to a location that has another clue, if they answer incorrectly it will lead them to a decoy spot and a TRY AGAIN card. This continues until they complete all 11 clues and find the YOU WIN card, you can also choose to hide a fun treasure at the end as well.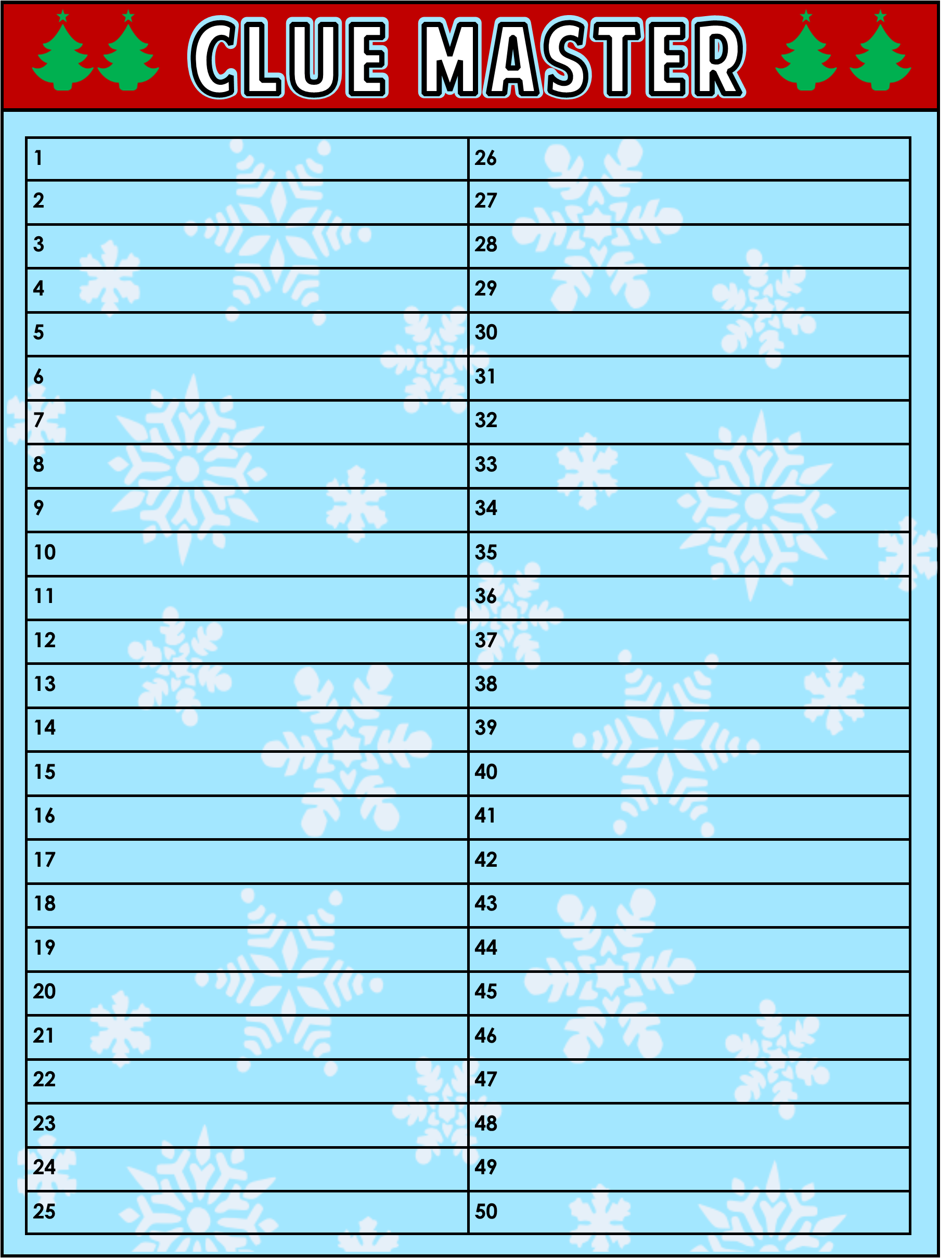 WHAT ARE THE KIDS CHRISTMAS
TREASURE HUNT CLUES LIKE?
The first clue players must determine how many of the Christmas icons are in all four boxes - the answer is four. You will only find four of the images show up in all four of the boxes.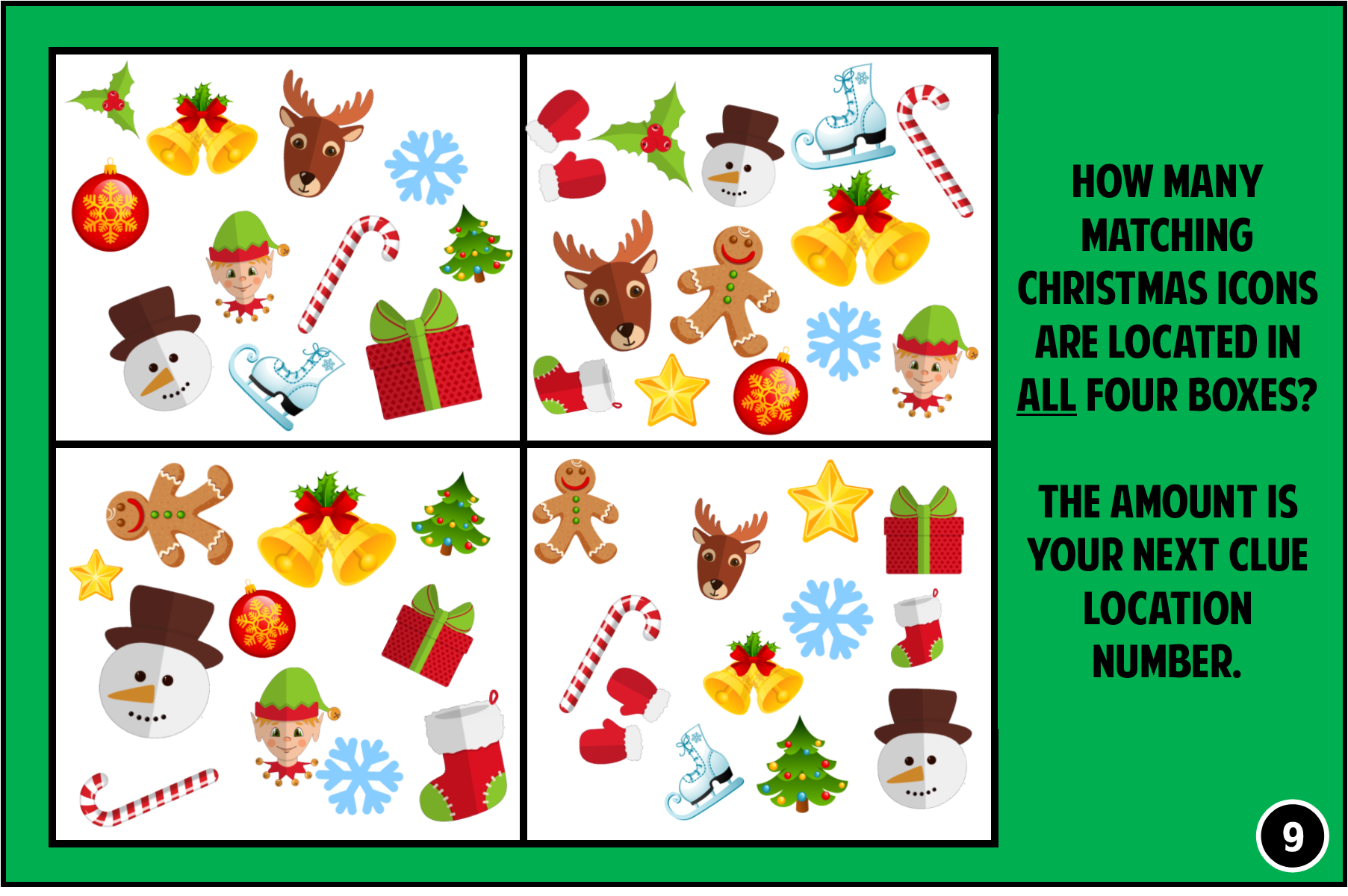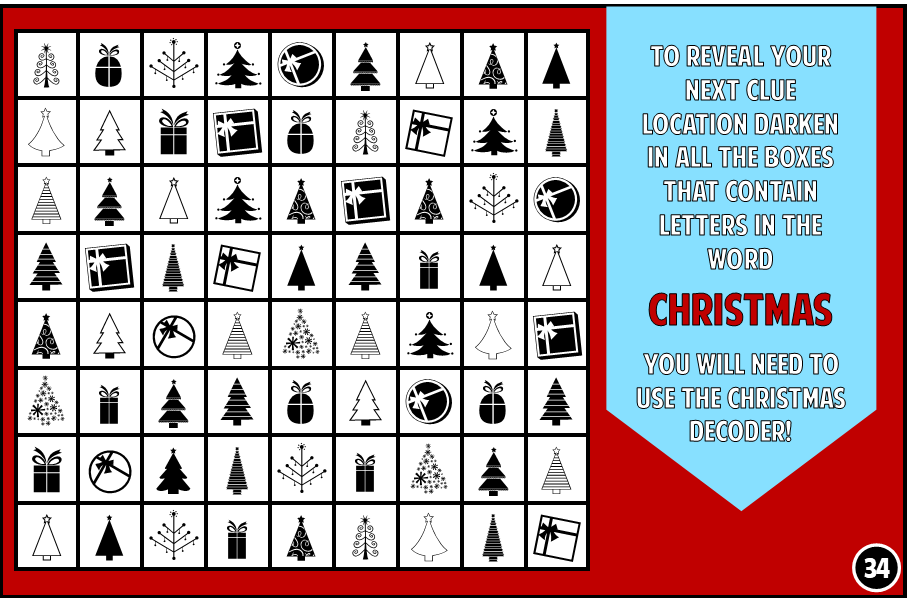 This second sample clue shown above uses the Christmas Decoder (included)
Players must find which symbols are used in the word CHRISTMAS and color them in.  When all the correct symbols are colored in the number 45 will be revealed.  Players then look on their Clue Master to see which location is listed at number 45.  This is where they will find their next clue.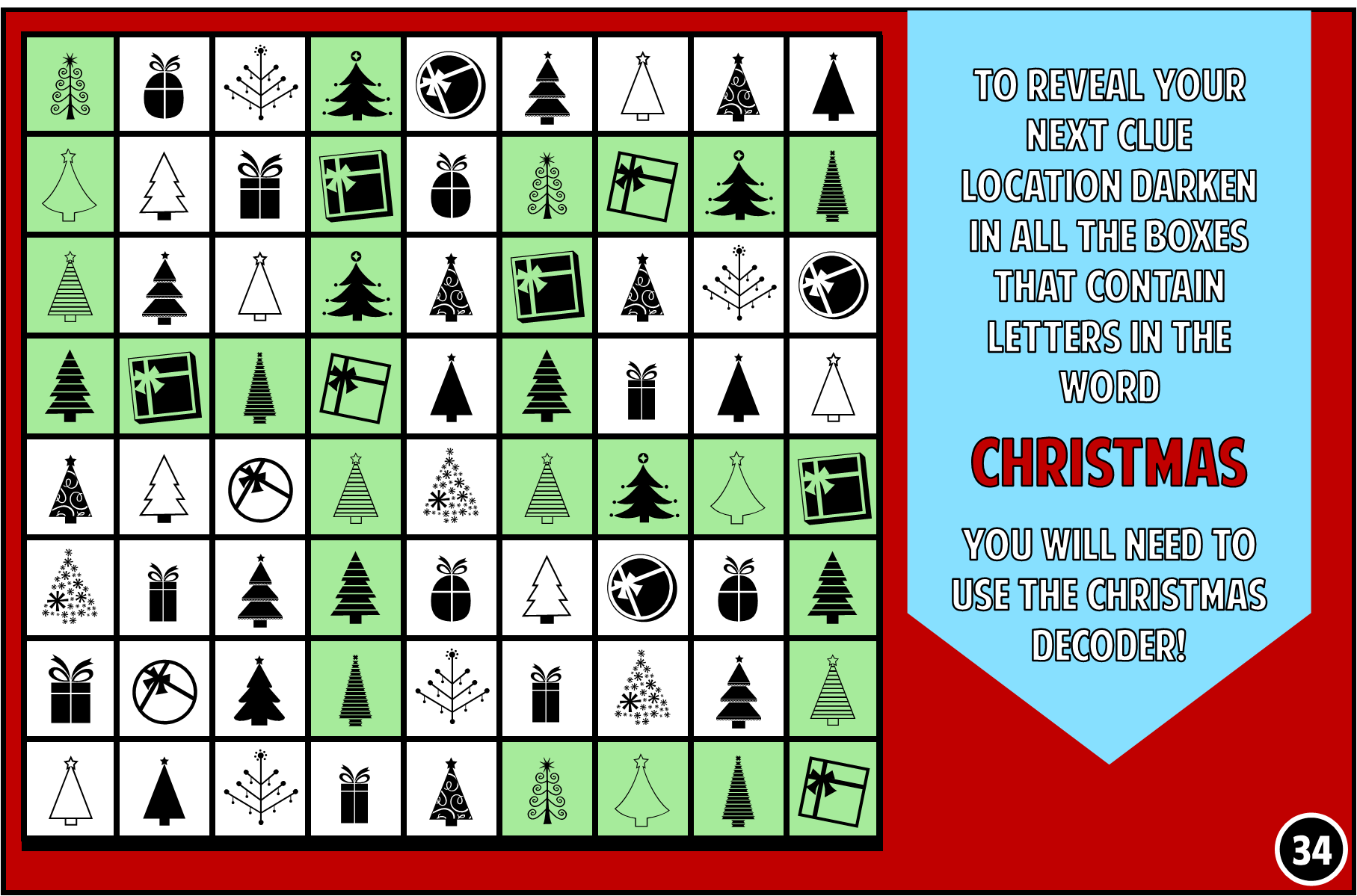 The second one players which of the square blocks is NOT part of the larger image. In the second clue shown players use the decoder skull to place over each colored outline which will reveal letters through the skull eyes. When all the letters are put together it spells out the next clue location number. They will look for that number on there Clue Master sheet and the location written next to it is the place they will find there next clue.


WHO CAN PLAY THE CHRISTMAS TREASURE HUNT?
This Christmas Treasure hunt is perfect for kids 8 and up (but still fun for younger teens) younger kids can often play it with a bit of guidance. We also have an Editable Christmas Treasure Hunt where the clues are a bit easier you might want to check out. 
HOW MANY PLAYERS CAN PLAY THIS GAME?
This printable treasure hunt can be played by one child or a whole group of children.  If you have more than five players you may want to consider trying the competitive version where players are divided into teams to compete to see who can get to the end first.
IS THE CHRISTMAS TREASURE HUNT PLAYED COOPERATIVELY, OR IS IT A COMPETITIVE GAME?
It can be either!  You can have players work together to solve the clues and find the treasure or you can divide them into teams to play against each other.  If you want to play a competitive version the you will need to print out two sets of clues (or more depending on how many teams you have) and print out a separate Clue Master sheet for each team. Then simply change the hiding locations for each team. So for example, though the answer might be 4, each team will have a different location listed under number 4 so that they are not all going to the same place at the same time.
HOW LONG DOES IT TAKE TO COMPLETE THE GAME?
That depends on how long it takes the players to solve and find the clues, on average this takes between 30 minutes to 1 hour.  It also depends on how hard and far apart you hide the clues. 
WHERE CAN THIS TREASURE HUNT BE PLAYED?
ANYWHERE!  Because you decide where the hiding locations are you can play this game anywhere.  In the house, in the yard, at church, in the classroom.  As long as there is enough space for it to be fun then it can be done. 
Order Your Kids Christmas Treasure Hunt

$12.99 - INSTANT DOWNLOAD!
You will receive your game moments after ordering via email.  If you don't see it check in your junk folder it is found there 95% of the time.  The other  5% it is because your email address was entered wrong - so make sure that you double check. You can always contact me with any questions at HappyPartying@gmail.com

---
---
COMPLETE LIST OF PRINTABLE
CHRISTMAS PARTY GAMES
Looking for something fun and different this Holiday Season! Check out our exclusive Thanksgiving & Christmas party game printables.  These printable games make it easy to print and play!!