---
Ultimate Teenage Party Themes!
Looking for the PERFECT theme for your upcoming bash? Search no further  - Inspiration has arrived!
Browse through dozens of our ever-growing list of teen party themes to find the one that is YOU.  
We provide tons of DIY ideas for activities and games for each theme to make sure your event will be unique, memorable, and a total blast - all without breaking the bank!
Teenage PARTY themeS & GAME ideas
The book series that caught the attention of the masses in an epic tale that became an epic show - what an epic theme for your party!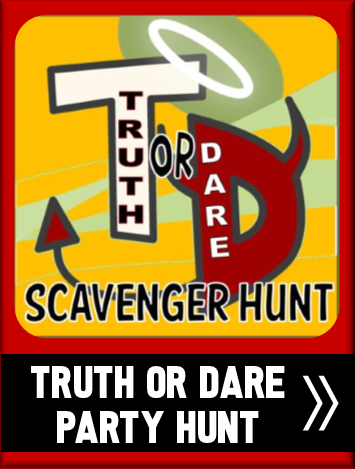 Teams compete to go to different locations and complete a hilarious truth or dare challenges at each destination to score the most points and obtain ultimate glory!

Got Ideas? Want Cash?
Do you have any great teen theme party games or ideas? Share them here and be entered into our monthly contest for $100 CASH!
Check Out These Visitor's Party Ideas
Teen Superhero Party Ideas
How to throw an awesome teen superhero party! I had a superhero party for my 15th birthday, it was AWESOME! I assigned all my friends to be either …
Pink Zombie Party for Girls
I think a pink zombie party would be a unique and fun teen party theme for a girls party, perfect for girls who don't want to be typical. They could …
Visitor Submitted Teenage Party Themes
MOre Teenage Party Themes & IDeas
Hot Teenage Party Themes
Dancing at the Club
Throw an awesome dance party. Rent a hotel conference room or party hall and dance the night away. Have plenty of finger snacks and drinks ready to keep everyone's energy up. Perfect for a teenage girl/ guy party.
Another teenage dance party idea, but this one has a twist. Provide tons of glow in the dark bracelets and necklaces. Borrow, rent, or buy a cool strobe light. Have everyone where bright neon clothes, girls can even wear glow in the dark make-up.
Bon-Fire Party
Know a place that will allow you to have a big bon fire? If yes have a teenage bonfire party. Prepare lots of wood ahead of time to keep the fire burning. Have an array of foods for roasting such as marshmallows and hotdogs. Kick up the music and party the night away.
Wet and Wild Party

At this theme party everyone gets wet! Have tons of cool teenage water games to play. If you have a pool great, if not you can still rock this theme with guys against girls water balloon fights, water gun fights, water balloon dodge ball etc.
Rent a disco ball and get funky with a teenage groovy disco theme party.
Beach Party
Have a local beach? Have a Beach party. Play volleyball, Frisbee ,get wet with all your friends, have a sand castle contest, or just pop on some music and turn it into a teenage beach dance theme party.
MOre Teenage Party Themes & IDeas
Costume Teenage Party Themes
SiFi / Fantasy Theme Party
Everyone dresses up like their favorite fantasy being: vampires, werewolfs, witches, those blue peeps from Avatar. Imagination has no bounds for this creative teenage theme.
Angels & Devils
All the girls dress up like angels, while the guys come as devils. Mix it up with some fun co-ed party games and good music and it will be a celebration to remember.
Consider having a fang-tastic vampire bash! Perfect theme for the Twilight or True Blood fan!
Masquerade
Friends can make and decorate their own mask to show off their personality. Perfect to add a bit of mystery to the night.
Mermaid & Pirate Theme
The girls dress as mermaids and the guys come as pirates. Lots of fun to be had with this party. Watch the pirates of the Caribbean again to get some sea worthy inspiration.
MOre Teenage Party Themes & IDeas
a different place & time
Las Vegas Casino Theme
What happens in Vegas – Stays in Vegas. Invite all your friends to dress up in their glitz and glam and throw an awesome Las Vegas teenage theme party! Pass out chips when they arrive and let them play some cool casino games. Give prizes away at the end of the night to the people that won the most play money.
Mardi Gras Theme
Go wild with a Mardi Gras Celebration . Have plenty of Mardi Gras beads and maybe add a fun truth or dare game to let some wildness out. Dress loud and proud and get ready to celebrate!!
Toga PArty

Wear fun toga's and head pieces and rock out like the ancients with this teenage theme blast from the wayyy past.
Grease 50's Party

If you love the movie why not reenact the fun time of greasers, pink ladies, and poodle skirts with this 50's style theme bash.
Bollywood Party

India's equivalent of Hollywood. Crazy fun in an unusual sort of way, your guests will be talking about it for months.
Somewhere in time theme

Instead of choosing just one time period why not let your guests choose their favorite time period . You could have everyone take the online quiz at facebook "which time period do you belong in" and dress the part.
Bring on the tiki torches, grass skirts, leis, and limbo! Don't forget to have a delicious Hawaiian feast. We have the perfect teenage party activities and games for a luah.
Groovy 60's theme

Have a groovy time by having everyone dress as hippies and flower children.
Rock out the party with 80's nostalgia. Big hair, bright colors, punk rockers, leggings and bangle bracelets. Loads of Fun and dancing!
Roaring 20's Celebration

Go back in time with flapper girls and perfectly groomed mustaches. Hot trot the night away with this funky teenage theme.
MOre Teenage Party Themes & IDeas
Unique Teen Theme Ideas
Have tons of real candy for your guests to eat. Decorate with giant oversized candy props (easy to make on your own) and have a complete sugar fest.
Game Night Theme

Great idea for slumber parties. Have tons of teenage board games and party games. Play, eat candy, laugh and have tons of fun.
Get all your friends together and go camping for the night. Dance around the fire, roast marshmallows, play some fun camping games, and just hang out under the stars.
See how far your friends will go with gross out challenges and funny games and challenges.
Sumo wrestling bash

Rent some sumo wrestling inflatable costumes and arena if available in your area. You and your friends will have a blast wrestling sumo style.
Do you have a thing for horror films? Love the rush of being scared out of your wits? Have a teenage Scare Fest ! This party is best if thrown at night. Rent some scary movies, play some scary party games. Have fun consequences for whoever screams the most.
Teenage Drama queen theme

Do you love movies, films, acting? Have a drama queen (or drama kings and queens) party. Play games involving acting, movies, famous actresses and actors. Have each of your food items match a different famous movie.
MOre Teenage Party Themes & IDeas
glitz & Glam Teen Themes
Fashion Designer / Project Runway 

Are you into designer labels? Celebrate your favorite designers by throwing a Designer themed party.
Roll out the red carpet for all your glammed up friends. Dress up as your favorite actor or actress or just come as a future star – Yourself : ).
Oscar Night

If your life was a movie who out of your friends would win an Oscar and for what.  Create fun and funny category's and let your friends vote. Have an award show to present trophies to the winners. You can find trophies cheap at orientaltrading.com
MOre Teenage Party Themes & IDeas
Pop Culture Teen Themes
Have a favorite movie? Create your theme around it.
American Idol

Perfect if you and your friends like to stretch your vocal cords. Get a Karaoke machine, set up a stage and let the contest begin.
Glee Party

Divide your guest into teams and have everyone create and put on a music number. Judge teams on dancing, singing, creativity, and style.
Where all a little mad here. Nothing is as it seems at a Wonderland Bash. 
MOre Teenage Party Themes & IDeas
Classic Themes
Under the Sea

Decorate your party area with fun under the sea items and decorations. Have the lights turned down and use a disco ball to splash dancing lights all over the walls.   Have themed based food and drinks. Invite your friends to dance and party the night away. Add some fun under the sea games throw in some extra fun.
Exotic Jungle

It's a jungle out there. Decorate your party like the jungle and invite all your friends to come and party like animals.
Fairytale Theme Party

Once upon a time there was this awesome fairy tale party…. And it was YOURS!
Who did this gruesome crime? Invite your friends over and see if you have what it takes to solve the crime. There are tons of teenage murder myster kits that you can find online. Find one that suits your style and plan for an unforgetable fun night.
A pool party is one of the most time tested teenage party themes.If you have a pool and the weather is right then you have a party. Put on some music, provide some food and drinks and the party will take care of itself.
Spa Party

It's your birthday, why not pamper yourself in luxury!


Make-over Party

Invite all your girlfriends over to try out new looks and hairstyles.
Invite all your friends to come over and spend the night, or even better get a hotel room for the big night or camp outside.
Truth or Dare Party

Have a blast playing the ever loved classic truth or dare. Check out our awesome list of teenage truth or dare questions to get some fun ideas for truth or dares, plus some fun games.
MOre Teenage Party Themes & IDeas
And here are even more ideas
Bowling Party ~ even better if you go cosmic bowling at night.

Skating Rink
Amusement Park
Go Carting
Arcade
Go to the Movies
Mall Party – Take all your friends to the mall.
Hotel Party Rent a hotel room for the night to add a fun twist to your slumber party.
Favorite Restaurant
Check Out Our Awesome list of Teen Party Game Ideas