miles from tomorrowland
party games & ideas

-guest submission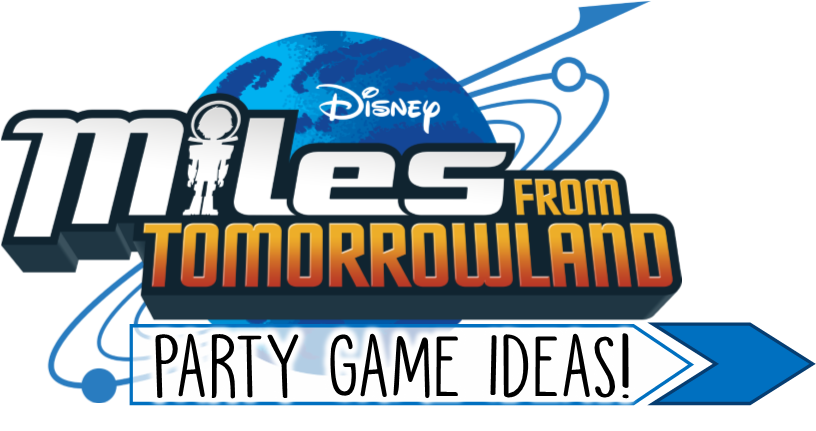 Disney's space show Miles from Tomorrowland is about a boy, his sister, and his scientist parents. They travel space and learn, all while finding cool gadgets and trying to get the Tomorrowland Transit working. The show is a hit with kids. Throwing a space themed party can be fun, but if the birthday child likes Miles from Tomorrowland, the show can serve as an awesome party theme. To throw a great party, here are some Miles from Tomorrowland games to play.

---
MILES FROM TOMORROWLAND PARTY GAMES & IDEAS
build the tomorrowland transit
Miles and his family have a duty to build a transit system so people can travel the cosmos. Get the engineering minds of those kids going with this building activity.
Purchase foam blocks and spheres from the craft store. Paint them before the guests arrive. If the guests are older, consider having the guests paint the spheres as planets so they can decorate as they choose.
Provide toothpicks, paperclips, and string.
Set blocks out in a straight line. In a center block, have a big black foam sphere sticking up.
The objective is to use the blocks as bases and connect the planet spheres with toothpicks and string to stay floating in space without getting near the black hole. Little kids can build around the black hole. Encourage older kids to try and build above the black hole. Take a picture of the finished piece.
---
MILES FROM TOMORROWLAND PARTY GAMES & IDEAS
Make your own adventurer
Cut out several large circles of colored construction paper. Some circles can be skin colors while some should be more varied. Provide markers and colored yard. Have each guest customize the paper as they choose, creating their own galactic adventurer.
Do they want to have a space helmet or be a green Martian? Does their character wear glasses or have three eyes?
With supervision, cut out two holes for eyes which will allow the children to see through. Attach each face to a wooden dowel. Now each kid can transform into the galactic crusader of his or her choice.

---
MILES FROM TOMORROWLAND PARTY GAMES & IDEAS
space booth
Assemble a variety of different space props and use them in a fun photo booth for the guests. Some ideas include spaceship toys, hula-hoops, squirt guns, and fun cut outs with themed phrases on it like "Blastastic!" or "Superstellar!" Guests can wear their adventure masks in the booth if they choose. Give the photo booth a lot of options so the pictures can be varied.

---
MILES FROM TOMORROWLAND PARTY GAMES & IDEAS
space bags
Give each child a foam bowl and string. With careful supervision, cut four holes into each bowl and attach strings at one central point several inches above the bowl.  Place bowl on a large piece of tissue paper and pull all edges up where the strings knot. Leave a space an inch or two wide and place a piece of tape around the neck to hold it in place. Now you have a string held paper space bag you can fill with goodies found throughout the party.
---
MILES FROM TOMORROWLAND PARTY GAMES & IDEAS
Ring the planet
Set up a big beach ball in an open space. Have each guest stand a bit from the ball and attempt to throw a hula-hoop around the beach ball. This can also be a fun educational moment. Tell each guest that some planets have rings because ice and rock get caught in orbit around it. The hula hoop is the ring in this case and has to be around a planet to stay where it is in space. Whoever can ring the planet gets another prize added to their goody space bag.

---
MILES FROM TOMORROWLAND PARTY GAMES & IDEAS
find gadfly
Gadfly is the antagonist of Miles and his family. Gadfly is out to search for tech and steal it. Set up a table with a spinner on it. Each guest is handed out a single playing card by an adult and must memorize the color. If the card is black (and all but one will be), they are an adventurer and need to find out who is hiding Gadfly. The one player with the red card is Gadfly. Spin the spinner to see who will go. They can choose one person to guess. If they get it right, they win. If they don't, shuffle the cards again and spin.
---
MILES FROM TOMORROWLAND PARTY GAMES & IDEAS
put the tech together
Miles loves finding gadgets. Print onto a large schematic of three gadgets online. Adhere those printed pieces to cardboard. Prepare by cutting puzzle pieces from each of the three gadgets and mark each piece with a dot of one of three colors. Split guests into three groups and have them group the pieces by color and assemble the puzzle. First team to fully assemble their gadget wins.

---
MILES FROM TOMORROWLAND PARTY GAMES & IDEAS
catch the space traveler!
This game is a good alternative to having a piñata. Instead, pick one child to grab a handful of candy. The other children have hula-hoops and must catch the alien with the hula hoop. In order to escape the hoop, the alien can throw his or her handful of candy and be released. Then a new person is picked to be the alien. Then grab a handful of candy and begin again. Now there is no messy cleanup of piñata pieces and every kid gets a turn.

---
MILES FROM TOMORROWLAND PARTY GAMES & IDEAS
space rocks
Split the guests into groups. Pick one supervisor or adult to be Gadfly. The space rocks can be melted down as metal for some new tech gadgets and Gadfly want to stop this.
Each child must run to a bucket filled with space rocks (pieces of candy wrapped in tin foil), grab one and try to race it back to a second child, that child then has to throw it into a bucket a close distance away. For very young children, the distance can be very close. Gadfly can, at any point, touch a child and make them drop their space rock. The child has to pick up their space rock, run back to the bucket, touch the bucket, and try again.
Whoever has the most pieces wins- and since the space rocks are pieces of candy wrapped in tin foil or colored tissue paper, everyone wins!

---
MILES FROM TOMORROWLAND PARTY GAMES & IDEAS
Miles saves his family from the asteroid
The Tomorrowland family is going to be pelted by asteroids while riding through space. This game works the best in the middle of summer or when it warm outside.

For this game, prepare by filling up a large bucket with water balloons. One child has to escape the asteroids by running from one point to the other point. The other children can grab balloons one at a time and attempt to hit the runner with the water balloons. This is a great way to get the kids cooled off at the end of a wild party.
Miles from Tomorrowland is an energetic, high-tech space theme that can lend itself to a wide variety of fun foods and decorations. The show is all about space and family, so there are a huge number of great ideas to bring to the themed party. With a little planning and a trip or two to the local craft store, this party is sure to be "superstellar."
---