---
Art/ Paint Party Games & printables

Throwing your child an art/ paint party has never been easier with our creative games, ideas, and paint /art party supplies!
Stepping "outside the box" of a traditional birthday party has become more tedious than enjoyable. Finding things to suite the "out of the box" ideas that either you or your little one has envisioned can be…we'll say complicated. That's why we are here. So if you are planning a Paint Birthday party for your little artist, our invitations, printables, and games will help to accomplish the vision for your theme. So please lets us do some of your handy work, you just enjoy the smile on their little faces. 
For a paint party you will need to prepare a little. It can off pretty easy by choosing a designated area for the activities to occur. Clean up will be much easier if you cover most areas in plastic sheeting or cheap plastic table covers that way all you have to do is gather them up and throw them away. Now on to the fun stuff.

Paint / art PARTY GAMES & IDEAS
picture me
This activity will help each little artist to understand the meaning of group effort. Have all the participant's gather in a circle. For each participant provide a piece of paper and something to press down on. In the middle have pens, pencils, and colored pencils.
Have each player draw a circle or oval to represent their face and write their name at the top of the page. Next they all pass their paper to the left and everyone draws that persons eyes. They all pass their page to the left again and everyone adds a nose. It continues this way as players keep passing and everyone adds another feature to each persons portrait.
 Everyone gets to keep their portrait of themselves at the end.  A portrait drawn by all their friends. 

---
ART / PAINT PARTY GAMES & IDEAS
frozen & posin'
This game will take four people at a time. Two participants will be the ones posing and the other two will be the frozen. The audience will shout out a scene from a painting, movie or an everyday activity. You can even print out some famous pieces of art beforehand that the posers can use for reference.

Now it is the job of the posers to put the frozen in a position to act out what has been requested. They will mover their arms and legs for them, sit them down, move their heads…etc. This game is very entertaining, especially when parents are the frozen ones.

---
paint / art PARTY GAMES & IDEAS
paint balloon masterpiece
Stretch a white sheet between two trees, poles, or something similar in your back yard.  Make sure there is nothing in the surrounding area that you don't want to get paint on.
Fill a bunch of water balloons full of colored water. up  Have each kid line up and take take turns throwing balloons at the sheet.  When they are done a master piece will have been created!  Guest of Honor can keep it as a special keepsake. 

---
ART / PAINT PARTY GAMES & IDEAS
FAce painting
This classic never fails in the fun department. Get a face painting pallet or any face paint you can gather up and let the kids paint each other's faces. Most creative takes a small paint set home with them. 

Another idea is to choose a few simple to learn designs and teach the children how to recreate them on another persons face.  Perhaps teach the children how to create a panda bear face, or Princess, or something fierce like a lion.  Learn yourself using youtube videos and then share the knowledge.

---
paint / art PARTY GAMES & IDEAS
PAint wars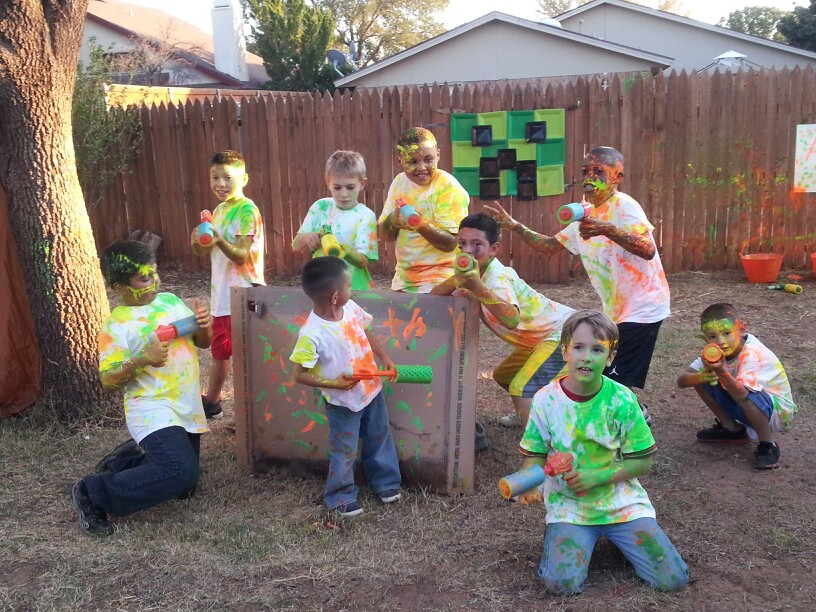 This is one you will have to prepare your guests for. Note in your invitation that they will need to wear clothes they can get very messy and bring a change of clothes if they like. You will need plenty of paint, a water gun for each guest, eye protection, and an area you can get messy.
Fill each water gun with paint (watered down), use a variety of colors. Divide players into teams and provide each team a different color.   On the start of go declare war.  The object is to get your teams color on as much and as many other players as possible.  It's a fantastically fun mess to end your party with.

---
ART / PAINT PARTY GAMES & IDEAS
bubble painting
Provide each guest with a sturdy piece of white art paper, or poster. Mix some paint with the bubbles ( create a different color in each bottle of bubbles) and let kids blow onto paper to create their very own bubble art.

This concept could also be used to create fun t-shirt keepsakes.
---
paint / art PARTY GAMES & IDEAS
in the eye of the beholder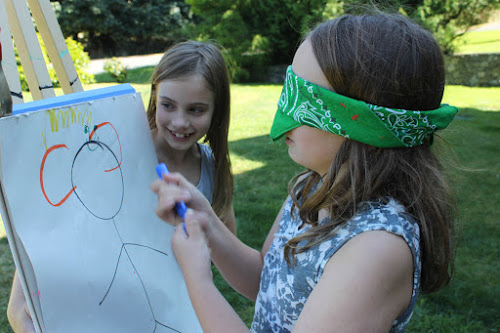 Divide guests into teams of two and blindfold one from each team. Sit the blindfolded artist in front of an easel or table that is set up with art supplies (paint, markers, crayons, etc).

Show a picture or object to the team members who are not blindfolded. That player has to describe the item to the blindfolded player.  The blindfolded artist is the only one allowed to touch the art supplies, and must try to recreate the image going only by their teammates verbal directions.The two must work together to recreate the picture the best they can in five minutes.
When time is up, remove the blindfolds and look at the creations. The players switch places and a new object is used for the second round. 

---
art / paint party games & IDeas
pAint by number relay race!
Print out two copies of a simple paint-by-number image, poster-size is best.  Divide players into two teams and assign each player a color.  Make sure that the image involves enough colors in it that each player on the team gets one.  The image on the right has five for example, so it would be perfect for ten players - 5 for each of the two images.

Provide a paint brush and a color to each child, on the start of go the first player from each team runs to their teams paint-by-number, paints (have paint waiting at the poster) their sections completely (at least 90%) and then runs back to their team and tags the next player who then does the same.

The first team to complete their painting wins! 
---
paint / art PARTY GAMES & IDEAS
Rock Art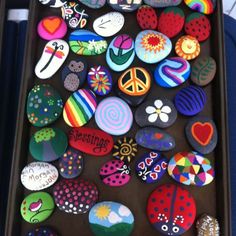 Collect or purchase a bunch of medium sized smooth river rocks and let the guest paint them with designs, messages, or whatever inspires them.

Now have the guest disperse their masterpieces in a park or hiking area so that it can bring a smile to the faces of those that stumble across them.
---
ART / PAINT PARTY GAMES & IDEAS
pAint can favor holders
Collect some empty paint cans from your local home improvement store - you will need one for each guest.  

Set up a station for players to decorate their cans however they want using paint, markers, stickers, feathers, buttons, etc.  

Later fill them with your chosen goodies and party favors and let players take them home as a keepsake.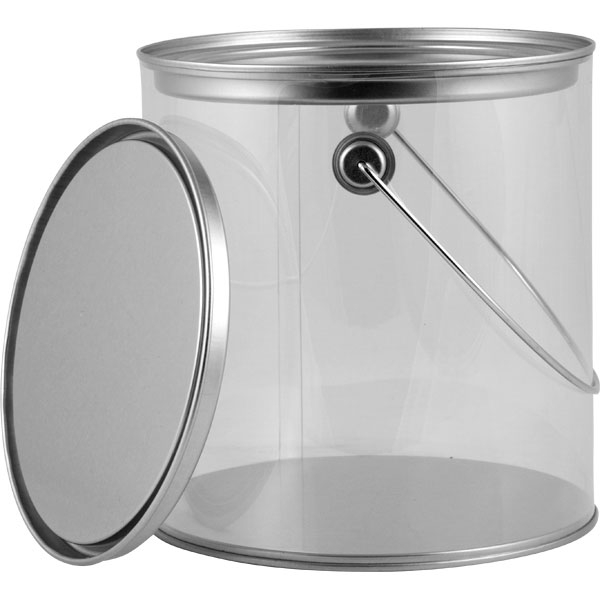 Printable Paint party invitations & Party set!
ART / PAINT PARTY Supplies printables
Printable personalized coloring sheets
Get your party started with these adorable personalized coloring pages perfect for those young and young at heart at your child's Art party.  When young guest arrive this can be a great way to coax out the artist in them and get them in the mood for the rest of the party.  Have a space set up with these coloring pages and crayons so that each guest can color their own.  You might even have some adults join in the coloring fun because, after all, who doesn't like to color?  
HOW DOES IT WORK?
This coloring sheets arrives via email within moments. Open the file in adobe reader and type in your message.  You can then print as many as you need for your event! 
HOW TO GET YOURS?
Get your Instant Download for $1.50.This includes BOTH boy and girl files. Get Yours Now! 
---
ART / PAINT PARTY Supplies printables
Printable personalized PAint PArty Invitations
Your choice between our two Art / Paint party editable invitations. This Let's Paint invitation is ready for Instant Download. Use Adobe Reader to replace default party details with your own then print out as many as you like!
Prints 5x7
Prints 2 Per Page
Print As Many As You Need for $5.99!
Your printable invitations will arrive within minutes in a ready-to-print PDF file.  This is a digital purchase - No physical product will be mailed.  If you do not see it in your email please check your junk folder before you contact us - that is the usual culprit. If you have any questions or feedback we would love to hear from you!  Contact  Us At: HappyPartying@gmail.com
---
ART / PAINT PARTY Supplies printables
COMPLETE Printable PAint PArty Supplies Kit!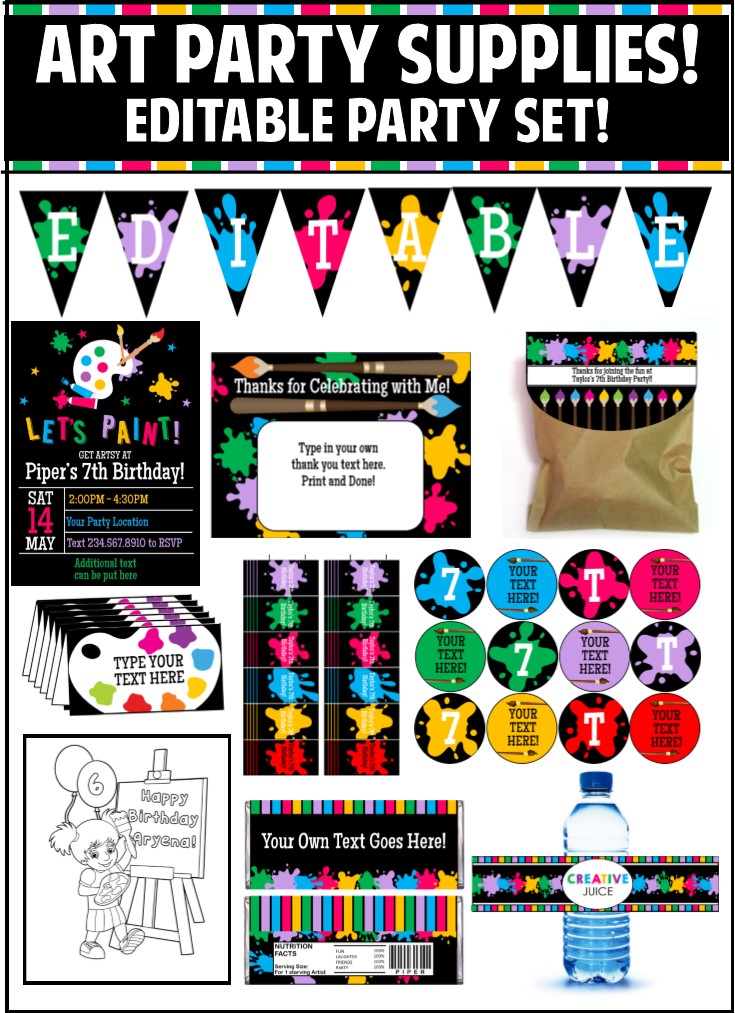 COMPLETE SET! EVERYTHING YOU NEED IN ONE EASY PERSONALIZED SET!
INSTANT DOWNLOAD! $12.99
Finding paint party supplies isn't the easiest thing to do. I created these fun printable paint party supplies to make throwing your child's dream party a little bit easier. From invitations to a party banner, this set comes with all the decorations. Purchase plates and utensils in matching solid colors from your local dollar store and you are set to paint and party!
Your printable party set will arrive within minutes in a ready-to-print PDF file.  This is a digital purchase - No physical product will be mailed.  If you do not see it in your email please check your junk folder before you contact us - that is the usual culprit. If you have any questions or feedback we would love to hear from you!  Contact  Us At: HappyPartying@gmail.com
---