---
Christmas movie trivia
Printable treasure hunt
Looking for the perfect party game to play with your friends and family this Christmas season - our Christmas Movie Trivia Treasure Hunt is just the ticket! Test your knowledge of your favorite classic Christmas movies (The Grinch, Elf, Griswold's Christmas Vacation, etc.)  with fun and engaging puzzles and challenge - each puzzles answer leads to the hiding location of the next clue until all 12 challenges are solved and players find the Winner's Ticket!
Players can be divided into teams to challenge each other or they can all play cooperatively sharing their knowledge of these classics. 
TIME: Around 1 hour
AGE: 10-99 (see our Christmas hunt for the younger crowd)
PLAY:  You decide the hiding locations so you can play anywhere!
How to play the Christmas Movie Trivia Treasure hunt game?
In most treasure hunt players answer a clue and the answer leads to the next clue location. It is the same in this hunt, but one of the unique qualities of this Christmas movie printable treasure hunt is that you decide where the clue locations are.  

How Does the game work?
This hunt includes a Clue Master, which is an editable list of 58 clue locations that YOU fill in with  possible location where clues may be hidden in the area you chose to play the game in. NOTE: There are alternative ways to play if you don't have 58 hiding locations.
This hunt comes with 12 clues that players must solve to find the Winner's Ticket. These clues have over 48 Christmas Movie trivia questions and involve fun and unique puzzles that they must be utilized for! 
Each answer for each challenge puzzle is a number, when a team determines the answer they look that number up on the Christmas Clue Master and the location written next to it is where they will find their next clue - if they are correct of course. (you will fill this out beforehand and hide clues accordingly)  If they are wrong they will find instead a TRY AGAIN card.
christmas movie trivia treasure hunt game
clue samples
Each of these puzzles are very different from one another, as are the remaining 8 puzzles in the game - but what they all have in common is that their answer is a number. Once players have that number they can look it up on the Christmas Clue Master and know where to look for their next puzzle.
For example in the clue below players would simply find and mark out all the numbers that are answers to the clues on the right. The remaining number is the answer.  So if for example the answer was 27 (it isn't)  Players would look for their next clue in the location marked on the Clue Master as number 27 and then go to that location to discover the next clue you have hidden for them there.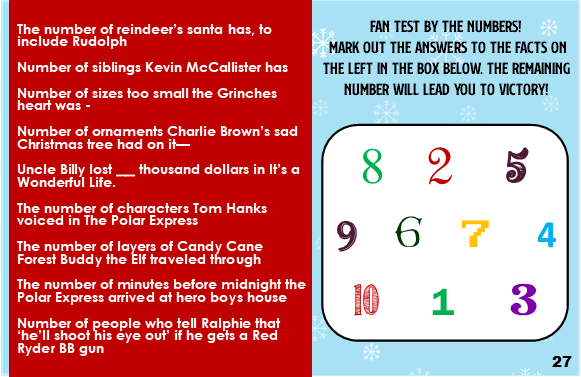 So how easy is it to set up and play the christmas movie trivia treasure hunt game?
1. Decide where you want to host your hunt.
2. Choose 58 different places you can hide clues throughout that playing area. 12 will be places that you will hide actual clues, you will hide TRY AGAIN token in other 36 places. IF you do not want to use 58 different hiding locations there are multiple alternatives included in our HOST GUIDE. 
3. Open the CLUE MASTER file and type in the locations in the 58 spaces. You can also choose to write them in, it's up to you. 
4. Print and out the file GAME CHALLENGES and cut out the 12 clues and the YOU WIN ticket.
5. Determine what you want as a treasure.  This could be anything to include bragging rights.  
6. Hide all the clues. Each clue has a number in the right hand corner. This will tell you where to hide the clue.  SO if you wrote down MAILBOX next to #4 on the CLUE MASTER then the clue with the #4 in the right hand corner will be hidden in the mailbox. 
7. Hide the treasure in the same location as you do the YOU WIN ticket. 
8. Give the first clue (the one with the STAR in the right hand corner) along with the players CLUE MASTER to the players and let the fun begin.
WHEN PLAYING WITH MULTIPLE TEAMS: As far as teams go, you can play in one big team or divide players into smaller teams.  For each team you will want to print out a separate set of the 22 clues and a separate Clue Master sheet. The reason for this is so that teams aren't following each other to the clues and the game gets spread out. For each team you create a separate Clue Master sheet and change the hiding places for the clues (hiding their set of clues accordingly) you can leave the TRY AGAIN token in the same spots and have teams share those because there is a much less chance of players getting the wrong answer at the same time. The first team to complete the hunt and find the 'YOU WIN' card wins!
Commonly asked questions about the
christmas movie trivia treasure hunt
What age range is it for?  I would say between the ages of 10 and up.  The groups that I tested with were between the ages of 10 and 48.  Some of the clues may be too difficult for younger players, but if they are with a team with older kids then it could work fine. 

How long does the hunt take to play?  This really depends on your group, how hard the hiding places are, and how spread out the hunt is (some people play them across the neighborhood). I would say on average an hour - but it really depends.
What should I print on?  You can print on regular paper, some choose to print on card stock because it creates a sturdier product. It does need to be printed in color.  All pieces come in high resolution dpi. 
What program do I need to open this? All the files are sent in PDF's so you will need adobe reader, which you probably already have - if not you can download it for free at adobe.com
Once I order how long does it take to receive? This is an instant download - once you order you should receive an email with 2 minutes with your instant download link. If you have any problems downloading it please email me at HappyPartying@gmail.com
What all is included in the game?
The following is included in your Christmas Movie Trivia Treasure Hunt;

GET your CHristmas movie hunt NOW!
Instant download 13.99!
Your printable game will arrive within minutes in printable PDF files.  This is a digital purchase - No physical product will be mailed.  If you do not see it in your email please check your junk folder before you contact us - that is the usual culprit. If you have any questions or feedback we would love to hear from you!  Contact us at: HappyPartying@gmail.com

---
COMPLETE LIST OF THANKSGIVING &
CHRISTMAS printable PARTY GAMES
Looking for something fun and different this Holiday Season! Check out our exclusive Thanksgiving & Christmas party game printables.  These printable games make it easy to print and play!!