---
Totally Awesome
80's theme party ideas!!

The 80's was a very unique era of time. It was full of loud colors, extreme fashion, sky high hair, and forever defining music. To throw an 80's theme party, you'll want to include as many 80's nostalgic ideas and items as you can. There are tons of fun ideas to help you make your theme party truly memorable and tons of fun.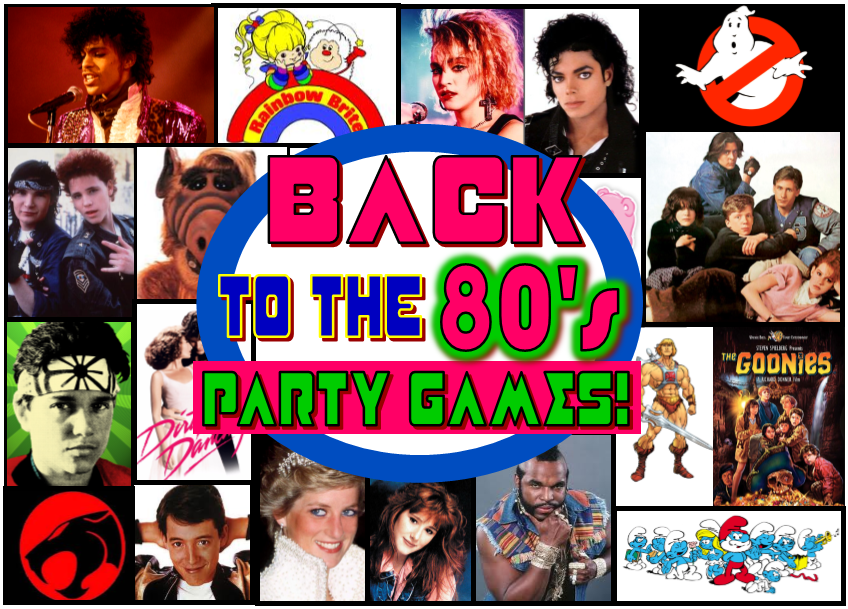 MAKE SURE TO CHECK OUT OUR PRINTABLE 80'S PARTY INVITATIONS & FAVORS!
---
80'S THEME PARTY GAMES & IDEAS
IT ALL STARTS WITH THE MUSIC!
The 80's were defined by its music. Above all else, if you are planning on throwing this theme party you will need to buy or put together an awesomely 80's playlist. Make sure you include some hits from the famous music icons that ruled this decade!
Michael Jackson

Madonna

Airsupply

Prince

Tiffany

U2

The Police

Aerosmith

R.E.M

Bon Jovi

Whitney Houston

Tina Turner
80'S THEME PARTY GAMES & IDEAS
TOTALLY 80'S song picture scramble
This printable game can be played with as few or as many players as you want because there are five different ways to play.

Players compete to combine cards to create names of popular 32 hit 80's  songs. For example the cards below create the song:


I LOVE ROCK N' ROLL


You can play as teams or individuals, whatever is best for your group.
---
80'S THEME PARTY GAMES & IDEAS
totally 80's trivia treasure hunt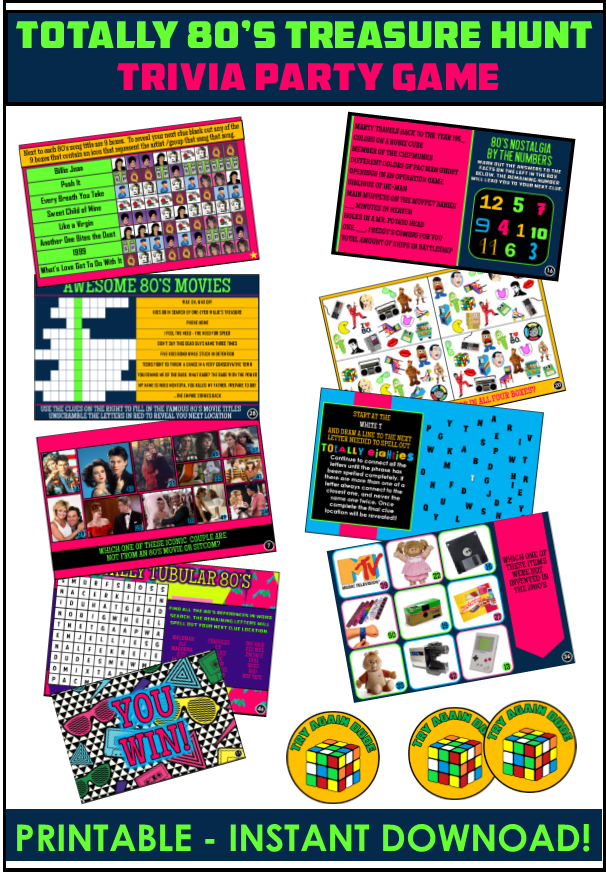 Our printable Totally 80's Trivia Treasure Hunt game challenges your guests to solve eight awesome 80's clues.  Players divide into teams and tries to be the first one to find the You Win card.  Clues are fun and interesting and come in full color high resolution PDF file.  
---
80'S THEME PARTY GAMES & IDEAS
GOTTA DRESS TOTALLY RAD!
The next best part of having an 80's party is dressing the part. Make sure to invite all your guests to put together their best 80's outfits. There are tons of fashion fads that scream 80's: legwarmers, spandex, dark sun glasses, side ponytails, high tops, excessive rubber bracelets, fingerless gloves, male earrings, shoulder pads…. The list goes on and on. Check out only80s.com for a fun list.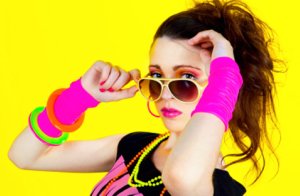 To encourage guests to go all out with their wardrobe, offer fun prizes for:
Loudest Make up

funkiest outfit

Biggest Hair

Most rubber bracelets
Try to come up with some cool categories of your own! For prizes I suggest staying with the 80's theme. Consider Rubik's Cubes, 80's buttons, the Twister game, fun 80's movie DVDs, etc…

---
80'S THEME PARTY GAMES & IDEAS
80'S CONTEST IDEAS
Let your guests show off their funky 80's skills by having some nostalgic talent contests at your party. Some fun ideas include:
Break Dancing Contest

Lip-syncing Contest

Air-guitar Contest

Moon-walking Contest

Rubik's cube contest
---
80'S THEME PARTY GAMES & IDEAS
pin the glove on michael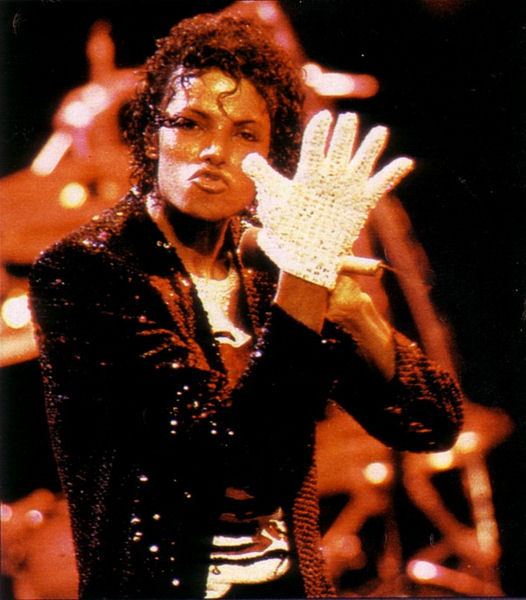 This is a D.I.Y theme party game to celebrate the King of Pop, and definitely the King of the eighties! You'll need an iconic poster of Michael Jackson that has a close up of the hand. Check out these Michael Jackson posters from amazon.com.
To create the sequined gloves for pinning, trace a copy of the sequined glove onto a piece of paper, make copies for each guest onto card stock paper, glue on sequins or glitter, and have fun! Have a blast blindfolding each player and letting them try and tape their glove onto Michael's without peeking. Great nostalgic fun!

---
80'S THEME PARTY GAMES & IDEAS
80's candy Name game
Our printable Candy Name Game challenges your guests to remember their favorite 80's candy with a fun word play challenge.  Would a candy by any other name taste the same?  I don't know about that, but your guest will be given an alternative name to 12 different candies and must come up with the correct candy name to score.  Player who answers the most correct wins.
Game sheets come two per page, answer sheet is included.  This game is ready to PRINT & PLAY for your upcoming 80's Party.

Pop Rocks :

Wouldn't be the same if they were called "Exploding Stones"

Nerds :

Wouldn't be the same if they were called " Dorks"

Now and Later:  

Wouldn't be the same if they were called " Immediately or in a Whiles"

Pixie Stix:  

Wouldn't be the same if they were called " fairy twigs"

Jawbreakers  

: Wouldn't be the same if they were called "Mouthcrackers"

Fun Dip:  

Wouldn't be the same if they were called "Amusing Dunk"

Lemonheads:  

Wouldn't be the same if they were called "Sourbrains"
INSTANT DOWNLOAD $1.99
---
80'S THEME PARTY GAMES & IDEAS
classic 80's movies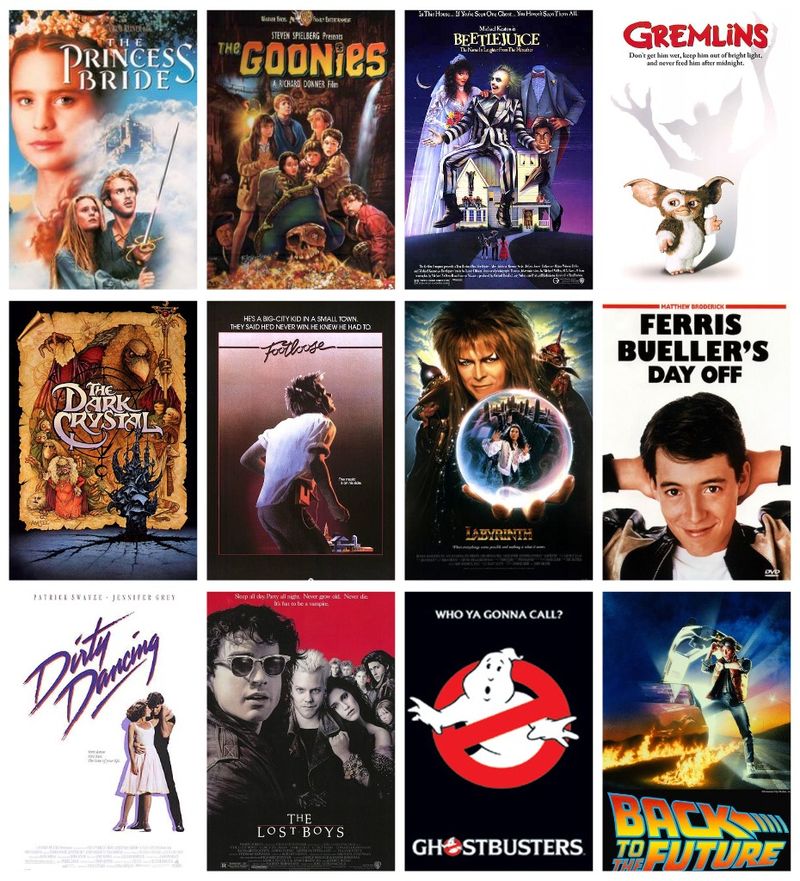 Why not have some iconic movies from this decade playing for your guests? Consider some of these classics:
16 Candles

Ferris Bueller's Day Off

Revenge of the Nerds

Breakfast Club

Police Academy

Ghost Busters

Goonies
---
80'S THEME PARTY GAMES & IDEAS
80's scene it game
You can test your knowledge of this iconic decade by challenging your friends to the 80's edition of the Scene It game! This game will determine who remembers the most about this rockin era. Jam-packed with trivia and filled with 80's themed on-screen challenges, it includes more 80's movies and music clips than a Betamax library!

---
80'S THEME PARTY GAMES & IDEAS
charades
Write as many 80's related clues as you can think of on slips of papers. Your friends will have a blast trying to act out nostalgic themes and trying to get the rest of the players to guess what or who they are.
Terminator

Alf

Slap bracelets

Parachute Pants

Back to the Future
---
80'S THEME PARTY GAMES & IDEAS
twister
Twist your way back in time and get tangled up with your friends in this nostalgic game?
Give the spinner a whirl and see what's next as you try to keep your hands and feet on the mat! Right hand green! Can you do it? Left foot red... you got it! Be the last player standing to win.

---
80'S THEME PARTY GAMES & IDEAS
classic 80's party kissing games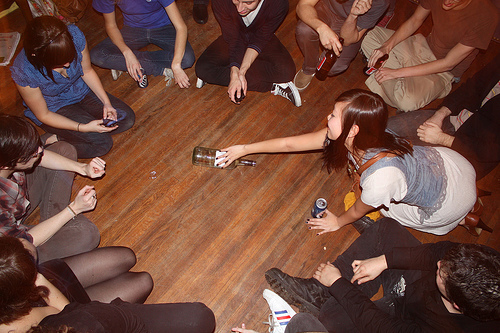 Remember the classic teen kissing games of the 80's? Get up close and personal while playing these famous games:
Seven Minutes in Heaven

Spin the Bottle

Truth or Dare
Refresh your memory of the rules to these games and others like them in my Kissing Party games section!

---
80'S THEME PARTY GAMES & IDEAS
rockin' 80's decorations
Last but not least, you'll need to set the mood for your party with the perfect decorations and party supplies. Here are some fun ideas for taking your party space back a few decades.
Cover the walls with posters of quintessential 80's pop stars

Look for paper cups and plates in bold and dramatic colors. Consider neon colors, animal prints, or black and white geometric patterns.

Find old records at the thrift store and hang those with fishing line from the ceiling. Another idea is to hang shapes such as circles, triangles, and squares cut from neon-colored poster board

Get a strobe light!

Rent or borrow a projector to play old 80's movies on the wall.

For favors check out our printable Rubik's cube favor boxes and printable candy bar wraps featuring 80's controller.
PRINTABLE RUBIK CUBE FAVOR BOXES &
NINTENDO CONTROLLER CANDY BAR WRAPS!
RUBIX CUBE FAVOR BOX: This Rubik's cube favor box is a great addition to any 80's party decor.  Simply open file is adobe reader.  Print, then fold along the lines and glue the flaps to make this totally awesome favor box.  Each square measures 2 inch x 2 inch, and comes in 2 different style (completed Rubik, and mixed up).  One box prints per 8x11 page. 
NINTENDO CONTROLLER FAVOR WRAPPER: Candy Bar Wrappers are a great addition to any party! They make for an easy and simple party favor to add to thank you bags, or to have sitting on tables to bring your theme to other parts of the room! This 80's style candy wrapper features a Nintendo controller design, with a section in the right corner for you to add your personal message.  This can be up to three lines of text.  To edit simply open in adobe reader and replace the generic text with your own, Voila! Print and then wrap around standard size Hershey bars.  
Get both for Less!
Instant download
$3.99
---
80'S THEME PARTY GAMES & IDEAS
Printable party invitations
I had so much fun making these.  These invitations come in a INSTANT DOWNLOAD and all you have to do is open in adobe reader, replace the generic party details with your own, and then print as many as you need for your event!
These invitations capture the iconic 80's celebrities, trends, cartoons, fashions, and flair that the 80's were known for. Such a fun way to  set the tone for your Totally 80's party!
---
LEAVE 80'S THEME PARTY
SEE MORE PARTY THEMES

---