---
Christmas Shenanigans
The Christmas party game show!
Get ready for the greatest Christmas party game EVER! 
This could be my very favorite party game I've created - it definitely makes my top five. It combines all the best Christmas games, plus a few new ones into one awesome mega game I have aptly titled Christmas Shenanigans! 

For this game you will need access to a laptop with PowerPoint on it and you will need to be able to connect your laptop to a television or large screen which will serve as the game board.  
Christmas Shenanigans allows you to have up to three teams with a recommended 3-6 players on each team.  So that's a total of 6-18 player!
Christmas Shenanigans is set up like a game show with 2 rounds - each about 30 minutes long.  Each round offers 5 new categories that teams can choose from, for a total of 10 different categories in all. For more details These zany Holiday categories are listed below the video sneak peek.
Christmas Shenanigans GAME BOARDS! (SLIDES)
This Christmas party game includes 2 rounds, each round includes 5 different categories (detailed description in next section). 
ROUND ONE
Minute to Win It
Picture Puzzlers
Wouldn't Be the Same
Stocking Stumpers
Find It!
ROUND 2
Reindeer Games
Festive Charades
Heads Up!
Falalalala & Order
Christmas Scattergories
To Begin Players are divided into teams.  Teams choose a fun and festive team name which you type on the boards.  First team then chooses a category, you click on that icon and it will spin and disappear leaving in it's place a point value for this challenge. Click on the point value and you will be taken to that challenge board.  Teams compete on that challenge then when it's over you return to the main game board, enter the winners points, and they choose the next challenge!

DOWNLOAD FREE SAMPLE TO SEE HOW THE GAME MECHANICS WORK!
You must have PowerPoint!
When it ask for password choose READ ONLY,
open the Slideshow and you are good to go!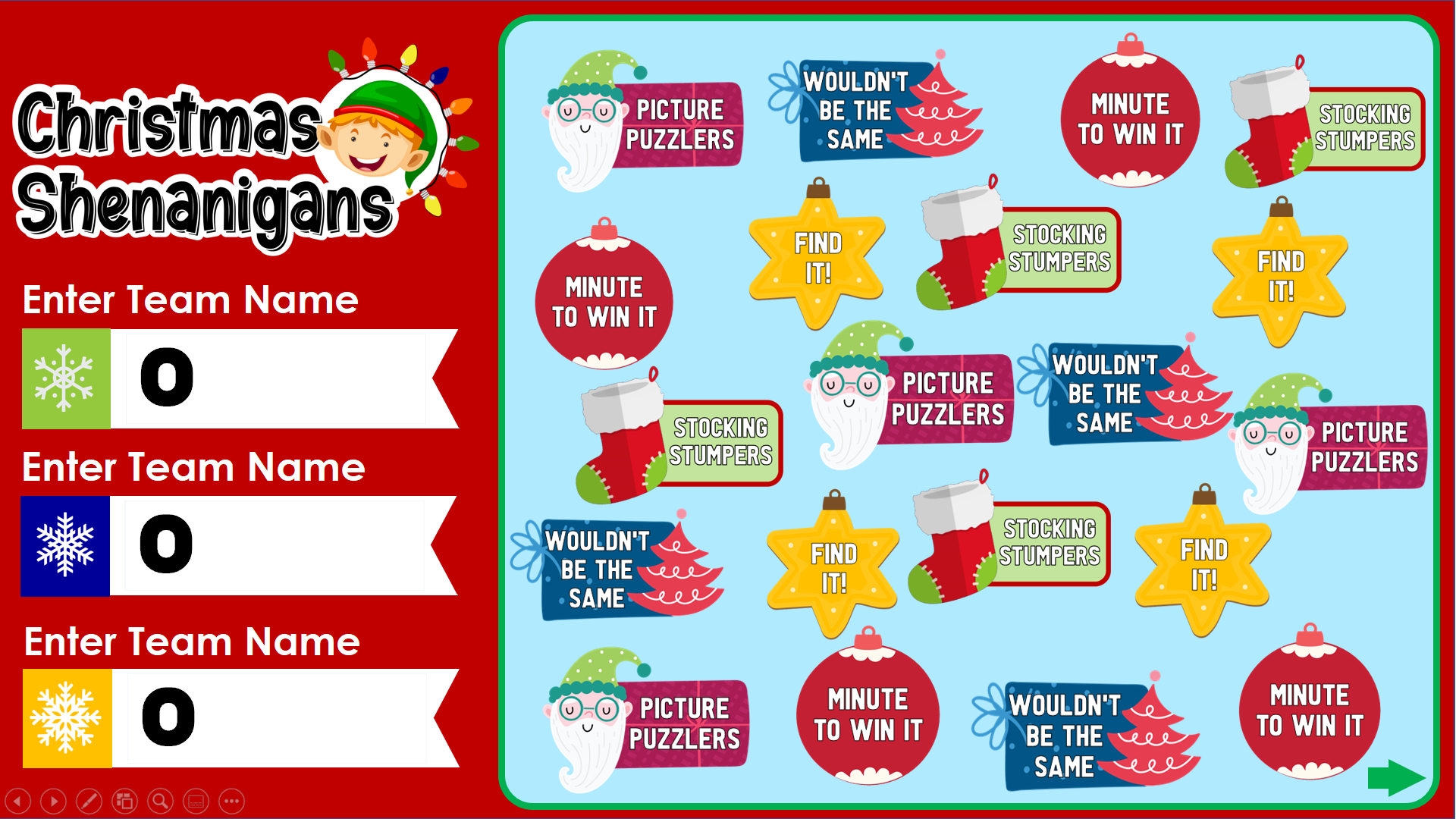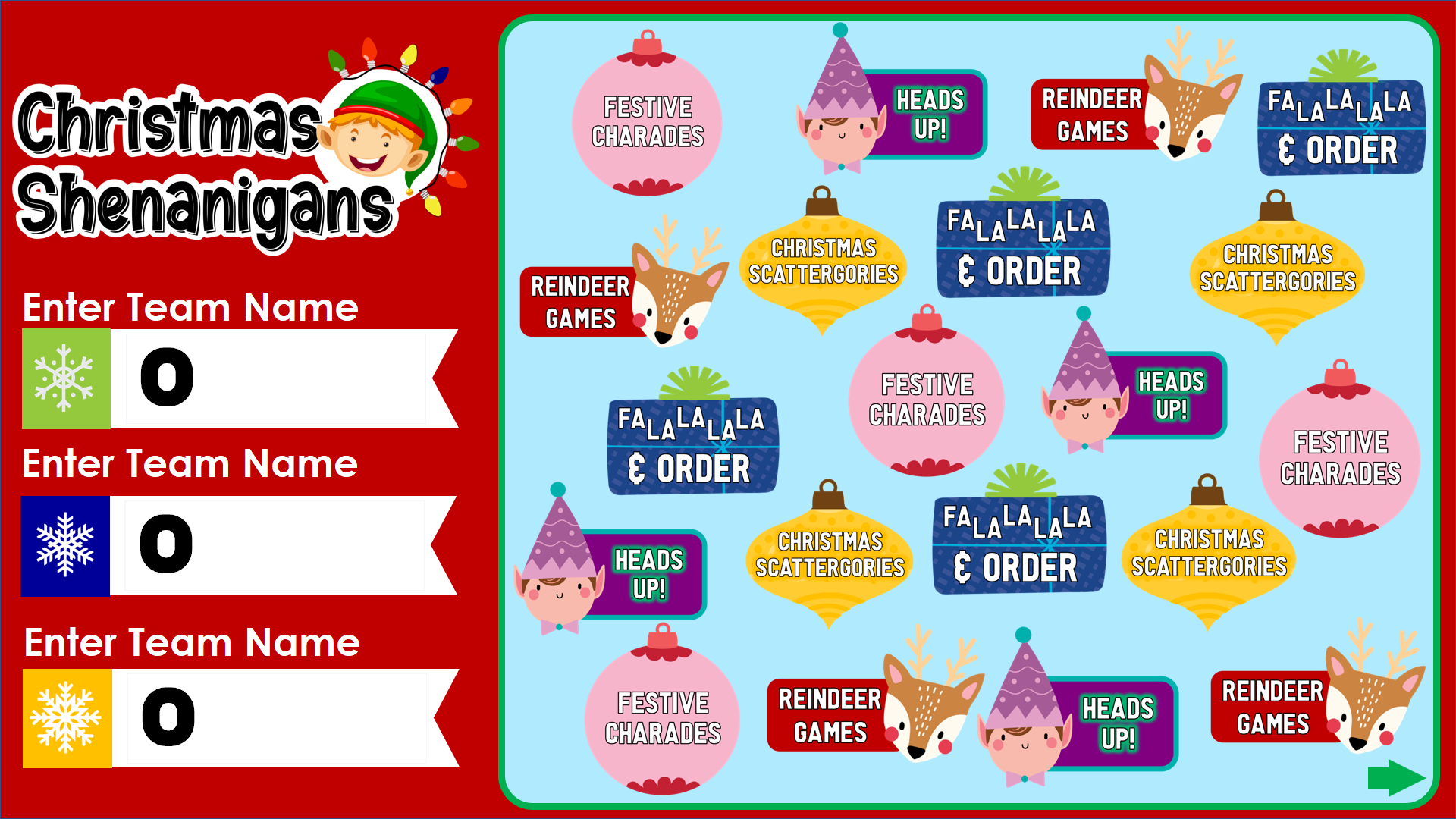 ---
---
Description of the Shenanigans
Christmas Party Game Show Categories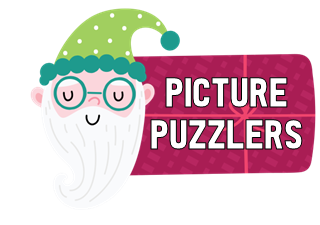 Picture Puzzles
For this category pictures are displayed on the screen to represent a Christmas Song, Movie, Phrase, etc.  The first team to figure out what the images represent wins the points and gets to be the next to choose a category.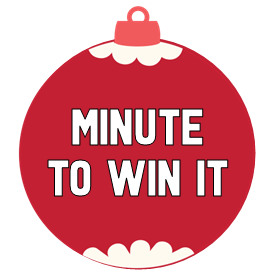 minute to win it
MInute to Win It is the perfect Christmas party game show category. It's fun and challenging minute challenges that give each team a chance to earn some points.  Teams are not competing against each other, but the clock.  If they complete the task in 60 seconds they get the points. This category requires a few extra props, but they are easy to find and budget friendly such as balloons, candy canes, tissue boxes, jingle bells, etc.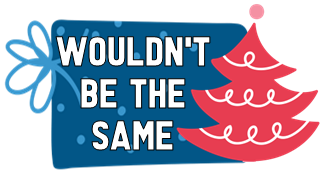 it wouldn't be the same
For this category players are presented with an alternative name for a Christmas topic - could be a movie, a song, a candy, a phrase, etc.  Players must determine what the actual name is.  First team to guess correctly gets the points.
Example:

Prompt: Quiet Dusk
Answer: Silent Night

find it!
For this Christmas party game show category players are presented with festive images - they might have to find the matches, find the difference, etc.  The first team that answers correctly wins the points.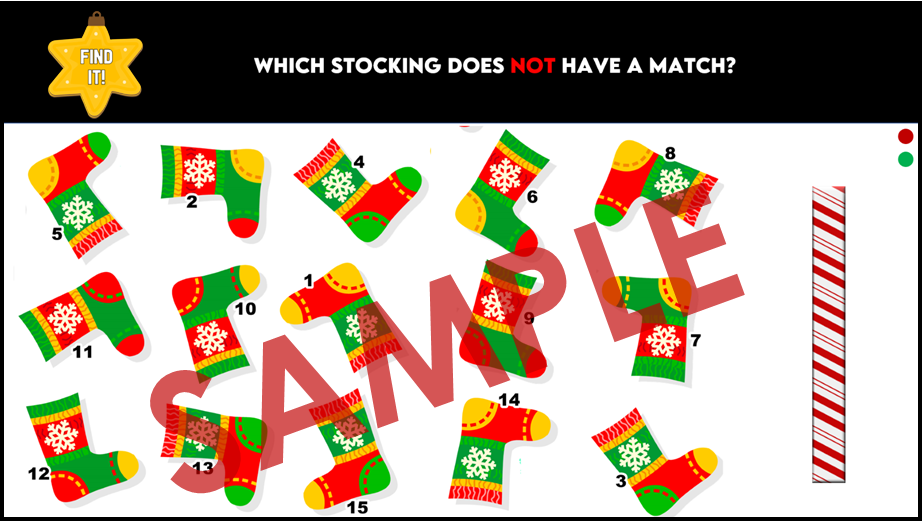 stocking stumpers
Christmas riddles ready to get your tinsel all in a tangle.  Each riddle a bit tougher than the last.  Are you smarter than a North Pole Elf?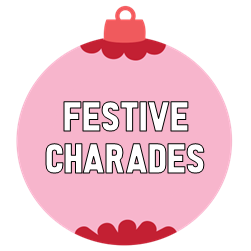 festive charades
Nothing says Shenanigans like charades! For this game you will use our printable Christmas Charade prompts.  They come with this game so all you need to do is print and cut them into individual slips before the game.  

All the teams choose one member to be their guesser.  The team who chose this category chooses one player to be the actor.
The actor gets a minute and a half on the clock to act out as many as the charade prompts as they can.  Once one prompt is guessed correctly the actor can pull another prompt from the bowl.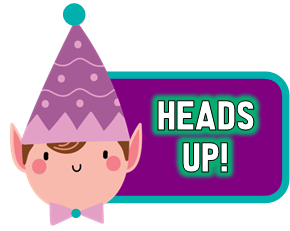 heads up!
The team who chooses this category chooses one player from their team to be the guesser. That player stands with their back against the screen.

A Christmas related word is uncovered on the screen, the other players on the team shout out clues to get the guesser to say the word.  When they guess correctly they get a new word.  The goal is to get as many words as you can in a minute.  Team scores points for each game word their guesser calls out.


fa la la la la & order
This is another category that comes with printable game pieces that you must print out before the game.  This game challenges all teams to be the first to put a Christmas related list in the correct order. 

Printable Pieces includes picture cards of each item on the list that the teams must rearrange in the correct order.  First team to get the order right wins the points.

This game comes with four sets of cards for the four different challenges.
(example)

reindeer games
Reindeer Games are more physical challenges like the Minute to Win It games, except in these challenges players are NOT competing against a clock - they are competing against each other! 

The four challenges for this category are fun, funny, and not to mention make great photo ops. You'll need a few props to play the games but they are all budget friendly and easy to find such as toilet paper, craft pom poms, peppermint candies, wrapping paper, etc.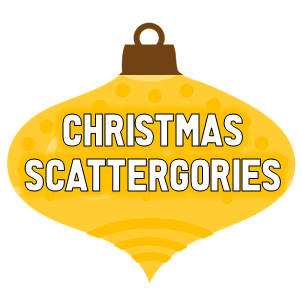 christmas scattergories
This game includes four different Christmas theme Scattergories list for you to print off - one set of all four colors for each team.
The team that chooses the category chooses a gift box from the screen that when clicked on will reveal the letter of the alphabet.

Teams must come up with a answer to each prompt that begins with the letter revealed. 

Get your christmas shenanigans game now!

Instant download $14.99
Your printable game will arrive within minutes in PowerPoint file, along with included ready-to-print PDF file.  This is a digital purchase - No physical product will be mailed.  If you do not see it in your email please check your junk folder before you contact us - that is the usual culprit. If you have any questions or feedback we would love to hear from you!  Contact  Us At: HappyPartying@gmail.com

---
---
COMPLETE LIST OF PRINTABLE
CHRISTMAS PARTY GAMES
Looking for something fun and different this Holiday Season! Check out our exclusive Thanksgiving & Christmas party game printables.  These printable games make it easy to print and play!!