Construction Party Theme Games & Activities
A kids construction party theme has load of potential for fun, building, excavation, demolition, and more! Check out these construction theme party games that will keep the kids busy at work...I mean busy at fun the whole party through. Many of the construction games I list are D.I.Y ideas submitted by creative parents, if you have an idea that should be added to this collection go email us at HappyPartying@gmail.com!

---
kid construction party theme games
construction dig
If you have a sandbox or a kiddie pool that you can fill with dirt this is a perfect kids construction party theme game. Simply purchase a bunch of small toys or favors, ones that can't be hurt by dirt, and bury them in the dirt. Provide plastic shovels for all and have them excavate the site (dig up the treasure!) They can keep whatever they find.
Alternative to dirt: If you are planning an indoor party or just don't want the guests covered in dirt you can use package peanuts or shredded paper confetti.
---
KID CONSTRUCTION PARTY THEME GAMES
Demolition ball
The kids take turn using a DIY demolition ball to try and knock down a wall. You'll need a lot of cardboard boxes you can stack up onto each other to build the wall. You can get these for free from your local grocery store. You'll also need a basketball and some rope or twine. Tie the rope around the basketball and hang it from a tree branch. Make sure there is plenty of swinging room and that all the guests can reach the ball. If you have trouble getting the basketball to stay on the rope then place the ball in a plastic bag and tie it off at the top with a secure knot. Then simply tie the rope around the knot.
To play let each child have three turns swinging the demolition ball at the wall knocking down as many boxes as they can. Rebuild the wall after each little construction workers turn.
ALTERNATIVE: For a smaller version, or indoor version, you can use a tennis ball and shoe boxes or cereal boxes.
---
KID CONSTRUCTION PARTY THEME GAMES
obstacle course
Create a fun kids construction themed obstacle course for the little construction workers. Use your imagination when coming up with fun obstacles. A few ideas are:
Walk across a balance beam (2x4 piece of plywood)

Hammer a nail (golf tee) into a piece of plywood (Styrofoam)

Zig zag their way through orange construction cones while pushing a kids wheel barrel

Climb under a table filled with balloons. Simply tie string to the end of balloons and hang them from different lengths under the table. The more balloons the better.

Hop through hula hoops (man holes)
---
KID CONSTRUCTION PARTY THEME GAMES
tool chest challenge
Using a variety of tools, place one tool into the tool box at a time. Blindfold the kids and have them reach their hand into the tool chest and guess what tool it is by touch alone.  If they guess correctly they win a prize.  Tools that can be used are hammer, screwdriver, wrench, tape measure, shovel, carpenter's pencil, etc..

---
KID CONSTRUCTION PARTY THEME GAMES
marshmallow skyscrapers
For this game you can use big marshmallows or the mini version. Provide the kids toothpicks and marshmallows and explain how you can use the toothpicks to build and the marshmallows as connectors. Allow 15-20 minutes to see who can construct the tallest marshmallow tower.
---
KID CONSTRUCTION PARTY THEME GAMES
dream house construction
A fun kids construction  craft! Provide shoe boxes, scissors, construction paper, poster boards, markers, Popsicle sticks, etc.. Have the children use their imagination and creativity to build their dream house. No rules – Just fun!
---
KID CONSTRUCTION PARTY THEME GAMES
wheel barrel relay race
Using two plastic kids wheel barrels have the guests divide into two teams and transport bricks (Styrofoam blocks) from one side of the playing are to the other.
Alternative: Divide kids into teams of two. Have one kid hold up the others ones legs and push them like a wheel barrel. The other kid walks using their hands.
---
KID CONSTRUCTION PARTY THEME GAMES
CONSTRUCTION truck pinata
| | |
| --- | --- |
| | This Construction Truck traditional style pinata will bring loads of fun to your little boy's party! For are a special treat, fill your construction truck pinata with theme-complimentary candy. |
---
KID CONSTRUCTION PARTY THEME GAMES
team bridge building
Provide each player a piece of poster board and explain that they must get across the yard without touching the ground using only the poster boards. The trick is they will have to work as a team using everyone's boards to make it across, but don't tell them that. They must figure it out on their own.
---
KID CONSTRUCTION PARTY THEME GAMES
nail tossing competition
Take turns trying to toss nails into a construction worker hat. Give each child 10 nails. To add to the fun provide a variety of hardhat targets, each worth a different amount of points.
---
KID CONSTRUCTION PARTY THEME GAMES
CONSTRUCTION puzzle hunt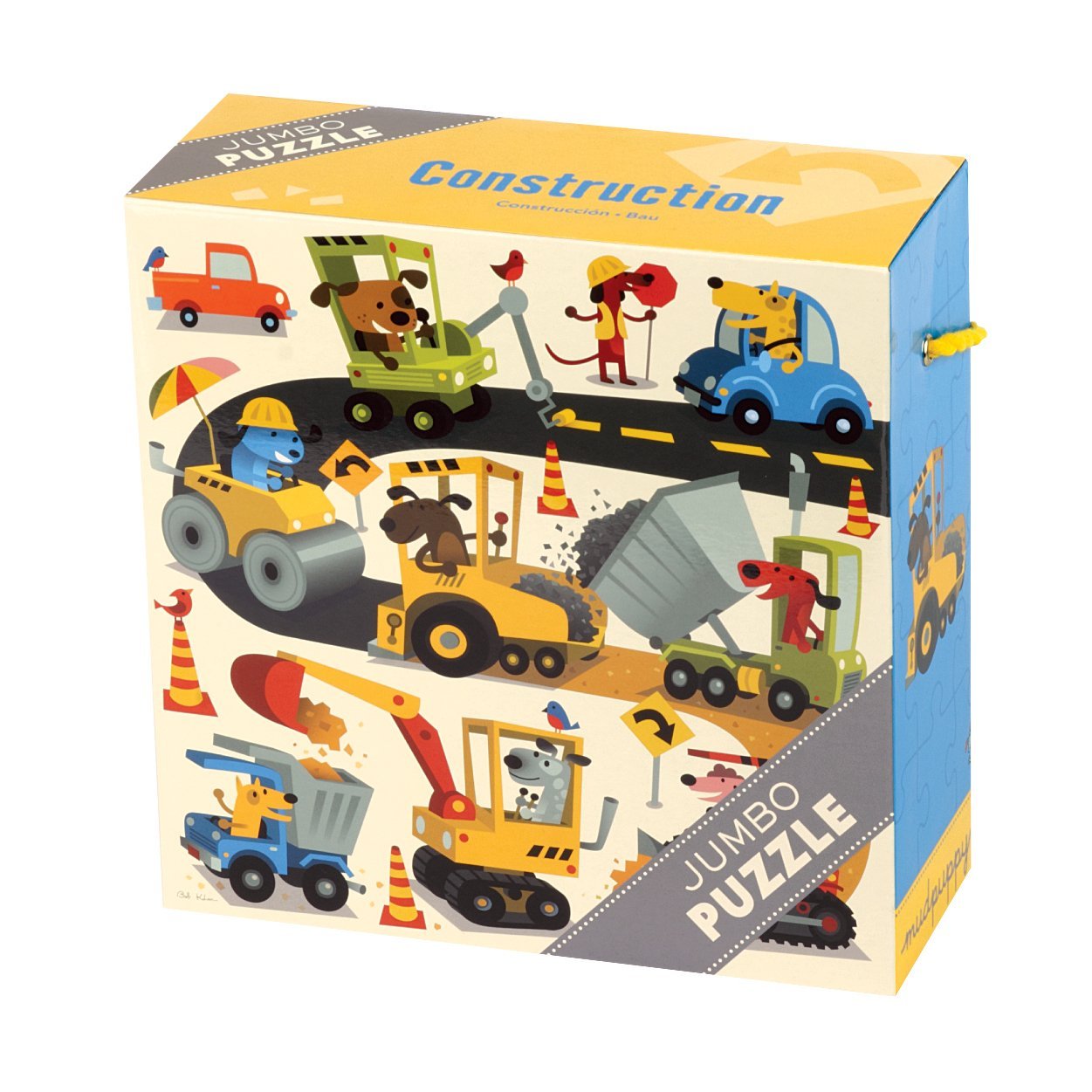 Hide the pieces of an oversized construction puzzle throughout the playing area. Have the kids work together to find all the pieces and put the puzzle together.
---
---