---
stranger things party games & ideas
Our Stranger Things party games and ideas will surely help inspire you to throw the raddest party this side of the 80's.  
Our games are a mix of D.I.Y ideas and exclusive printables created just for a S.T party. 
Have an good idea that we should include in this list? Please share at HappyPartying@gmail.com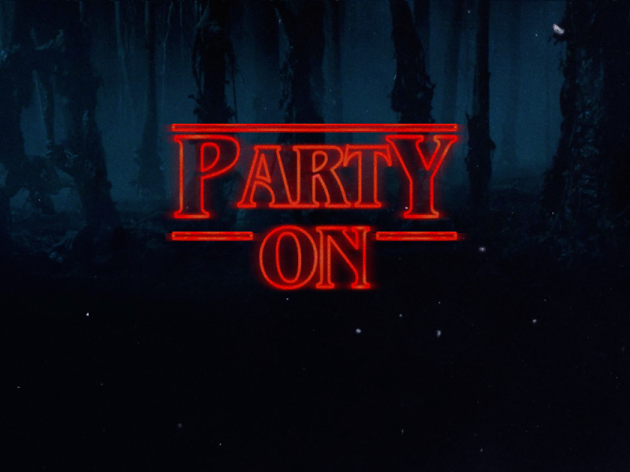 ---
STRANGER THINGS PARTY GAMES & IDEAS
kill the demogorgon (Pinata)
This might take a bit of elbow grease and creativity, but a demogorgon pinata is a great addition to a Stranger Things themed event.  You can start with a pre-made basic circle pinata in and use paper-mache and other crafty stuff to turn it into a demogorgon creature.  

Fill it with treats and have guests take turns bashing it with a bat until it bust open and releases all it's goodies.
---
STRANGER THINGS PARTY GAMES & IDEAS
Eggo eating contest
In honor of Eleven's favorite food why not have an Eggo eating contest. Give each participant a plate with 5 eggo's on it, with butter and syrup on top.  Have them sit around the table and keep their hands behind their back, on the start of go players dive face first into their plates and race to be the first to eat all of their Eggo's.  The first player to clear their plate of all waffle remnants claims victory!
---
STRANGER THINGS PARTY GAMES & IDEAS
Stranger things treasure hunt
Our exclusive Stranger Things trivia treasure hunt will MAKE your party.  This printable hunt features printable clues of brain teasers, trivia, and puzzles that players must figure out in order to get from one clue location to the next.  The final clue leads to the treasure of your choice.
One of the best features of this hunt is that YOU decide the hiding locations of the clues, which means you can play ANYWHERE!
---
STRANGER THINGS PARTY GAMES & IDEAS
christmas lights message
Use a wall in your house to recreate Joyce's Christmas light communication board.  Make sure you get the lights that when one light is out the rest still light up.  

Decide on a simple two or three word message and unscrew all the bulbs (just enough where they don't light up) from letters that do not appear in the message.  



Draw out blanks (hangman style) on a dry erase board so that players know how many letters are in each word, and the order of the words. If you think the message may be too hard you can write in a few letters as freebies.  

Give each guests a paper and pen.  They must try and determine what the message is using the Christmas lights to tell them what letters are used.  The first player to guess the message correctly wins.  If you like they can then create a message to be guessed.  Continue playing for as many rounds as you like.


---
STRANGER THINGS PARTY GAMES & IDEAS
whose the mind flayer?
This is a fun guessing and bluffing game that players of all ages can enjoy!

Each player gets a character card and place it face up in front of them.  There are 14 character cards, each featuring a different character from Stranger Things.  Now each player draws a mini card.  All, except one, will have a Brain On image - the one that doesn't will have an image of the Mind Flayer.  
Each player looks at their mini card and then places it face up UNDER their character card without revealing it to the other players.  Players take turns making a guess as to whose mind has been taken over by the Mind Flayer.  Once a player makes their guess the accused must lift up their character card to reveal if they were right or wrong. If right they get a point and the mini cards are redistributed for another round.  If wrong the next player gets a turn to guess until someone guesses correctly.

Best for 5-14 players.  

Get WHose the Mind Flayer Game Now!
INSTANT DOWNLOAD
$3.99
Once purchased you will receive your Instant Download within minutes.  It comes in a ready-to-print PDF file. If you have any questions just email me at HappyPartying@gmail.com

---
STRANGER THINGS PARTY GAMES & IDEAS
upside down 
 When Nancy ventured into the Upside Down, the Monster was unaware of her presence until she made noise.  In this game one player is blindfolded, they play the demogorgon.  They must try and search out other players on sound and feel alone. 
Once the player is blindfolded, the rest of the players hide somewhere in the playing area.  The demogorgon player must then try to find them by feel around and listening. 
 The demogorgon player can call for a clap up to three times during their turn.  At this point all the others players who haven't been found must clap loudly two times.  When a player gets caught (touched) they are out.  The last player to be found wins.  

Rules for hiders are that they must be accessible, and that once they find their hiding place they must keep one foot planted the entire round.

---
STRANGER THINGS PARTY GAMES & IDEAS
NEW! party cubes
The game of cube flippin, picture matchin, Cubo Yellin, take down your opponent fun! 

This is an exclusive printable party game you won't find anywhere else. Our printable Party Cubes is an addictive party game that can be enjoyed by all ages. There are two different ways to play.  The first is a speed round where players race to flip their Stranger Things party cubes up to the specific image - this game includes 24 Stranger Things fun icons.  The second way to play the game is kind of a mix between Bingo and Yahtzee, except way better and way more fun!
---
STRANGER THINGS PARTY GAMES & IDEAS
who said it?
This printable party game features 50 of your favorite Stranger Things quotes. Rack up the points as teams or individuals by guessing who said what. The first person/ team to guess each quote correctly wins that card.  The player/team that wins the most wins the game.

An alternative is to remove a specific word from each quote and instead of having players guess who said it, have them try and guess the missing word.

Once purchased you will receive your Instant Download within minutes.  It comes in a ready-to-print PDF file. If you have any questions just email me at HappyPartying@gmail.com

get Stranger thing WHo Said it game now!


INSTANT DOWNLOAD!
$2.99
---
STRANGER THINGS PARTY GAMES & IDEAS
BACK TO the 80's!
Collect a variety of 10-15 items from the 80's and 90's.  This can be movies, toys, objects, songs.  Have them all sitting together.  Each player is given a turn to sort through the objects separating all the items that were around in the 80's from those that came after.  Give players 1-2 minutes to sort.  Write down each players total objects correctly, but don't reveal that until everyone has had a chance to play.  The player with the most correct answers wins!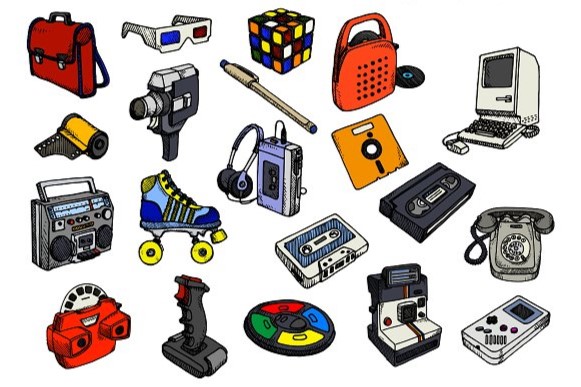 ---
STRANGER THINGS PARTY GAMES & IDEAS
80's candy name game
Our printable Candy Name Game challenges your guests to remember their favorite 80's candy with a fun word play challenge.  Would a candy by any other name taste the same?  I don't know about that, but your guest will be given an alternative name to 12 different candies and must come up with the correct candy name to score.  Player who answers the most correct wins.
Game sheets come two per page, answer sheet is included.  This game is ready to PRINT & PLAY for your upcoming 80's Party.
Pop Rocks : 

Wouldn't be the same if they were called "Exploding Stones"

Nerds : 

Wouldn't be the same if they were called " Dorks"

Now and Later:  

Wouldn't be the same if they were called " Immediately or in a Whiles"

Pixie Stix:  

Wouldn't be the same if they were called " fairy twigs"

Jawbreakers  

: Wouldn't be the same if they were called "Mouthcrackers"

Fun Dip:  

Wouldn't be the same if they were called "Amusing Dunk"

Lemonheads:  

Wouldn't be the same if they were called "Sourbrains"
Get Your 80's Candy game now
Instant download! $1.99
---
STRANGER THINGS PARTY GAMES & IDEAS
upside down slime
The upside-down world is just like our world accept grosser and slimier - that is why a slime station would be a fun addition to the party.  Slime is easy to make.  Most people know of the recipe that calls for borax, but borax is toxic.  Go to the link below for a slime recipe that is safe and fun.
Ingredients
1/2 cup Elmer's glue

food coloring

1 1/2 teaspoon baking soda

1/4 cup shaving cream

1 tablespoon contact lens solution
Instructions
Measure the Elmer's glue into a bowl. Add a few drops of food coloring.  Make it slightly darker than you want because the shaving cream will lighten the color. Now Mix in baking soda, next the shaving cream, finally add in contact lens solution and stir.
The combination will start to come together.  Take it out of the bowl and kneed well. The slime will be sticky, but the stickiness will lessen the more it is handled. 
---
STRANGER THINGS PARTY GAMES & IDEAS
Bike race / obstacle course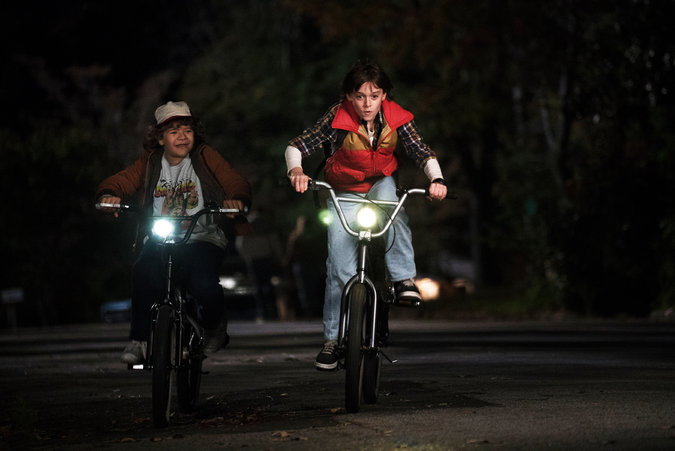 Create a bike course through the neighborhood, with a few obstacles thrown in along the way such as cones.
 Set up an elimination style tournament and challenge players to race two at a time.  Record everyone's time and award the winner an X-Men comic book.  
---
printable STRANGER THINGS PARTY supplies & invitations!

PRINTABLE STRANGER THINGS INVITATIONS - EDITABLE!
Set the tone for your Stranger Things party with these easy to personalize Stranger Things Party Invitations.  Each Invitation measures 5x7.  The invitations must be downloaded using Adobe Reader or it won't edit correctly. 
Get Your Stranger Things Invitations Now!
Instant Download $5.99
---
PRINTABLE RUBIK CUBE FAVOR BOXES &
NINTENDO CONTROLLER CANDY BAR WRAPS!
RUBIX CUBE FAVOR BOX: This Rubik's cube favor box is a great addition to any 80's party decor.  Simply open file is adobe reader.  Print, then fold along the lines and glue the flaps to make this totally awesome favor box.  Each square measures 2 inch x 2 inch, and comes in 2 different style (completed Rubik, and mixed up).  One box prints per 8x11 page. 
NINTENDO CONTROLLER FAVOR WRAPPER: Candy Bar Wrappers are a great addition to any party! They make for an easy and simple party favor to add to thank you bags, or to have sitting on tables to bring your theme to other parts of the room! This 80's style candy wrapper features a Nintendo controller design, with a section in the right corner for you to add your personal message.  This can be up to three lines of text.  To edit simply open in adobe reader and replace the generic text with your own, Voila! Print and then wrap around standard size Hershey bars.  
Get both for Less!
Instant download
$3.99
---
STRANGER THINGS CUPCAKE TOPPERS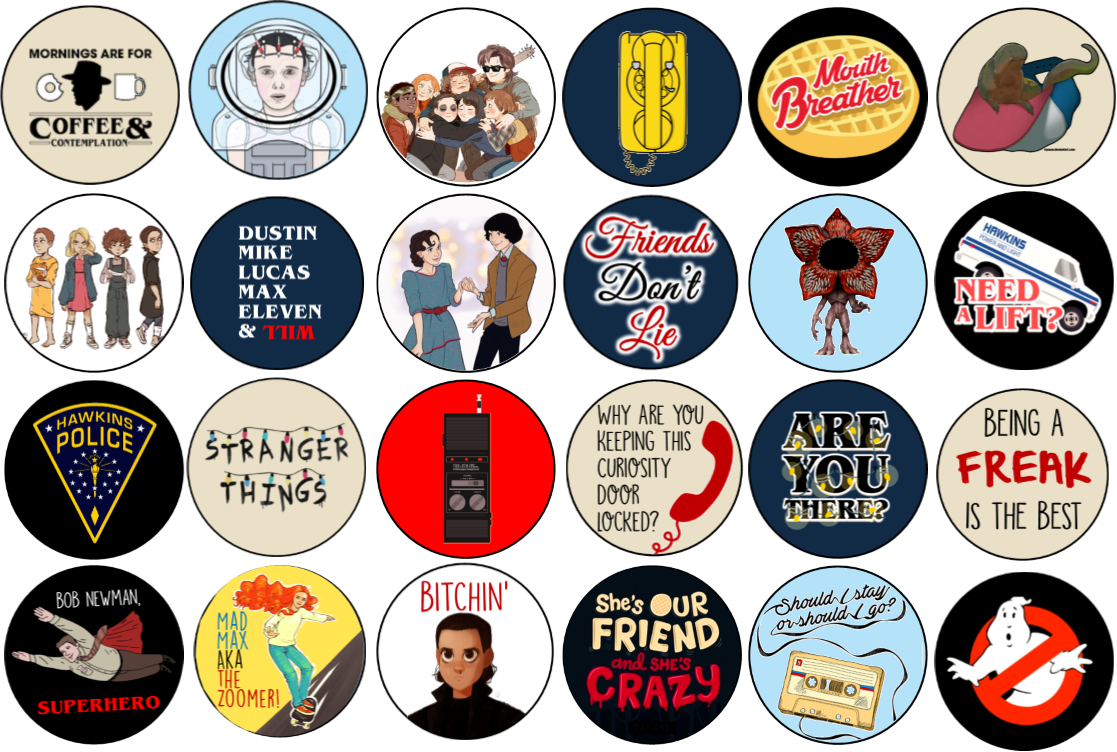 Features 24 Icons and Quotes! These Stranger Things cupcake toppers make it so easy to coordinate your theme with your cupcakes. Over Whether they are store bought or home-made, all you need to do is simply print, cut, and attach the topper to an anchor -toothpick, craft sticks, or lollipop sticks work perfectly. Next, simply pop the other end of the anchor into each cupcake. Instant hit!
Get Stranger THINGS cupcake toppers now!
INSTANT DOWNLOAD
$2.99
---
CUSTOMIZABLE STRANGER THINGS PARTY BANNER!
CUSTOMIZABLE STRANGER THINGS PARTY BANNER 
This printable Christmas light banner can be used for the game above or to create a custom message for the event such as - HAPPY BIRTHDAY LIZ!, or HAPPY HALLOWEEN. 

Get Your Stranger Things Banner Now!
instant download
$6.99
---
Best Deal!




gET ENTIRE STRANGER THINGS PRINTABLE SET


INSTANT DOWNLOAD

$13.99 
---
Stranger Things DIY Party vid!
For even more Stranger Things party inspiration check out this awesome video I found on youtube!
---
stranger things party cake & cupcakes
These amazing Stranger Things themed cake and cupcakes were created by my friend Jody Vititoe for her daughters 13th Birthday Party! I love how she incorporated mini-waffles - Fantastic job Jody!
---
---