Christmas Treasure Hunts
nativity story
Our exclusive Nativity Story Christmas Treasure Hunt is perfect if you are looking for a fun and exciting way to celebrate the reason for the season.  It is one of two printable Nativity games I have (the other being my Build a Nativity Scene Dice Game.)
This hunt is perfect for players 8+, and can be used for church groups, family gatherings, and holiday parties.  
This hunt can be played ANYWHERE because the clue locations are editable - you get to choose whatever hiding locations work best for you!
I got inspired to create this Nativity Christmas treasure hunt when I realized there wasn't anything like it out there. I wanted to create something that would be fun and challenging to play, but also actually incorporated the nativity story and focused on learning or remembering the facts.
I divided the nativity story into 10 parts. I created a clue out of each of the different parts. Each clue tells part of the story, but leaves out key words that the players must fill in. Once the players fill in the correct answers they will see that some of the letters are highlighted yellow. These highlighted letters must then be unscrambled to form a word. The player chooses which word is formed when the letters are unscrambled and underneath the correct answer they will discover their next clue location!
---
how to set up and play the
nativity story christmas treasure hunt 
Once you download the hunt, you will open it up in adobe reader. Inside the files will be 14 hig resolution full-color clues.  Follow the instructions provided to edit the locations.  To do this you will simply type in the location you plan to hide each clue, and you will also add a false locations under the wrong answers.  Once this is done you simply print out the clues, cut them out, and hide according to your hiding locations. 

The first clue is not hidden, it is given to the players to start the game.  The answer to that clue will lead to the hidden location of the next, and so forth until the treasure (whatever you decide that is) is discovered.  
Ten of the fourteen clues tell the nativity story of how Jesus was born.  Here is a sample clue for one of the story clues.
The letters in red are the ones that are editable - these are the ones you will replace with your own locations. For this clue the answers that are missing are the words MARY, JOSEPH, ANGEL, and JESUS.  The highlighted letters are R-O-E-S - unscrambled this spells ROSE.  The location that players will look for there next clue is under the answer ROSE.  
The other four clues that are hidden are called ROADBLOCKS. Each one of the roadblocks offers a different challenge that players must solve to get to their next clue and continue the story. THe four challenge are:
Nativity Word Search
Nativity Maze
Nativity Match Game
Nativity Decoder Game
Below is one example of our Roadblocks, this one is the Nativity Word Search.
This is what the clue looks like before you add your location.  As you can see it has 7 blank spaces. For this clue it is best to come up with a location using  7 letters - for example IN TRUNK.  Simple click in the blank space and type your letter.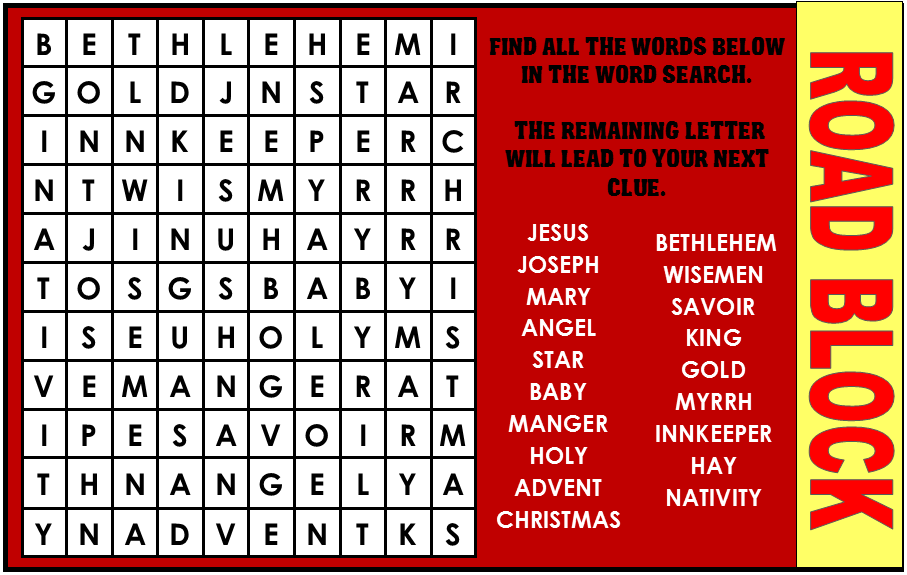 After you have filled in your location and printed the clue out it will look like the above image - no blank spaces.
nativity story christmas treasure hunt faq's
In this Christmas treasure hunt players will get to:
Remember what the real reason for the season is in a fun way



Brush up or learn the facts of the nativity story

Use their brains and wits to solve puzzles, and each clue to the next until they reach "the Star of Bethlehem" and win the game.

Learn other names that Jesus went by along with other important messages of Jesus. This is done through brain teasers and challenges which studies show help people retain the lesson better.

Work together as a team to find clues, figure them out, and celebrate the birth of Jesus Christ.
Who can play the nativity Christmas treasure hunt?
This game is great for children of reading age and above. It would even be great to play in mixed teams such as families, or a mixture of kids, teens, and adults. Clue's are fun to solve, not too easy but not too hard. Plus it's a unique way to teach the nativity story, plus some other inspirational messages about Jesus. I would say ages would be 8+, and takes a bit over an hour to play - but that time can be cut shorter by taking out the roadblocks.
What does the Nativity Christmas Treasure Hunt Include?
This nativity hunt includes the following
10 clues that involve the nativity story. I divided the nativity story into ten equal parts and created clue's woven into the story. Players can use their knowledge or you can allow bibles as an aid. Each clue also features a full colored picture that represents that part of the story.
4 Road Blocker Clues These clues are spread out among the nativity clues and feature different brain teasers and puzzles that reveal different messages and names of Jesus.

Complete set up instructions – This comes with a step by step guide for setting up and editing your hunt. 
A letter to players – This letters doubles as a quick how-to of the rules and game play for players. You can edit it to fit your game needs.
Star of Bethlehem Decoder – this decoder is needed for one of the Roadblocks.  Simply cut it out and players use it along with the clue to decode a secret message.
WINNER card:  This is a gold circular printable that players discover when they have finished the hunt.  It reads:
WINNER! NOW FOLLOW THE TEACHINGS OF JESUS TO BE A WINNER AT LIFE!
Is this game cooperative or competitive?
The Christmas treasure hunt can be played cooperative, competitive, or BOTH.  You can have players play against each other, you can divide players into to teams to play against each other but cooperative within the team, or they can play as one big team. If you plan on having multiple teams you simple print out multiple sets of clues.  You can change the hiding locations for each team so they can't follow each other around.
How is this Christmas treasure Hunt Delivered?
This nativity story Christmas treasure hunt is delivered in a ready-to-print high resolution PDF file that comes with everything listed above. You will receive your file via email INSTANTLY.
GET Your Nativity Hunt Now!


INSTANT DOWNLOAD $13.99



Your printable game will arrive within minutes in printable PDF files.  This is a digital purchase - No physical product will be mailed.  If you do not see it in your email please check your junk folder before you contact us - that is the usual culprit. If you have any questions or feedback we would love to hear from you!  Contact us at: HappyPartying@gmail.com

COMPLETE LIST OF PRINTABLE
CHRISTMAS PARTY GAMES
Looking for something fun and different this Holiday Season! Check out our exclusive Thanksgiving & Christmas party game printables.  These printable games make it easy to print and play!!
---