---

KILLER AMONG US! MURDER MYSTERY


This game is unlike ANY other Murder Mystery Game out there.  Here are a few of it's unique features:
This murder mystery game can be played with up to 52 players!


This murder mystery game can be played again and again because there will be a different solution each time!


YOU get to choose your characters names and identity.


There are NO scripts, lines to learn, or complicated set-up.


It's EASY to learn!
Killer Among Us is a slightly darker version of Clue for the next generation, except in this version there is no board - instead your friends (or coworkers, family, or even frenemies) get to participate in a murder mystery scavenger hunt where:

One of you will be the killer! and get to decide who among the players will be your victims.


Some of you will become ghosts! Yes, that means you will be killed which is a bummer,  but then you get to be spooktacular and help solve your murder which is awesome!


The rest of the players get to bribe, blackmail, gamble, form alliances, investigate and more all while trying to discover which one of you is the Killer Among Us.
This game is NOT a scripted murder mystery game, it is an incredibly easy to learn card game that offers tons of ways for strategic players to have fun and get ahead.  The game is different every time so you can play again and again! 
GAME AGES: 12+
NUMBER OF PLAYERS: 10 - 52

ITEMS NEEDED:  This printable game, dice, pens or pencils, stapler, coin, paint brush, and lanyard for each player (or ribbon, string).
killer among us - a murder mystery SCAVENGER HUNT


GAME OVERVIEW
OVERVIEW: Players walk around the party area and interact (see step) with each other using game cards, some players will be killed, one player will be the killer, and the rest of the players will be trying to determine who that killer is, how they killed their victims, and what their motive is.  They do this by marking off clue cards they discover while interacting with other players. 

 These three type of cards (character, weapon, and motive) make up the Clue Cards in the game. The  Killers Character Card, Weapon Card, and Motive Card were removed and put into the solution envelope before the start of the game - this way any clue card discovered during the game can be marked off their Case File Sheet (a list of ALL possible characters, weapons, and motives) because it is no longer a possible solution. Also if a player is killed, their character is no longer a suspect and can be marked off the Case File.
When a player marks off all Suspects, Weapons, and Motives until they deduce each down to one possibility they are ready to solve the case and if they are right they WIN THE GAME! 

Choose a new Killer, Weapon, and Motive to set-up the next game for a whole new challenge. 
KILLER AMONG US - A MURDER MYSTERY SCAVENGER HUNT


HOW THE GAME WORKS
The game starts out by everyone choosing one of 52 characters - one of those characters is the killer, but only the player who draws the killer knows (this can be set up beforehand or you can leave it to chance). Remove the characters that aren't being played.

Another Fantastic and Unique element of this game is that the characters names are editable, so you get to decide what each characters name shall be.  You can name it after the actual person, create funky pseudonyms for each, or forgo names and give them other identifications such as The Accountant, The Fortune Teller, The Play Boy, etc...
| | |
| --- | --- |
| | After each player chooses their character you will prepare their Character ID Badge.  These badges are worn around the players neck.  You can use a ribbon to attach them or a lanyard. On one side of the badge is the characters profile and name, on the other side is their "dead face", which they will flip over if they are one of the players that get murdered in the game.  |
SAMPLE CHARACTER CARDS AND DEATH CARDS BELOW (4 of 52)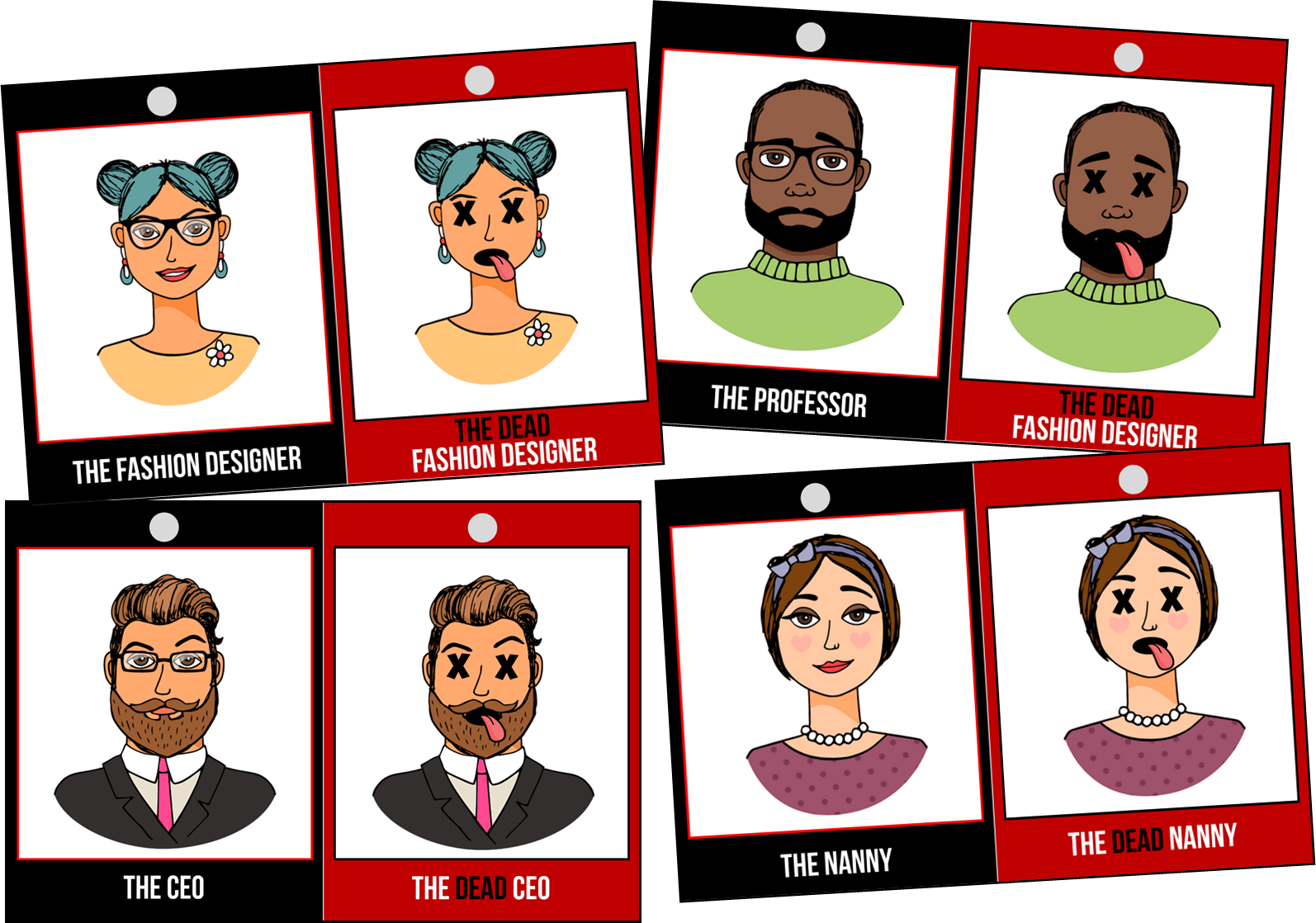 Remove the killers Character Clue Cards. Clue Cards, one of the 10 different kinds of Weapon cards, and one of the 8 different kinds of Motive Cards from the game - place them in a separate envelope. This is the solution envelope. 

These are the three cards the players must determine to win the game.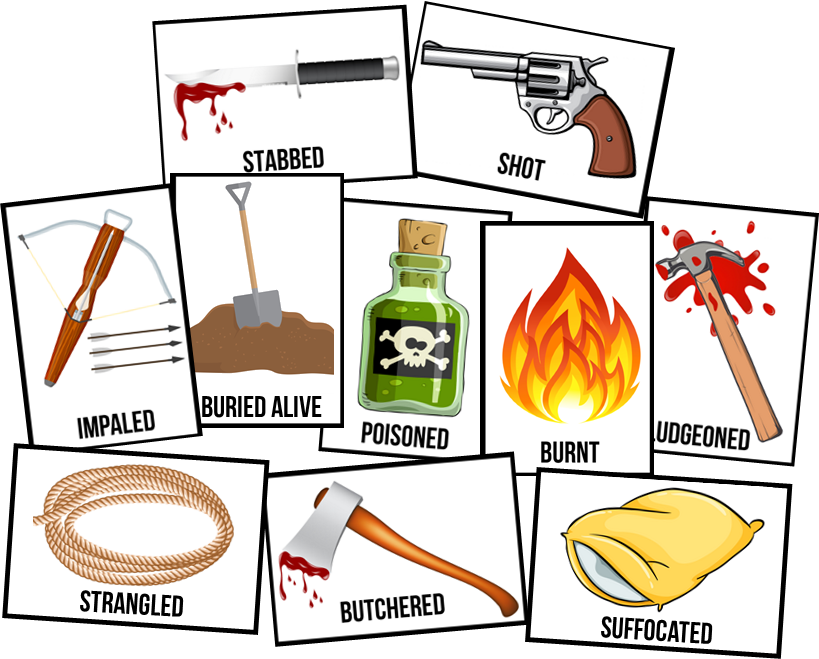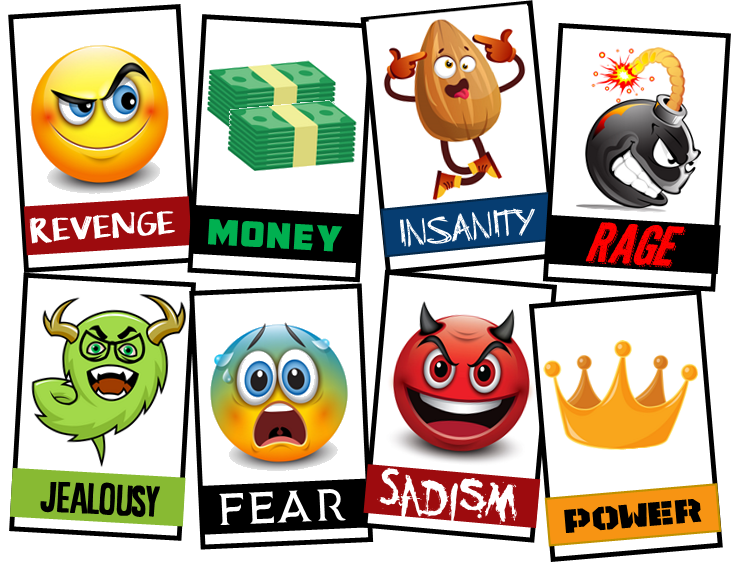 Now take the rest of the Character Clue Cards, Weapon Clue Cards, and Motive clues cards and shuffle them together with the Action Cards. Action cards are what players use to interact with each other. 

Different types of cards allow players to get clues or more actions from other players.  There are sixteen different types of Action Cards as seen below.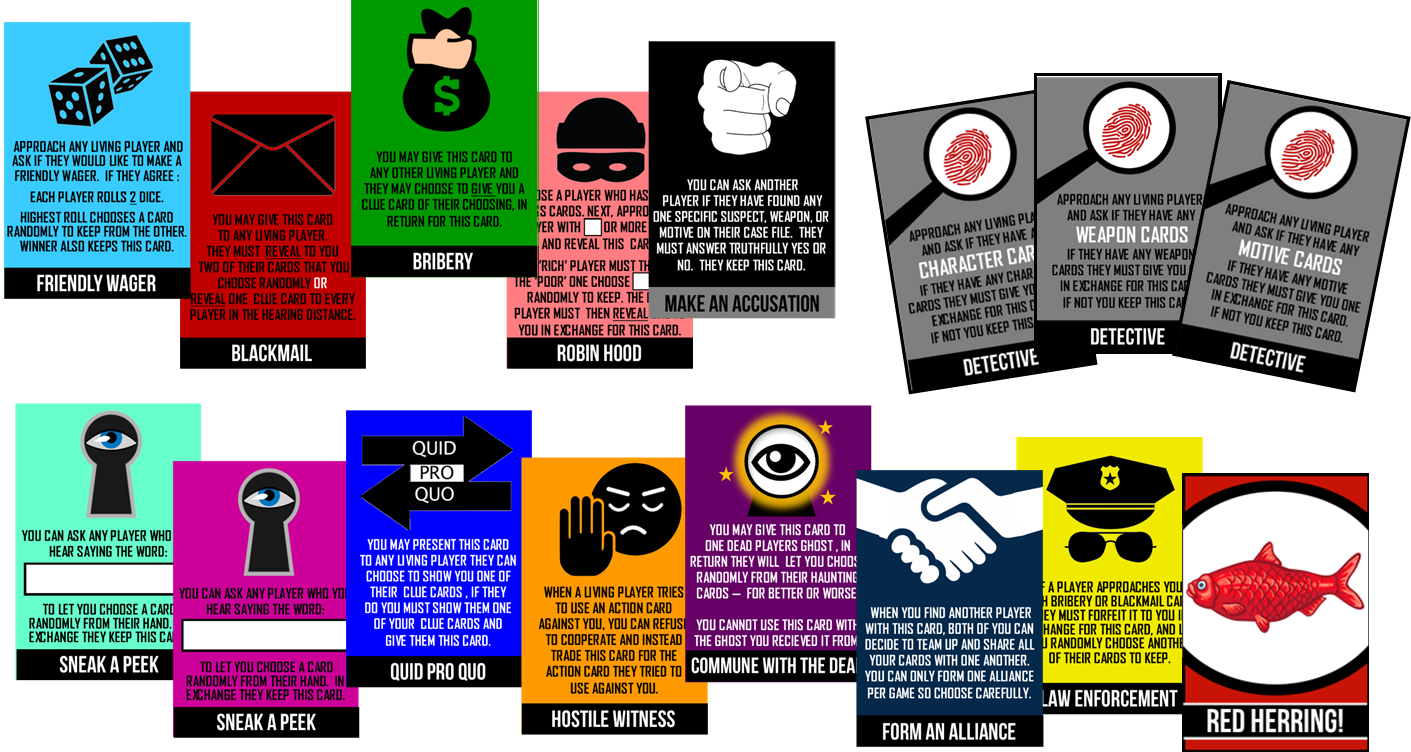 | | |
| --- | --- |
| | Each player is given a combination of Clue Cards and Action Cards, except the Killer who receives a combination of Death Cards and Red Herrings (a type of clue card that works to keep players from the real clues). They also receive a Case File to mark off their findings. A Game Letter is read to players explaining the rules and they are ready to play the game.  |
---
KILLER AMONG US - A MURDER MYSTERY SCAVENGER HUNT




TIME TO SOLVE A MURDER!
This game is a mingling social game, there is no taking turns, players simply walk around and interact with other players of there choosing using their Action Cards.  These are the cards that will allow players to interact differently with each other - below are just a few of the different action card rules. 
BLACKMAIL: A player has to give you two of their cards or reveal one clue card to every player in the room.

BRIBERY: You can offer to give this bribery card to any player ( so that they can then use it on another player) in exchange for one of their clue cards.
FORM AN ALLIANCE:  If two players both have a FORM AN ALLIANCE card they can join forces and share information freely with each other.  Players are only permitted up to one alliance per game so choose wisely.

FRIENDLY WAGER:  This allows a player to gamble with another player if they choose.  Each player rolls two dice - the player with the highest roll gets to randomly choose a card from the other AND they get to keep the Friendly Wager card for future use.

DETECTIVE:  These cards allow you to ask players if they have a specific type of clue card in their hand (either character, weapon, or motive) and if they have any they must give you at least one in exchange for this card. 
Now all you have to do is use the cards and discover the clues until you have found all you need to solve the game! But remember to....
KILLER AMONG US - A MURDER MYSTERY SCAVENGER HUNT




WATCH OUT FOR THE KILLER!
While you and the other players are trying to solve the murder, their is a killer among you and you might be their next victim.
If you interact with the killer you might receive a Red Herring card in which you walk away none the wiser, or you might be their next victim and receive a Death Card.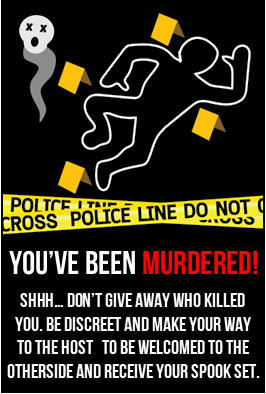 KILLER AMONG US - A MURDER MYSTERY SCAVENGER HUNT




WHAT HAPPENS IF YOU DIE!
If you receive a Death card, you are no longer able to solve the case and win the game - but you do get to continue playing! Now you are a ghost. You will receive a new set of cards called Spook cards to add to the game card you already have and you will get to look in the solution envelope to learn the details of your demise. 

You cannot talk freely with the living players.  When one approaches you with a Psychic Card (the action cards that allow you to speak to ghosts) then you spread all your cards before them (the spook cards and the cards you had in your hand before you died) and they choose one. 

If they choose one of your game cards they get to keep it and add it to their hand, if they choose a spook card it may or may not be a good thing for them.  Some come with consequences, some come with rewards, others are just kind of fun.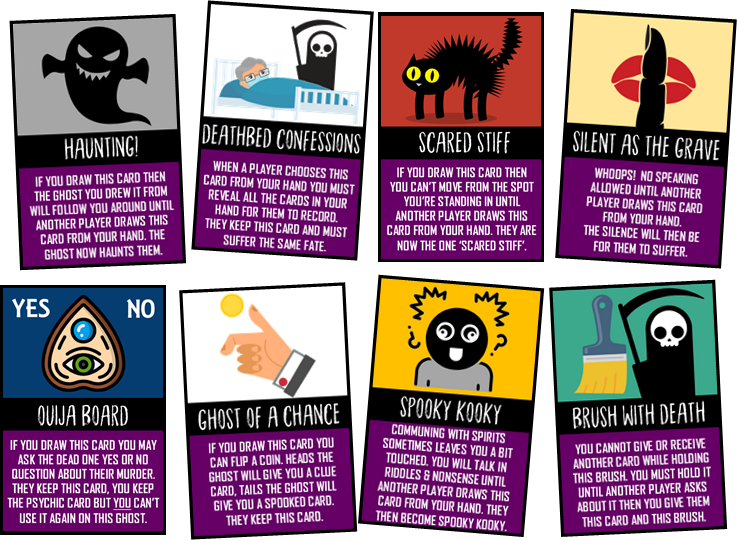 GET YOUR

 KILLER AMONG US

 GAME NOW!


INSTANT DOWNLOAD!

 LIMITED TIME ONLY

 $18.99
Killer Among Us Murder Mystery Scavenger Hunt is available for Instant Download. I recommend card stock because you can play this game again and again with different results every time. The Download includes:

52 Different Character Badges (editable)
52 Different Characters Clue Cards (editable)
10 Different Weapon Clue Cards
8 Different Motive Clue Cards
8 Different Action Cards
8 Different Bonus Action Cards
Red Herring Cards

Death Cards
8 Different Spook Cards
Players Letter

Welcome to the Otherside Letter
Case Files
Card Back Pattern (optional use)
Game Play and Set-Up Instructions