Doc McStuffins
Party Games & Ideas!
Doc McStuffins is everyone's favorite stuffed animal doctor.  If you are planning to throw a McStuffins themed party these games and activities are sure to make it a hit. 
If you have any ideas to contribute to this theme please let me know, I am always up to additions.  The more the merrier.  Just email me at HappyPartying@gmail.com.
---
DOC MCSTUFFINS PARTY GAMES AND IDEAS
Fix'em up relay race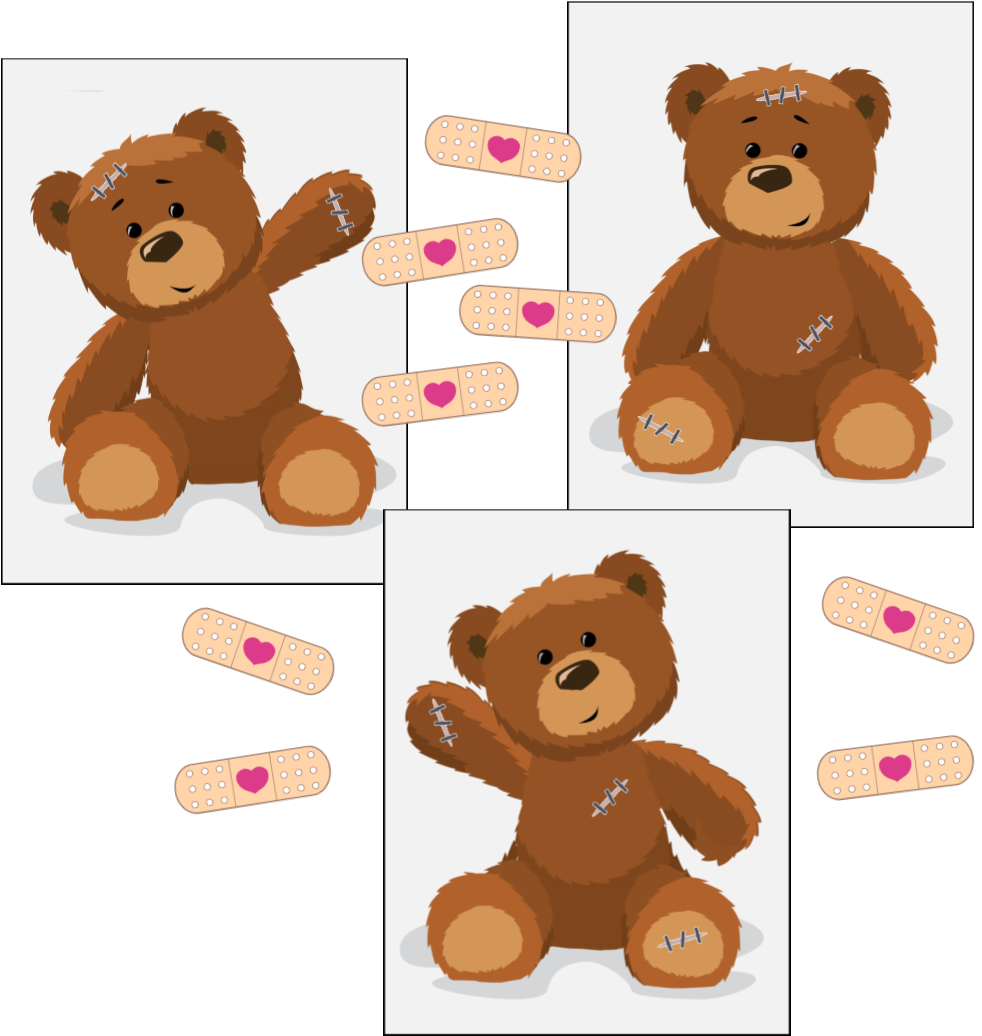 In this free printable game teams race to give medical attention to their "beary" hurt patients.  You will need our free Bear Boo Boo's printable and a box of band-aids (8 bandaids for every team you make) 

Divide players into two teams of 2-4 players.  Each team has a print out of three wounded bears at the finish line.  

The teams line up.  The first player races to the finish line, unwraps a bandaid and places it on one of the bears boo boo's.  Then they take a wrapped band-aid and race back to the start to hand it to the next player in line who then does the same. 
A child cannot move past the start line until a bandaid is placed in their hand.  The first to cover all eight boo boo's and make it back to the finish line wins the game!
FREE DOWNLOAD!
---
DOC MCSTUFFINS PARTY GAMES AND IDEAS
First aid memory game
In this game you will need a doctors bag full of medical items (a toy doctor bag or first aid kit with 5-7 items in it work perfectly).  Have the players sit in a circle and show them all of the medical supplies and describe what each is for.  

Next place all the supplies back in the bag and have players pass it around the circle while the music plays.  When the music stops the player who is holding the bag closes their eyes and holds it above their head. You  then take one item from the bag and the player can then open their eyes look in the bag and try and guess what item is missing. 
If they get it right they get a prize and then get to go color ( or get their face painted, get a cupcake - any alternative activity).
If they get it wrong the game starts again and the player stays in until they get it right.  Play until all players have made a correct guess.
---
DOC MCSTUFFINS PARTY GAMES AND IDEAS
obstacle course emergency
Each child is given a 'wounded' stuffed animal and must rush it to the 'hospital' by making their way through an obstacle course. Obstacles can include:
balloons secured on the ground they must weave in and out of
hula hoops they must crawl through
cushions they can hop across
crabwalk
horse gallop


Set up a finish line with the a poster that reads HOSPITAL, and if you want to add a bit more fun and drama have medics ready to wheel away (perhaps in a wagon) the stuffed animal when the player passes the finish line.
---
DOC MCSTUFFINS PARTY GAMES AND IDEAS
printable treasure hunt
This mini-treasure hunt is a perfect Doc McStuffin's party game.  The hiding locations for the clues are editable so that you can play this game in any location.
Each of the five clues are different and offer a fun challenge puzzle for children ages 4-7.
Simply download, open in adobe reader and replace default locations with your own then print.  Hide the locations.  
---
DOC MCSTUFFINS PARTY GAMES AND IDEAS
 BOO BOO charades
Give each child a turn to act out an ailment - without speaking, and have the other children try and guess what sickness or wound the player is acting out.  When a player answers correctly they get to be the next player to act.
---
doc mcstuffins party games and ideas
stethoscope craft
---
DOC MCSTUFFINS PARTY GAMES AND IDEAS
Animal Clinic Free PLAY
This is a great activity for free play. Simply provide the children with stuffed animals and medical supplies such as gauze, bandaids, thermometers, toy medical supplies, and perhaps the stethoscopes they crafted from above.
---
DOC MCSTUFFINS PARTY GAMES AND IDEAS
personalized coloring page
Our personalized coloring page is a great icebreaker and fun activity for your Doc McStuffin's Birthday.
This printable coloring page comes as an instant download - within minutes you can have a coloring page personalized with your child's name and age.  
Once you download your page, open in adobe reader, replace generic text with your own and print!
GET YOUR PERSONALIZED COLORING PAGE NOW
INSTANT DOWNLOAD $1.99
Your printable coloring page will arrive within minutes in a ready-to-print PDF file.  This is a digital purchase - No physical product will be mailed.  If you do not see it in your email please check your junk folder before you contact us - that is the usual culprit. If you have any questions or feedback we would love to hear from you!  Contact  Us At: HappyPartying@gmail.com




---
---