SEARCH OUR SITE
---
Adult party games & Themes
Partygamesplus.com has an ever growing selection of adult party games and themes for you to choose from.
Just pick one of the categories below to check out a variety of party games for your next bash.
Most of the games and themes listed are D.I.Y games, but I also included a few pick and click to buy party games for those of you looking for convenient fun that doesn't require any prep. So whether you're looking for free party games or the best party games to buy, I have a little bit of something for everyone!

Adult Party Game Ideas
Adult Party Themes
ADULT PARTY games & THEMEs LIST 
BIRTHDAY PARTY GAMES
Fun selection of adult birthday party games that focus on the birthday guy or girl. It's their day to be the center of attention! Tons of ideas to celebrate them in fun and unique ways
FUNNY PARTY GAMES
These funny party games are just what you need to liven up your party and provide you and your guests tons of laughs and memories. Most of them are D.I.Y games that require no props or ordinary household objects to play.
DINNER PARTY GAMES
Adult dinner party games to add a little fun, get to know each other better, and enjoy an evening with good friends celebrating good times.
BEST PARTY BOARD GAMES
This list of board games has the best board games rated on a scale from naughty to nice so you can choose the most appropriate game for your event.
The list was compiled with the idea that the success of a party game should be measured by a good time, laughter, and connecting with other people. Find fun additions to your adult birthday party games.
FUN DRINKING GAMES
Check out these fun drinking games if you're looking for new, original, or just plain funny drinking games for your friends to play at your party.
Also check out FUN DRINKING BOARD GAMES
Themes
Retirement Party Games: Check out these fun drinking games if you're looking for new, original, or just plain funny drinking games for your friends to play at your party.

Once Upon a Time: Let's Party Storybrooke style!
Totally 80's: Rock out the night with 80's nostalgia. Big hair, bright colors, punk rockers, leggings and bangle bracelets. Loads of Fun and dancing!
Hawaiian Luau: Bring on the tiki torches, grass skirts, leis, and let's party Hawaiian style!
Minute To Win It Party Theme:   Challenge your friends to these wild and wacky games based on the hit game show - Minute To Win It!
Redneck Party Games: Want a throw a real shin-dig of a redneck party. Get ur'dun right here!
Amazing Race Party: These printables will provide everything you need to set up your own Amazing Race.
Golf Party: Fun golf party ideas for your golf enthusiast!
Big Bang Theory: Get your nerd on with a Big Bang Bash!
Trash the Dress Party Ideas: Whether you're tying or untying the knot -these ideas will help you rock the frock!
Football - Superbowl Party: Make sure your next Superbowl bash is a touchdown!  
Fiesta Party: Top Mexican fiesta party games to provide tons of fun, entertainment, and laughs at your Mexican fiesta.
Valentine's Day: Fun games for an Adult Valentine's day party theme.
Chocolate Spa Party: This guest-submitted idea is great for girls night and oh-so sinfully delicious!
Spa Party Games: Simple, Fun, and Exciting game ideas for a spa party!
Olympic Games: You are going to WANT to throw this shindig! 
Orange is the New Black: It's time to party- women's prison style!
Rocky Horror: Invite your friends to join in the madness of a Rocky Horror Picture Show Celebration!
Walking Dead: Bring your party back from the dead with these zombie fueled games inspired by The Walking Dead!
American Horror Story: Put a little thrill in your AHS celebration with these DIY activities.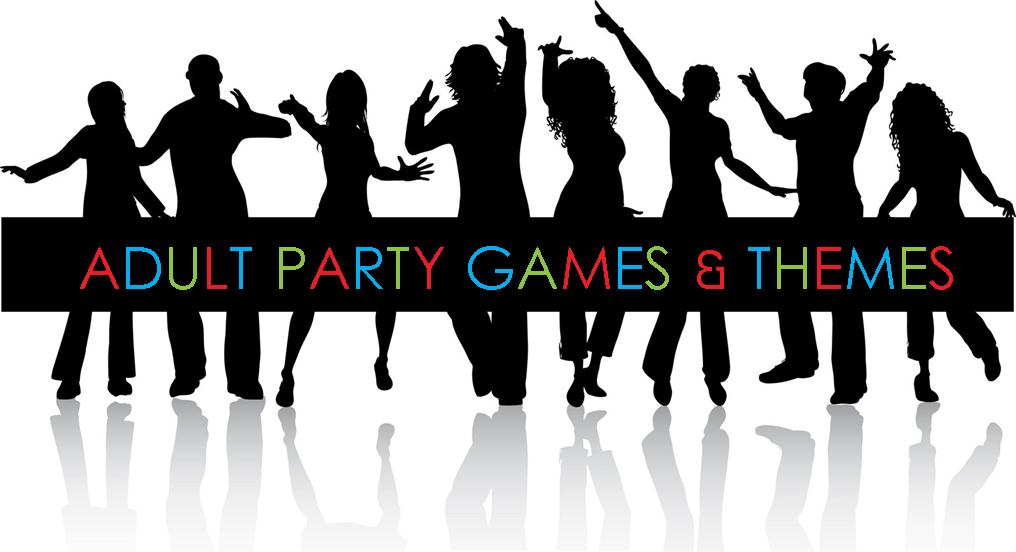 Share your fun Adult Party Games and Ideas Here!