monster truck party games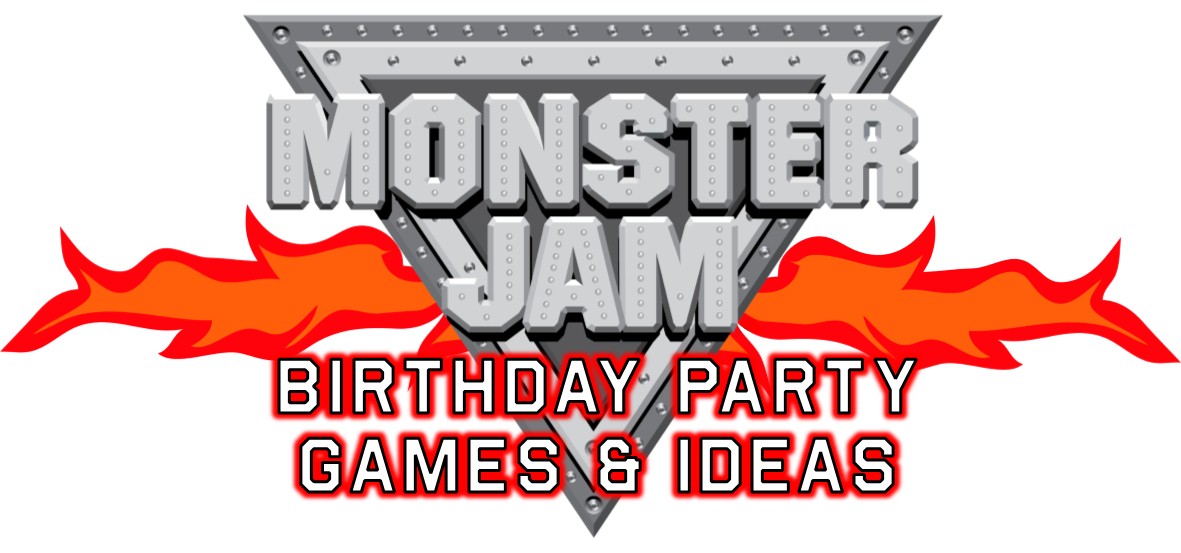 With these awesome monster truck party games you can roll out the Birthday in style!    
---
MONSTER TRUCK PARTY GAMES
MONSTER T's
Invite all the guests to bring a white t-shirt to the party.  When they arrive write each drivers name (or car name ) on their shirt.  
Place a piece of cardboard inside each t-shirt before you let the kids begin the project. Have trays prepared before hand with generous amounts of paint in each, one color per tray. Have an extra tray filled with water.
Let drivers drive toy trucks through the paint and over their shirts to create their very own unique Monster Truck Tee.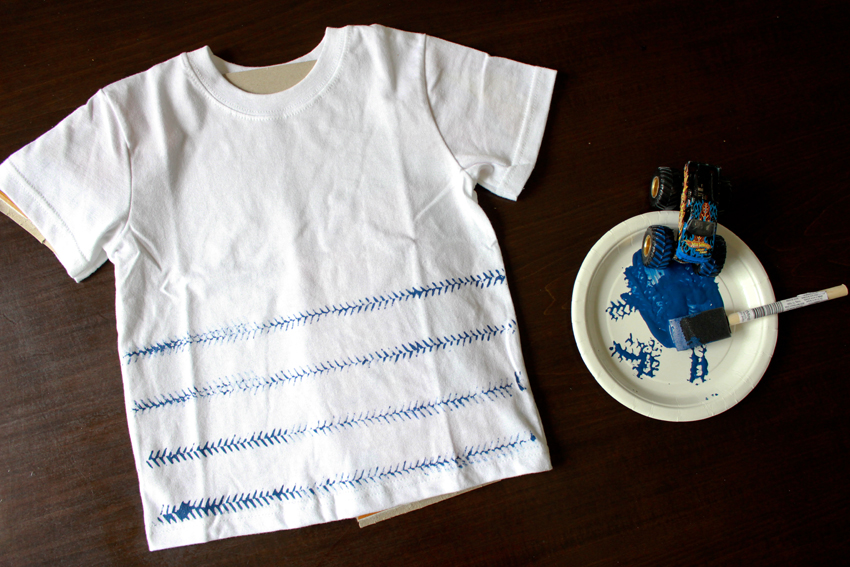 Once the drivers are satisfied with their creation let the shirts sit out in the sun to dry for the rest of the party.  By the end they will be ready to go home with them as adorable party favors.

---
MONSTER TRUCK PARTY GAMES
Demolition Derby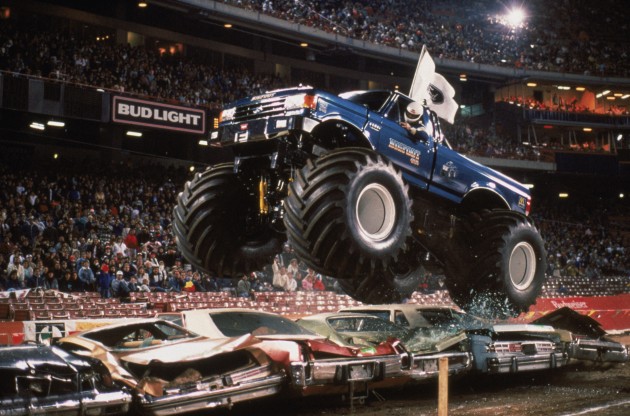 Roll your monster right on over the competition!
 This one works great for families that recycle or craft. Line up a row of "crush cars". These can be created from any easily squished box or package. Egg cartons work for buses or limos, poptart or snack boxes for cars, shoe boxes for vans, etc.  You can choose to decorate them or let the drivers use their imagination.
Drivers can take turns in the arena or to save time you can line up multiple demolition lanes side by side so drivers can crush together.  For an extra challenge, bring out the plane! Tape several cereal boxes together, top to bottom to create a length long enough to give space for several drivers. You can add depth by making the row 2 boxes high. For an extra-satisfying crunch fill boxes with dried leaves before taping or top with a layer of bubble wrap (if you can resist popping it yourself!). Drivers will line up side by side to take down this beast as a team.

---
MONSTER TRUCK PARTY GAMES
Super Speed Snake
Drivers show off their speed and skill in this challenging follow-the-leader. As the name suggests this game is a combination of follow-the-leader and a conga line. It starts with an awesome song. My suggestion is Beep-Beep (Little Nash Rambler) by The Playmates. You can choose another and adjust the following rules to match.
Beep-Beep is the story of an impromptu race between a Cadillac and a Nash Rambler. It starts off slow and quickly increases pace as the drivers hit the gas. Your little drivers will do the same. One adult will be the pace car. Drivers will line up single-file behind the pace car about two steps apart from each other.
 The pace car starts out slowly with the song, rumbling along to the beat. Drivers rumble along behind at the same speed. Whenever the song "honks", drivers (including the pace car) must honk their noses. As the song increases speed so will the pace car and the drivers following it until they are really speeding along. As in a conga line, the pace car sets the course. This can mean a simple circuit around the yard or a complicated course over dirt mounds, around bikes/furniture, and under swing sets. Warning: this game is highly addictive and the pace car may well earn their racing stripes today with repeated rounds. 
---
MONSTER TRUCK PARTY GAMES
Dizzy Donuts
Is there anything greater?
 The challenge is simple: Spin in tight circles while the music is playing, then when the DJ stops the music, race to the finish line.
Use a song to determine the speed and length of the donut derby. Choose something reasonably fast-paced and monster-approved. The DJ will stop the song when they feel the drivers have reached their max, and as soon as it stops, they must try to race over to the line of waiting adults. The first driver to touch them wins! Be prepared for a few drivers to stall out on this one or take off in the wrong direction. Cheer them on just the same.
---
MONSTER TRUCK PARTY GAMES
Truck Pull
Tug of War, Monster-style!
 For this challenge you will need to have a wagon or box that you can attach a tow cable (rope) to.  Fill the wagon or box with heavy object such as bricks, cans, or maybe even a parent. At one end of the tow cable, Monster truck drivers will "hook up" to the load (box or wagon) and attempt to pull it across the playing area to a designated spot. This is great fun in they must pull through mud or muck, but isn't neccesary to play the game.  This could be played in two teams having them face off against each other and the first to haul their cargo across the finish line wins@
---
MONSTER TRUCK PARTY GAMES
Cardboard Monster Truck Craft
What could be more fun than turning a carbboard box into a kid-sized monster truck, ones where the child can step into and bring the truch alive. This project also opens up so many more game options.
 You will need an assortment of medium to large cardboard boxes for this project (when it comes to monster trucks, size matters!) Before guests arrive, get your truck cabs built. Open all the flaps for the top and bottom (it may help to get boxes that are already broken down). Cut off the bottom and top flaps and set aside for later. 
When the kids arrive, give each a box-truck to decorate using construction paper, stickers, foam or whatever craft bits you have lying around. Sticky-backed craft foam sheets work well for large area coverage, especially with very young kids, and come in a wide variety of colors. Patterned or colored duck tape is now available as rolls or sheets at Walmart and offers even more chances to personalize your ride. Add details from the printable design page (things like headlights, racing stripes and mud splatters). 
 Color paper plates black for tires, helping younger kids to cut away chunks from the rim to create tread. Glue 2 to each side. 
 Take long strips of cloth or ribbon and secure to the front and back corners (short sides) to form a loop that will rest on the child's shoulders. You will need to either duct tape the cloth to the box or create holes to secure it through. When the truck is done, it should hang around the child's chest without impeding vision or movement. The final step is to christen their creation. Have driver's dub their monster rides and write the beastly name on a white label "license plate".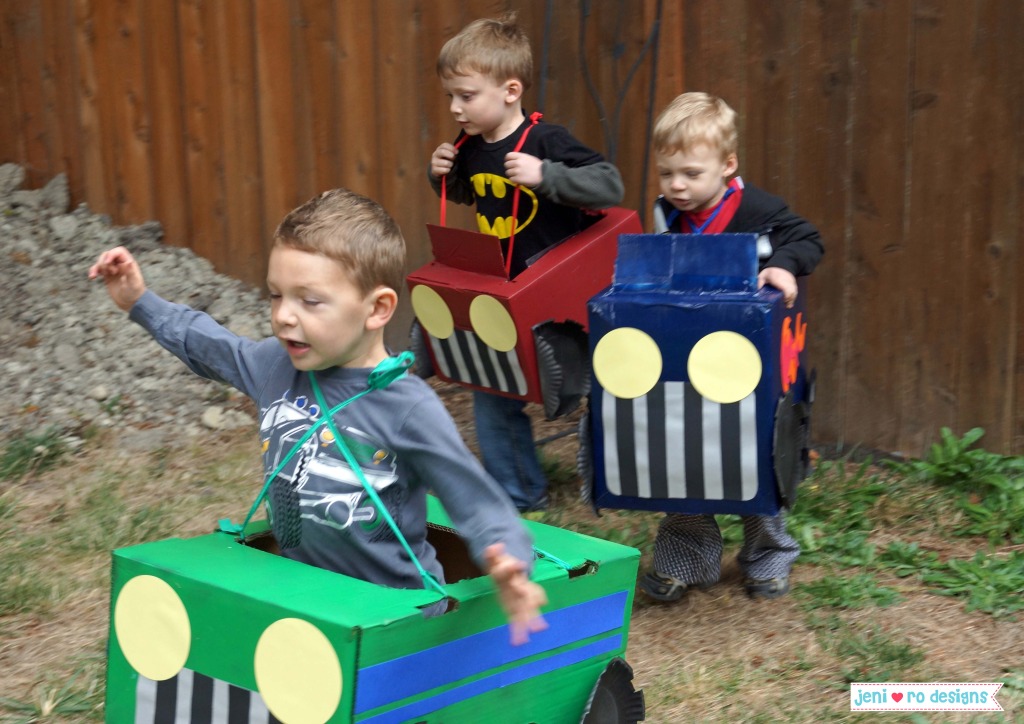 The trucks above were created by Jeni and Ro Designs for their son Vance's 3rd Birthday party.  This blog has a great party plan for Monster Truck party, to check it out click on the picture above.
---
MONSTER TRUCK PARTY GAMES
Drag Strip Dash
Drivers, start your engines...
This game plays just like it sounds. Drivers re-don their trucks for this fray. Two at a time (just like in the real thing) , drivers will rev their engines and race off to be the first across a finish line. Winner will compete until a challenger takes his title. Losers can return to the arcade to wait OR compete against each other for second and third place, etc...
---
MONSTER TRUCK PARTY GAMES
Freestyle freeze
Time to show off your own moves, but don't forget the brake
 Let the drivers get down and on the dance floor for this one. Bring back the CD player and give them a beat. Drivers stand a fair distance apart and while the music plays they may rev, rumble, rock and roll but when the music stops so must they, as quick as if they flipped the kill-switch. Any truck still moving will be considered defective and need to head to the shop while repairs are made (tickle until you find the "broken" switch). Restart the music and continue the showcase until only one truck reigns supreme.
---
MONSTER TRUCK PARTY GAMES
afterburn arcade
Let drivers digest with these fun festivities.
 While the drivers dine, slip away to set up this gaming grid. Arrange stations booth-style and let drivers meander to the activity of their choice, being sure everyone gets a turn at each. Drivers should leave their Trucks in the "Parking Lot" during these games.
Big Bad Bowling - Set up 5-7 empty 20oz bottles as pins.  Build a ramp from one of the cardboard tabs you cut off earlier.  Using the biggest toy truck you have, aim and run the truck down the ramp to take out as many pins as possible.
Tic-Tac-Tire -Use the printable crossbar and tire sheet to make x's and o's. Drivers take turns challenging each other with the winner  staying on to play the next opponent. Ties can be replayed or settled by a coin toss.
Crash Course- Drivers go head-to-head, sending toy trucks down opposing ramps to crash headlong into each other. Tape matching cardboard flaps to cereal boxes to create identical ramps and position facing each other.
Hubcap Hurl- Turn a laundry basket on its side. Drivers are given 4 silver or grab hubcaps (frisbies) and have to hurl the discs into the goal
Jumper-cable Jumble - Tie a series of knots in red shoestring or red silk cording. Drivers must untangle the snarl before the time runs out ( a sand timer or game buzzer will work)
Construct-a-car - Use the Monster truck puzzle printable for this one. Print out and glue to another cardboard flap then cut along the dotted lines to make puzzle pieces. Drivers must beat the clock to assemble the puzzle or print two so they can make it a race
---
---
---
---