Harry Potter Trivia Treasure Hunt Game
Printable Party Game - Instant Download!
The Harry Potter Trivia Treasure Hunt is part of our Harry Party Party Game Collection. the perfect addition to your Harry Potter party. Plus- You can play it anywhere! It involves trivia questions that players can test their knowledge of the Harry Potter books, clues that players will need to use their brains to solve, and fun "curses" that players must act out if they get the answers wrong. 

This party game features trivia so players should be familiar with the book/movies to play. We also have a version that DOES NOT have trivia, this would be perfect for an inclusive Birthday event where not all guests may be so familiar with the wizarding world .  If that is more of what you are looking for check out our other Harry Potter Party Hunt or check out our guide and printables for How to create your own Harry Potter Escape Room!

Get Your Harry Potter Trivia Treasure Hunt Now!
Instant Download! $13.99
---
HARRY POTTER TRIVIA TREASURE HUNT GAME DESCRIPTION
---
How to play the Harry Potter Trivia Treasure Hunt?
In most treasure hunt players answer a clue and the answer leads to the next clue location. It is the same in this hunt, but one of the unique qualities of this printable treasure hunt is that you decide where the clue locations are.  
How does this work?
This hunt includes a clue locator sheet that has a list numbered 1-50.  For each number on the list you write a possible location where clues may be hidden.
This hunt comes with 20 clues that players must solve to find the "treasure". Twelve trivia questions, and eight visual clue puzzles.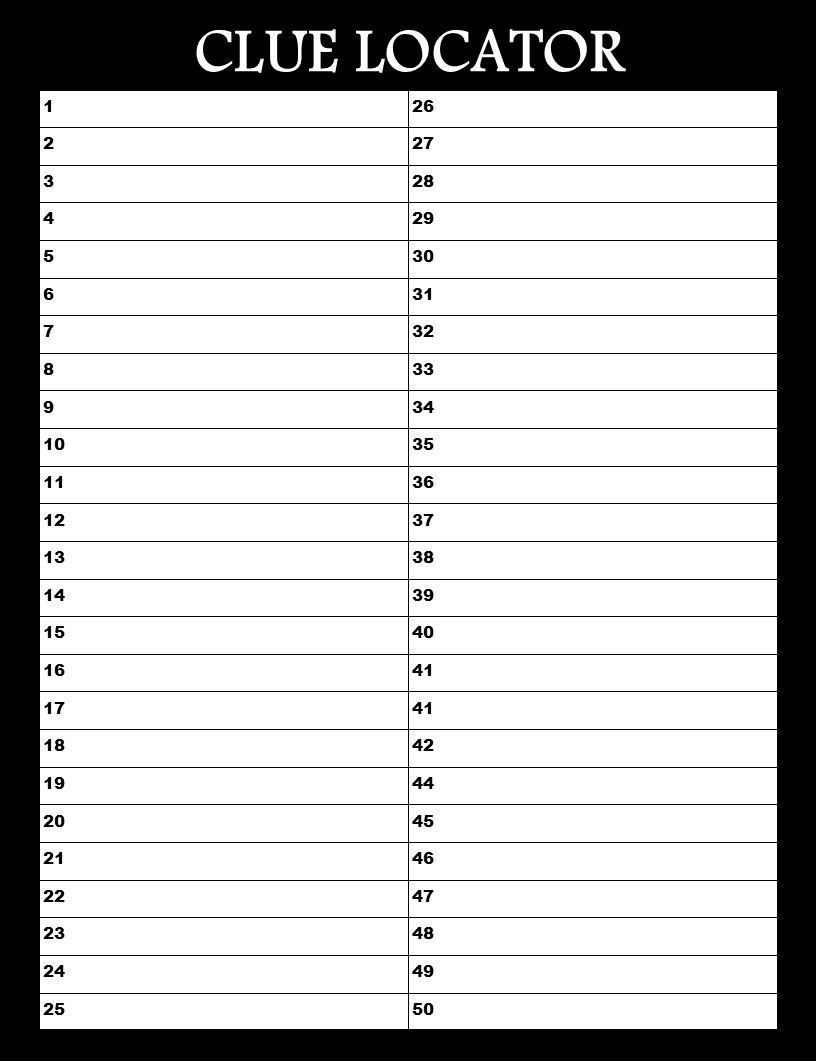 Each answer is numerical.  So if players believe the answer is #13 - then they would look on their clue locator and go to the place listed as #13 to find the next clue.  If they are right the next clue will be waiting, if they are wrong they will find a Curse card waiting that they must follow.  Then they must try again at the last question until they get it right. Since there are 20 clues, we have included 30 curses to fill up the rest of the Clue Locator sheet. Below you will find examples.

Harry Potter Trivia Treasure Hunt
SAMPLE CLUES
Below you will find a sample of one of our puzzle challenges and one of our trivia question challenges.
 Each puzzle clue is completely different type of clue from the other, and will each be solved in a different way, but the above is an example of one of our puzzle clues for this hunt (there are 8 in all).  
For this clue players would simply find and mark out all the words in the word search, the remaining letters spell out the next clue location.  As you can see on the solved example on the right the answer is TWENTY SEVEN. Players would look for their next clue in the location marked on the Clue Locator sheet as #27.
---
The other type of clues included in this hunt are trivia questions. You can find a sample below.For this clue the answer is Rubeus, which is number 16. After answering it they would then look on their clue locator and go to the place listed in spot number 16.  If they choose a different answer and go to one of those other spots listed they will find a "Curse" card waiting for them.
Harry Potter Trivia Treasure Hunt
CURSE EXAMPLES
As I mentioned above there are 30 curses that will be hidden in the remaining 30 spots after the 20 clues have been hidden.  Each curse is different, most are for one individual player (the first player who touched the card) and some are a curse for the whole team (this game is meant to be played as a team).  If a player or team is cursed they must follow the rules of the curse as listed on the card.  The clues are meant to be funny, and most are going to be hilarious to watch so make sure you have your camera ready :) .
So how easy is it to set up and play
the Harry Potter Trivia Treasure Hunt?
Each of the clues has a number in the right hand corner ( you can see this on the example clues).  This tells you what place to hide the clue.  If the number is 18.  Then you will hide the clue in whatever hiding place you chose to write down on the Clue Locator sheet as #18.
You will need to place each of your clues and curses in a basic envelope (envelopes not included).  This makes it so much more fun because unless they are 100% sure of their answer, the team will not know whether they have found the next clue or a curse until they open it.  This will be funny in it self once they catch on that most curses land on the first person that touches it.  Again unless they are positive of their answer their will probably be some " no, you pick up" banter. 
ADDITIONAL ITEMS NEEDED TO PLAY HUNT: As I mentioned above you will need envelopes, but a few of the curses require props.  The props are all simple things that you can probably find around your house.  They include: toilet paper, broom, blindfold (or something that can be used as a blindfold) and a bag of random clothing (this is for a curse where they have to put it all on and wear it, so the more goofy the better). 
HIDING THE CLUES: Ok, so on with the instructions.  You simply hide all the clues at the location number listed in the bottom right hand corner of each, and then put the curse cards in the remaining hiding places.  There is one clue that doesn't have a number in the corner, but instead a star.  This clue is the one that you give to teams at the start of the game to get them started. Place the curse cards in the remaining places as above.
WHEN PLAYING WITH MULTIPLE TEAMS: As far as teams go, you can play in one big team or divide players into smaller teams.  For each team you will want to print out a separate set of the 20 clues and a separate Clue locator sheet. The reason for this is so that teams aren't following each other to the clues and the game gets spread out. For each team you create a separate Clue Locator sheet and change the hiding places for the clues (hiding their set of clues accordingly) you can leave the decoy curses in the same spots and have teams share those because there is a much less chance of players getting the wrong answer at the same time. The first team to complete the hunt and find the 'YOU WIN' card wins!
NOTE: You do not have to play with multiple teams, you can play this game with one team as a cooperative hunt.  You cannot however play this game as individuals because some of the curse cards involve needing your teams help - plus it's so much more fun as a group.
Commonly Asked Questions about the
Harry Potter Trivia Treasure Hunt
What age range is it for?  I would say between the ages of 10 and up.  The groups that I tested with were between the ages of 10 and 17.  Some of the clues may be too difficult for younger players (but if they are with a team with older kids then it could work fine) and some of the curses might be a little too silly for adults to be comfortable with (not me, I'm 34 and I love the chance to loosen up and act goofy).  
How long does the hunt take to play?  This really depends on your group, how hard the hiding places are, and how spread out the hunt is (some people play them across the neighborhood). I would say on average an hour - but it really depends.
What should I print on?  You can print on regular paper, some choose to print on card stock because it creates a sturdier product. It does need to be printed in color.  All pieces come in high resolution dpi. 
What program do I need to open this? All the files are sent in PDF's so you will need adobe reader, which you probably already have - if not you can download it for free at adobe.com
Once I order how long does it take to receive? This is an instant download - once you order you should receive an email with 2 - 25 minutes with your instant download link. If you have any problems downloading it please email me at partygamesplus@yahoo.com.

*See what other have said about their game experience!
---
See Our Complete Harry Potter Party Game Collection
---