---
SIGNATURE SCAVENGER HUNTS

My Signature scavenger hunt games are my pride and joy. I have something for all ages. These are nothing like the traditional scavenger hunts where you are just given a list of objects to find - each game comes with it's own adventure and mission.

In Scavenger Hunts the clues are not hidden in specific places, but instead the are hidden sporadically around the playing area (such as the way you hide Easter eggs)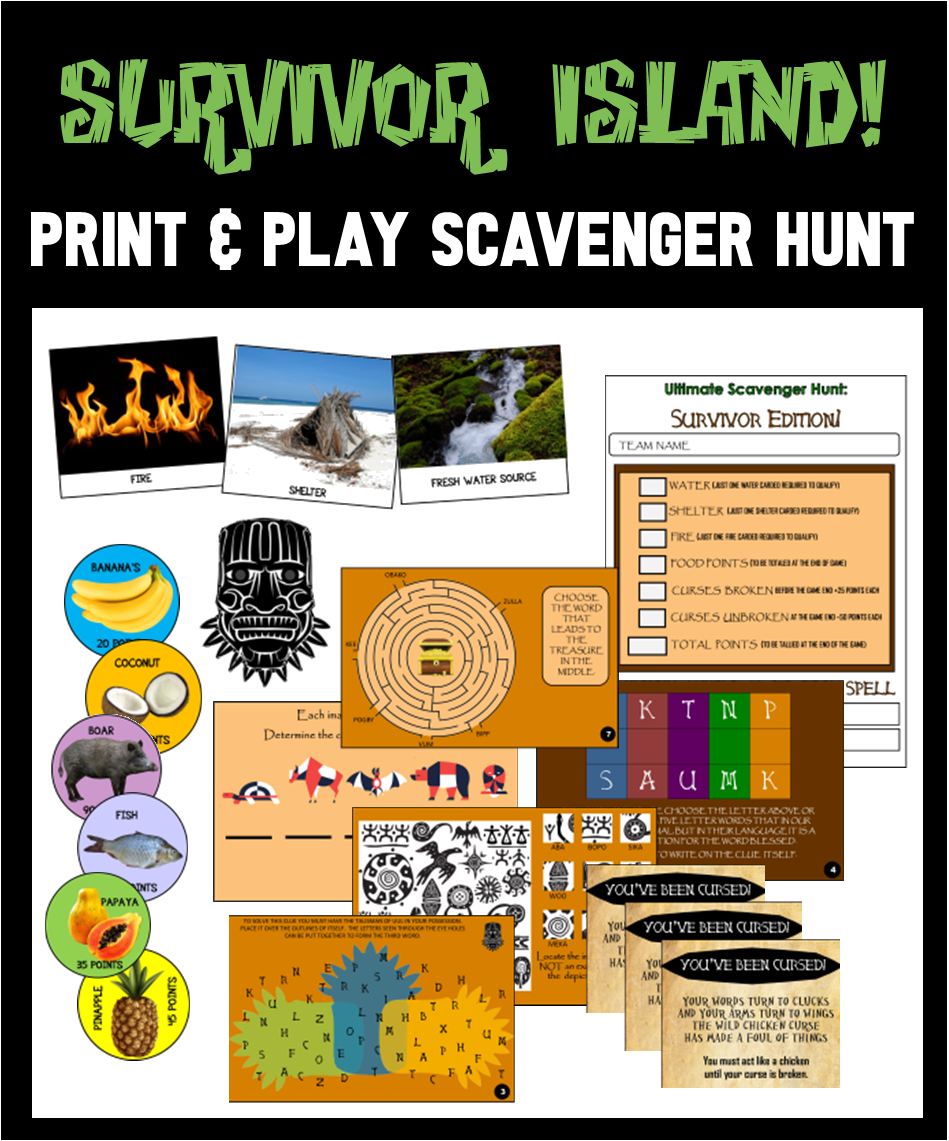 Survivor Island!
Scavenger Hunt

Players race to collect what they need to "survive" while at the same time trying to find clues to solve the mystery all while avoiding the native curses.
Ages: 8 - 99
This is the perfect party game for your minecraft themed Birthday!
Ages 7+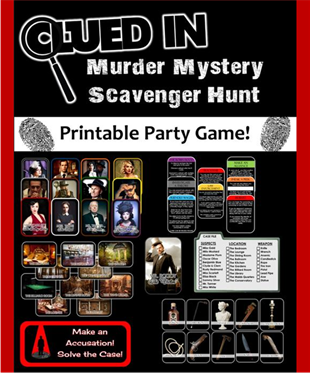 Murder Mystery Scavenger Hunt
Taking the classic game of Clue off the board and onto a whole new level of FUN!  
Ages: 8+
Truth or Dare Scavenger Hunt

Do you dare? An amazing race style hunt where teams race to different locations around town to complete hilarious truth or dare challenges.
Ages:13+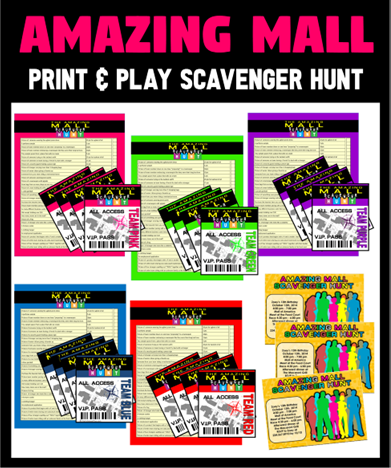 Mall Party
Scavenger Hunt 

Everything you need to host an awesome and hilarious mall party!
Ages: 12+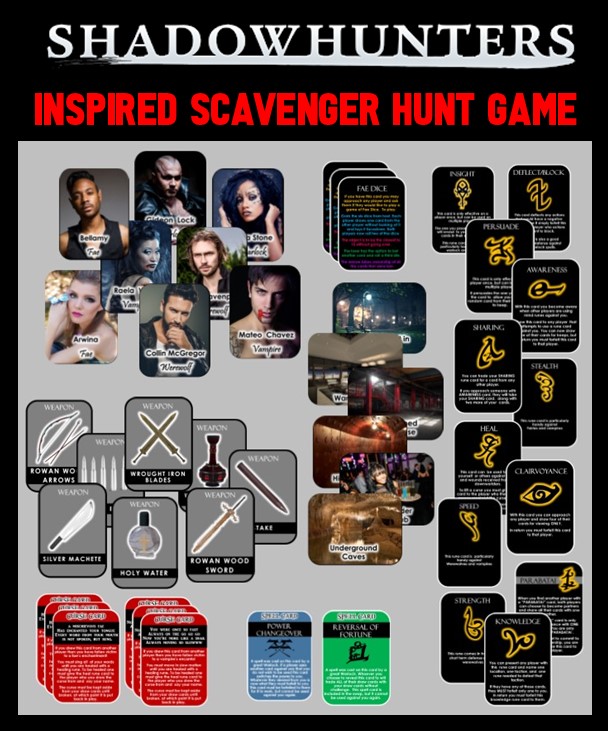 Mortal Instruments Shadowhunters 
This mystery game allows players to become shadowhunters on a mission - find the runes, avoid the curses, save the nephilim and win the game!
Rated: TEEN
Hunger Games
Survivor Hunt

Players race through the playing area to find and collect survivor cards and rack up as many points as possible!

Ages 10+ 

Murder & Mayhem Scavenger Hunt
This is a kill or be killed scavenger hunt featuring your favorite Horror Movie villains.  Last one alive wins!
RATED: TEEN & ADULT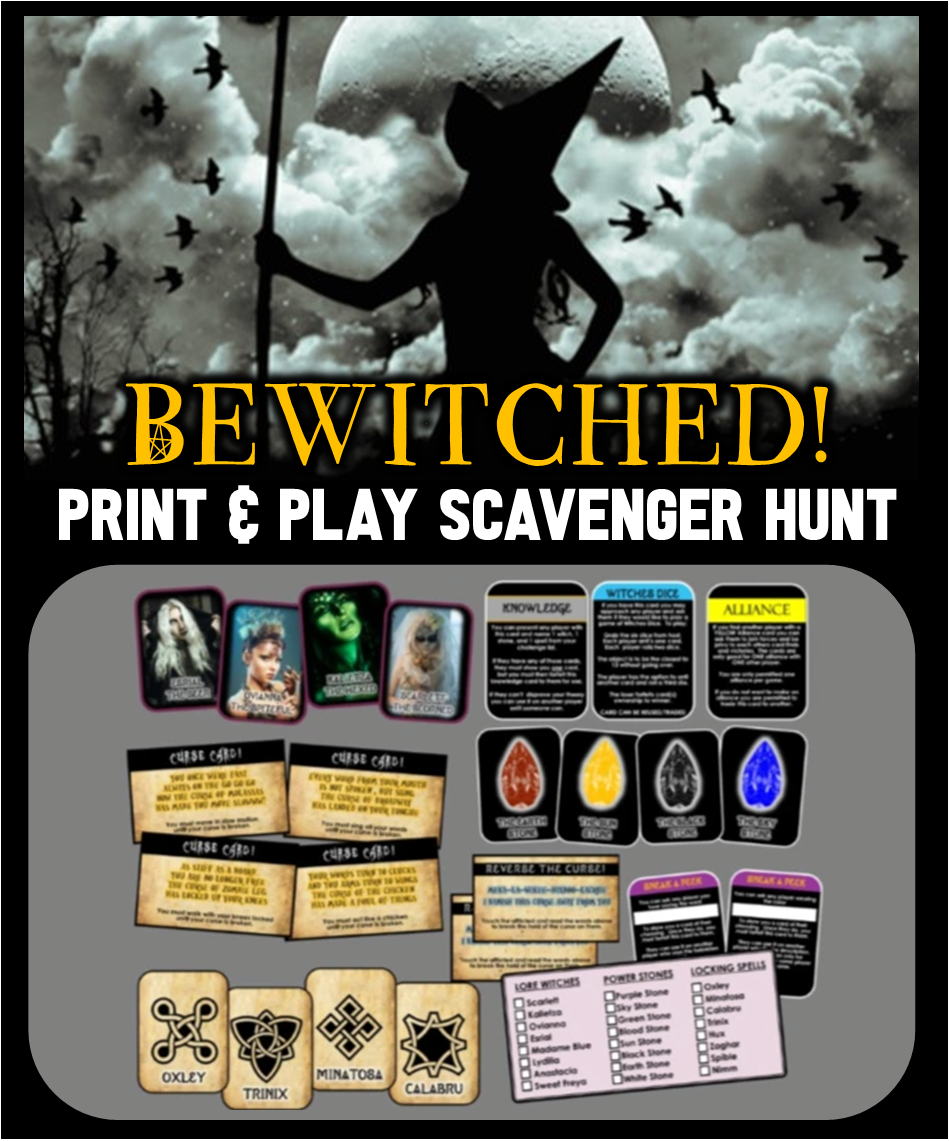 Clues, Spells, & Curses Treasure Hunt
Find the clues, don't get cursed, be the one to break the witches spell first!
Ages 6-99
Great for Black History Month - this educational game makes learning about the great historical American fun and exciting!
Ages 10 and up
Famous Scientist
Educational Hunt

Players race to find the fact cards that match their assigned scientist, then put together the secret clue to discover where the treasure is hidden!
AGES 10-16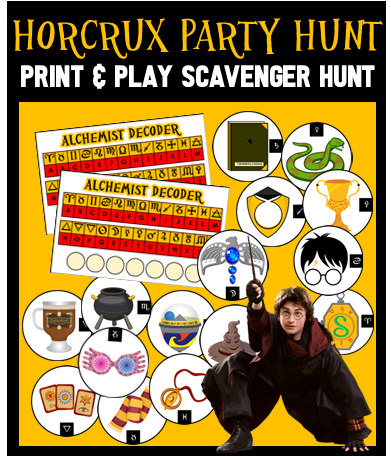 Players hunt down all seven horcruxes and use the decoder to decode and discover the magic word that wins the game!

Ages 8+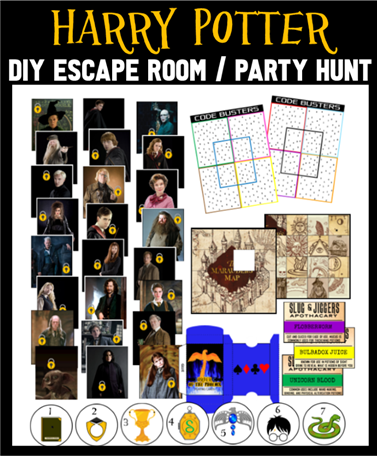 Players use our exclusive CodeBuster cards and an array of creative and exciting challenges to determine the secret code to escape!

Ages 12+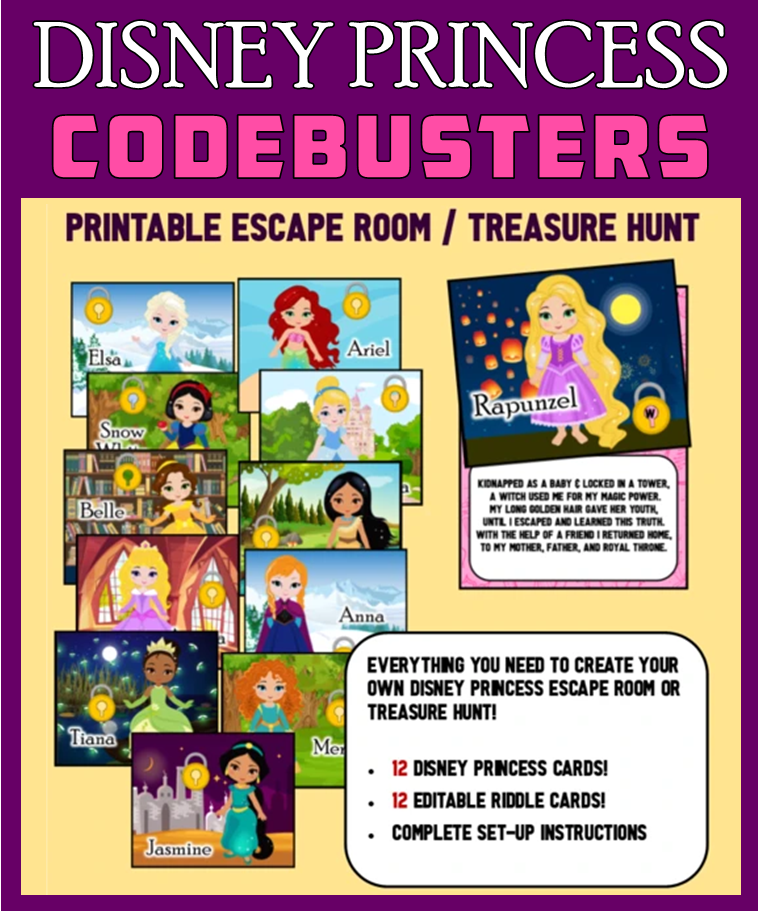 Disney Princess
CodeBuster Game

This CodeBuster can be used as a scavenger hunt or even a princess theme escape room. 
Ages 6+
Players find and put together books about favorite young children books to discover the secret treasure location.
Ages 3-6
(guidance needed)
Clues, Spells, and Curses Scavenger Hunt 

It combines the fun of a murder mystery (minus the murder, scripts, and complicated set up) with the scavenger hunt and treasure hunt style games to create a unique and fun party game.
Ages: 6 - 99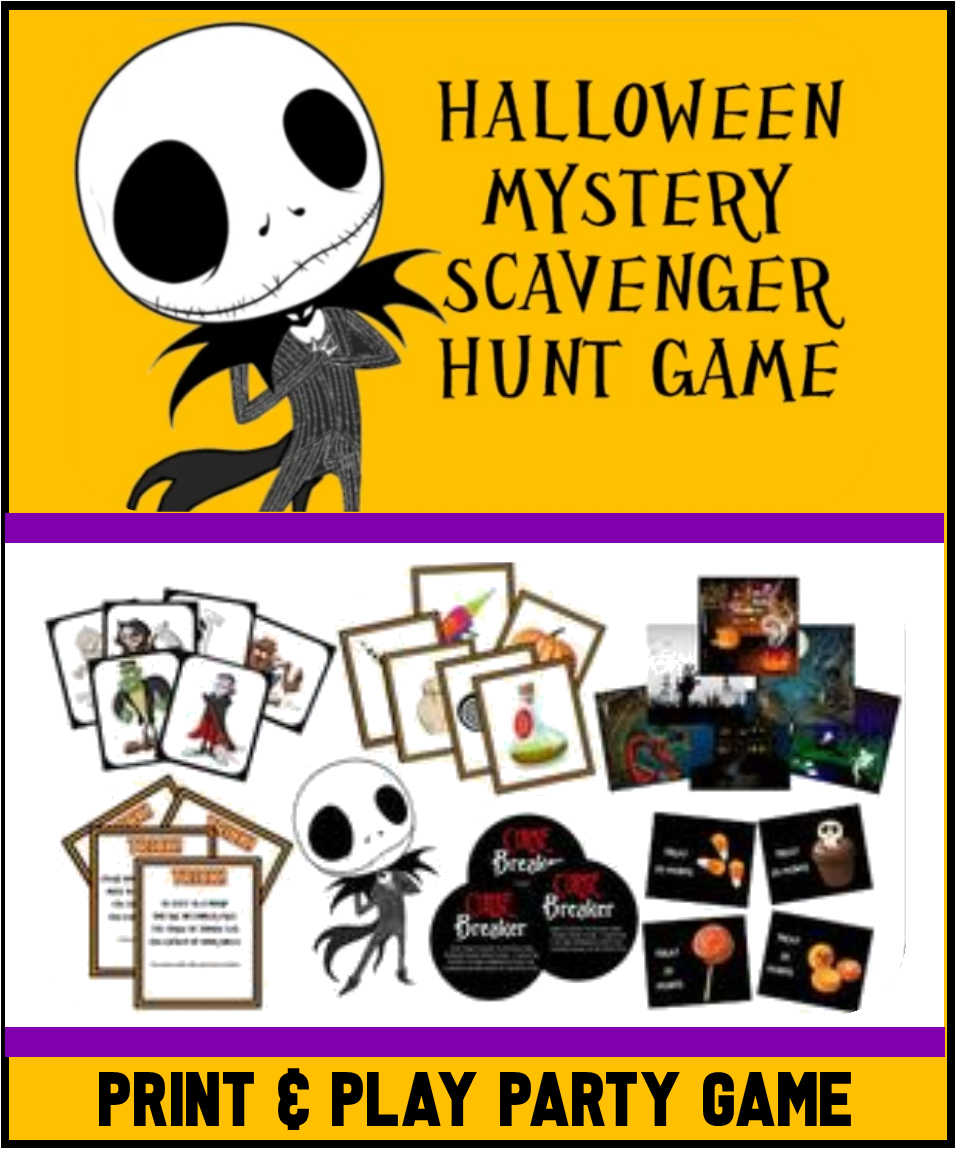 Halloween Scavenger Hunt Mystery Game

Who kidnapped Jack the King of Halloween?  Search for clues to discover the who, what, and where of this mystery. Beware of curse along the way. Perfect for an active Halloween party!
Ages 7+
Younger ones may need help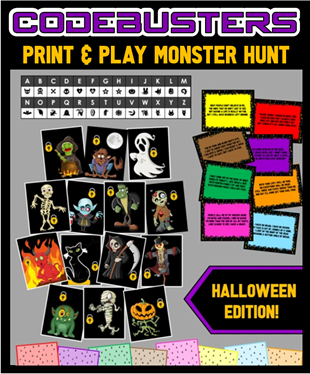 CodeBusters
Halloween Monster
Edition!

Discover the secret code by finding and solving fun riddles about classic Halloween Monsters.
Ages 8 - 15
CodeBusters!
Scary Movie Edition
Discover the secret code to win the game by finding and solving Scary Movie riddles.
Ages 13-99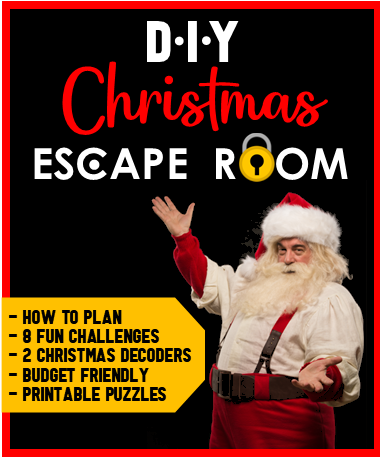 Create your own Christmas Escape room with this step by step guide, a few ordinary and budget friendly items, and our printable puzzle helpers.
The Great
Christmas
Scavenger Hunt

 In this unique scavenger hunt it is the players job to discover who did it, what they did it with, and where...
Ages 7+
Younger ones may need help
more TREASURE HUNT CATEGORIES
PICTURE SCAVENGER HUNTS:  These hunts were created for the younger crowd because they use few to zero words (incorporating pictures for clues instead) and focus on cooperative play instead of competitive play.
INDOOR TREASURE HUNTS: These are the classic treasure hunts that you would be familiar with. Clues lead to specific locations in a household.
SIGNATURE TREASURE HUNTS: My signature treasure hunts allow you to play the hunt ANYWHERE because you choose the locations.  I have done all the hard work of coming up with a variety of exciting, engaging clues for a variety of clues - all you have to do is decide where you are going to hide them.
SIGNATURE TRIVIA HUNTS: These are much like my Signature Treasure Hunts. The Twist is that the clues in these hunts incorporate trivia questions and trivia games to challenge players on their knowledge of the given theme.
---