Horcrux Hunt

A Printable Harry Potter Party Game!
Our printable Horcrux Hunt is part of our Harry Potter Party Game Collection. This game challenges players to find all seven horcrux images hidden throughout the party area.  There are also 8 decoy images that you can use to make the game a little harder, or leave out all together. 

Each of the images has a symbol on it, players use their Harry Potter Alchemist Decoder to determine which letter the symbol represents.  The first player or team to discover and decode all seven of the horcruxes must unscramble the letters to discover the secret word (that you decide!) and call it out to win the game!
Setting up your Horcrux hunt
1. FIRST—make sure you have put the ALCHEMIST FONT file include into your computers font folder. 


2. Open the downloaded game in Adobe Reader and not another PDF reader.  This is important as the font may not work properly if opened in another program.


3. Choose a seven letter word— some suggestions WIZARDS, MAGICAL, or POTIONS.


4. On each of the horcrux images circles there is a black box. Click in this box and type in one of the letters in the secret word. The letters should automatically appear in the Alchemist Code font. Below the images have a symbol already on them - when decoded the symbols spell out WIZARDS.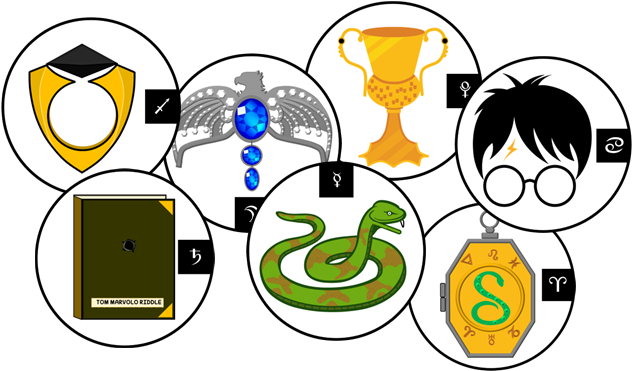 NOTE: The actual diameter of each circle clue when printed is 4 inches.
5. OPTIONAL:  You can choose to use the 8 decoy images or not.  These make the game a bit harder as players must determine which images are horcruxes and which are decoys. If you choose to include these in your game you will need to type a decoy letter on each of them as well - it is best if you don't use any of the letters that were used in the secret word.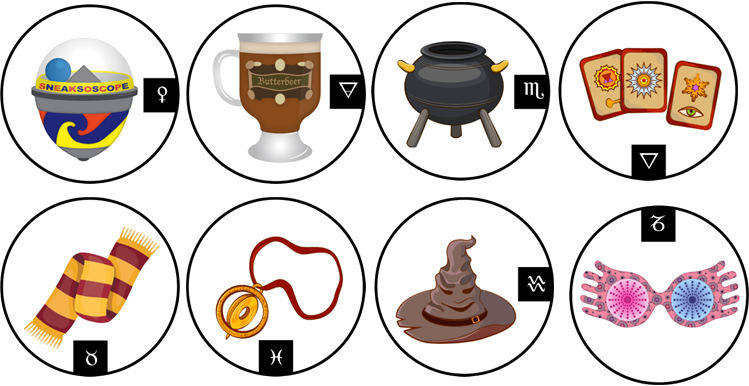 6. Print the game.  We suggest card stock as it creates a more durable product.  Make sure you print enough Alchemist decoders so that each player gets one.  Some choose to play in teams so if that's the case then print enough for each team.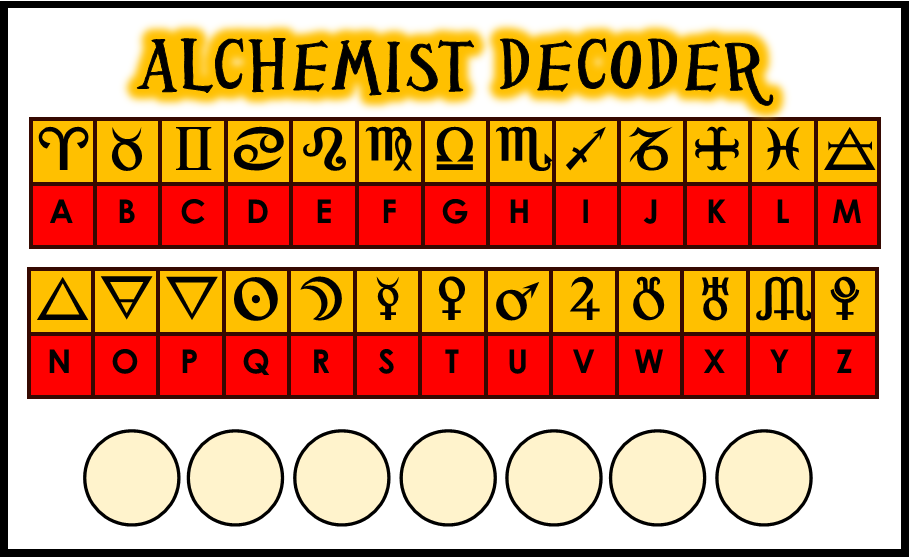 7. Hide the clue circles throughout your playing area.


8. It's Time to Play!  Players search the game area to find the horcruxes.  They do not take the horcrux once they find it.  They simply decode and record the letter on using their alchemist decoder.  Once they find all seven letters, they must unscramble the letters and call out the secret word.  The first player/team that does this wins the game!
Get Your Harry Potter Horcrux Hunt Now

Instant download - $5.99
Your printable game will arrive within minutes in a ready-to-print PDF file.  This is a digital purchase - No physical product will be mailed.  If you do not see it in your email please check your junk folder before you contact us - that is the usual culprit. If you have any questions or feedback we would love to hear from you!  Contact  Us At: HappyPartying@gmail.com