printable christmas party games
Our ever growing list of Christmas Party games offers a little something for all ages.  We have Naughty Games, we have Nice Games, we have tons in between so whether you are looking for something for kids, teens, adults, or a mixed group we aim to please.
---
printable christmas party games
cHRISTMAS SONG SCRAMBLE
One of my most popular Christmas printable games.  Christmas Song scramble players race to create classic Christmas songs out of image cards. 
There is five different ways to play this game so you can choose which one works best for your crowd.
---
printable christmas party games
UGLY SWEATER MURDER MYSTERY PARTY GAME
Players must deduct which ugly sweater the murderer was wearing, what their motive was, and what weapon they used to commit the crime. 
Was it Jack Jingle who bludgeoned his wife with a snow globe when he caught her kissing Santa Clause?
Was it Holly Day who strangled the victim with Christmas lights because the angry Elf Voices told her to? 
So many possibilities in this game that can be played again and again!
---
printable christmas party games
DIY Christmas Escape ROOM GAME
Our DIY Christmas Escape Room plan makes it easy and budget friendly for you to set up and host your own Christmas Escape Room Game. 
Our plan includes eight creative and fun escape room challenges, Christmas themed Codes and Decoders, Riddles, Brainteasers, and more that players must find and solve. 
---
printable christmas party games
KIDS CHRISTMAS TREASURE HUNT
This Christmas treasure hunt is not the Basic Betty treasure hunts you might be familiar with.  In this hunt players must solves Christmas puzzles of all kinds - one answer leading to the next until the treasure is found. This hunt can be played anywhere because you choose the hiding location!
---
printable christmas party games
DIRTY ELF -ADULT GAME OF HOLIDAY 
INNUENDOS
Players solve riddles innuendos - they sound dirty but they are really innocent Christmas items. 
Players race to solve all the riddles in order to discover the secret code and win the game! 
This can be played as a treasure hunt, Escape Room, table game, or even over Zoom.
printable christmas party games
FAMILY FEUD christmas edition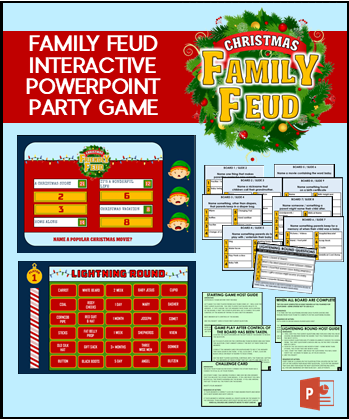 For this game you connect your computer to your television and play this interactive game using PowerPoint.  This  game includes printable game cards for the host, and interactive game elements on the screen such as the Christmas sounds, survey answers that flip over with a chime, and sad elf faces that pop up when players get a strike.
---
printable christmas party games
NATIVITY TRIVIA TREASURE HUNT GAME
How much do you know about the nativity story.  Test your knowledge (or let players use their bibles) to answer the questions, pass the puzzles, and make your way to the final treasure.  Host choose the clue locations so you can set this game up anywhere!
---
printable christmas party games
cHRISTMAS MOVIE TRIVIA HUNT
Another very popular game, this game has fun clues, puzzles, trivia, and brainteasers involving classic Christmas movies.
You don't have to be a movie genius to play, you just have to want to have fun!  Again host decide where clues are hidden so you can set this game up to play anywhere.
---
printable christmas party games
cLUED-iN CHRISTMAS EDITION
This game was inspired by our Best Selling printable game Clued-In.  This is our Christmas version where players try and discovered who killed Santa's top chef Georgie Gingerbread.

Players must discover who did it, what Christmas themed weapon they did it with, and where they hid Georgie's magic life-giving hat.... all while avoiding the shenanigan's of Uh-Ohh Cards.
---
printable christmas party games
cHRISTMAS MINUTE TO WIN IT
Not only do we give you a list of tried and true Christmas Minute to Win It game ideas, we also have a printable set to make creating this party a cinch.  Invitations, banners, signs, and more!
---
printable christmas party games
PARTY CUBES - CHRISTMAS EDITION
Our printable Party Cubes is an addictive party game that can be enjoyed by all ages. There are two different ways to play. 
The first is a speed round where players race to flip their Christmas party cubes up to the required image. 
The second is kind of a mix between bingo and Yahtzee, except way better.
---
printable christmas party games
CHRISTMAS gift exchange dice game
Our printable Christmas Gift Exchange Dice Game is easy to print and fun to play for all ages. 

DO something different with your gift exchange this year.  Players can trade, make others trade, make wagers, freeze and more until the end of the game when players take home what they are holding when the very last gift is unwrapped.
printable christmas party games
build a nativity scene Dice game
My second printable Nativity game is simple to learn and fun to play for all. 
Each players gets a nativity scene and 16 game pieces they must fill it with.  They do this by rolling dice and using a one of a kind dice chart to know which piece they can add. The first player to complete their Nativity wins!
---