Disney Princess Riddles
DIY ESCAPE ROOM game!

An exclusive Print & Play Party Game
In this DIY Escape Room game players race to solve the riddles, find the hidden Disney Princess Picture Card that matches each riddle, use that card to discover each riddles  code letter, then put all the letters together to discover where the secret key OR secret password (your choice) needed to get out of your At Home Escape Room and win the game!
This game is great for players age 6 and up.  Depending on which version of the game you choose to play game time can last 20-45 minutes.
The only additional item you must have to play this game is a single hole punch that you can find at your local dollar store.
This Disney Princess Escape Room Game features 12 riddles that each lead to a different featured Disney Princess.  The riddles are editable so you have the option to change them if you want to something easier or more difficult depending on your crowd. Psss! this also allows you to come up with different clues so the game can be played over and over!
Each of the riddles match up with a CodeBuster card that features a picture of the featured Princess that answers that riddle. Each of the cards also have a little padlock image on them that you will remove the inner circle out with a hole punch before the game. That hole allows players to place the correct CodeBuster card over the coded section of the riddle card and have one of the letters revealed that will lead to the final escape. 
When players collect all 12 code letters they unscramble them to create the winning code word(s).  The winning code word can be a secret password that when yelled outloud will release them from the Escape Room, or it can be a location where the key to escape is hidden. 
OPTIONAL:  You do not have to play this in one room.  Many play it with the clues hidden around the house or playing area and the hidden key isn't used to escape, but instead to unlock a box that holds a cool prize. 
Disney Princess Riddles DIY Escape Room / Treasure Hunt
princess riddle / clue samples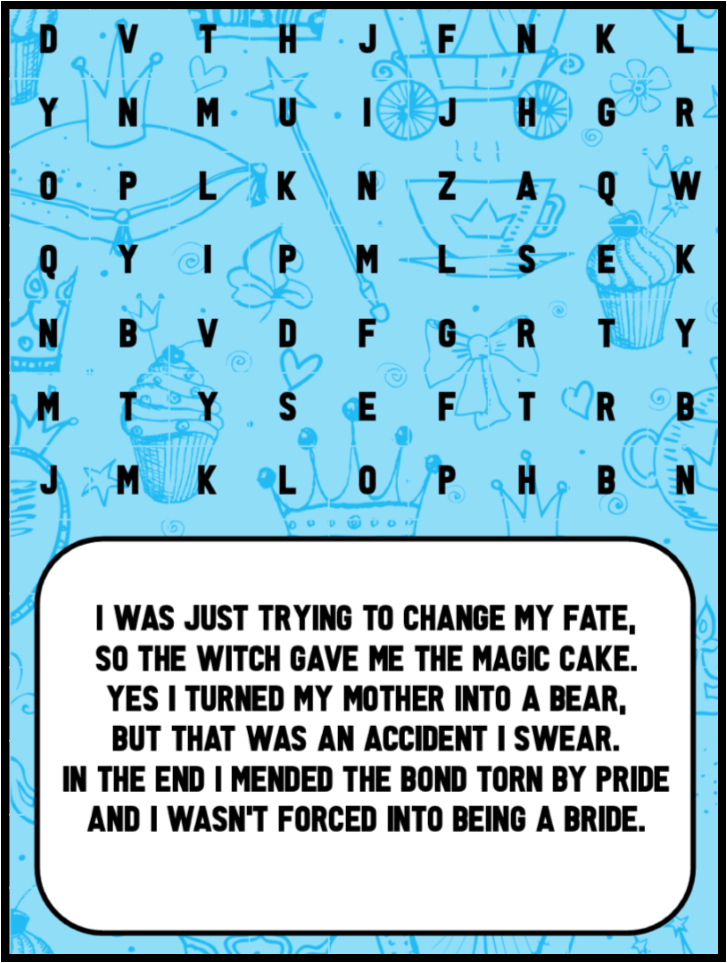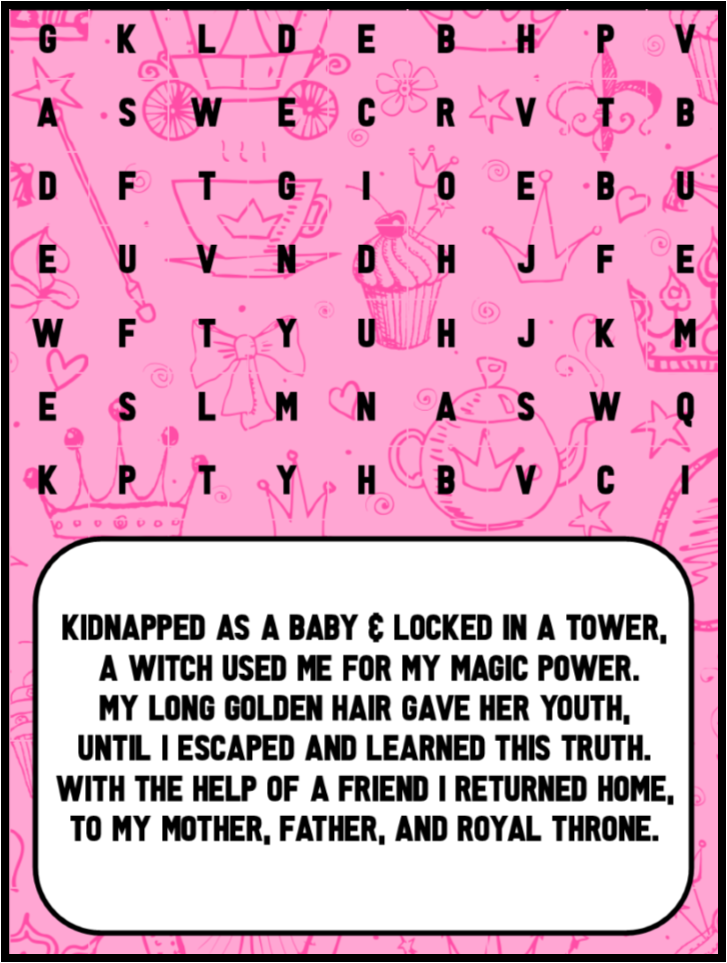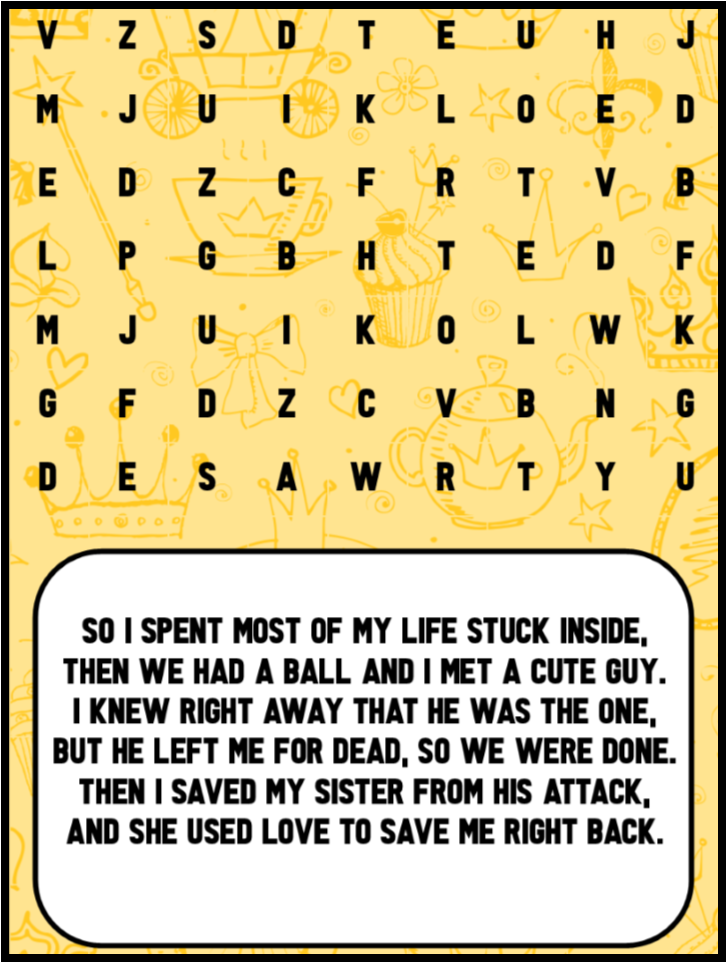 The answer princess image cards (known as CodeBusters) are hidden throughout the playing area. Below is the correct CodeBusters for the Riddle Cards above. Some host do away with the hiding bit and simply attach them to the walls in obvious places.  It really depends on how you want to set up the game.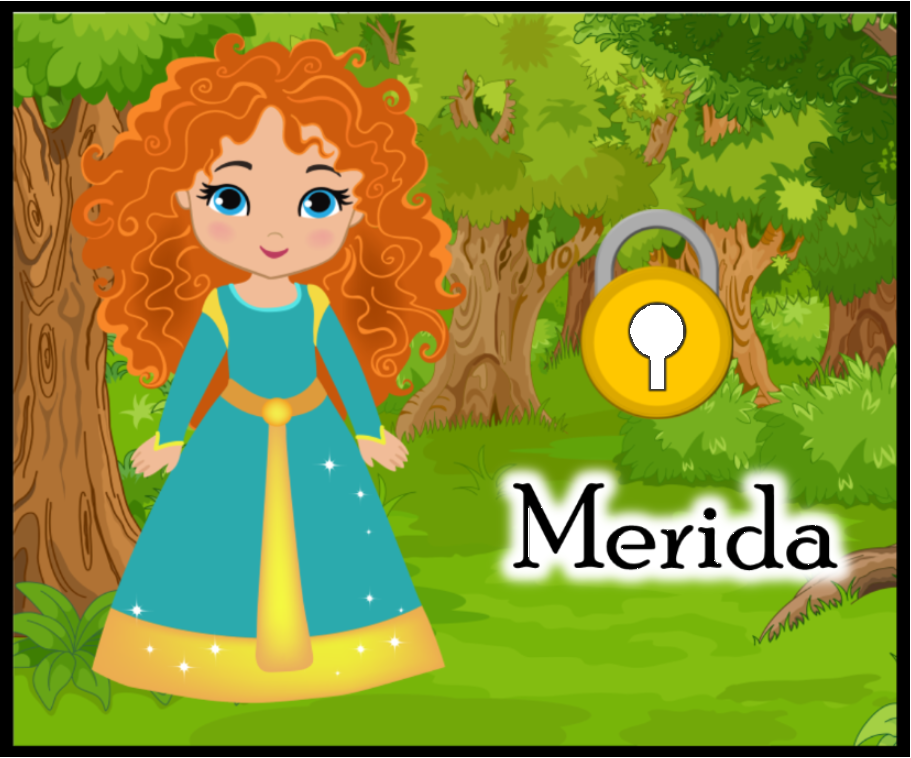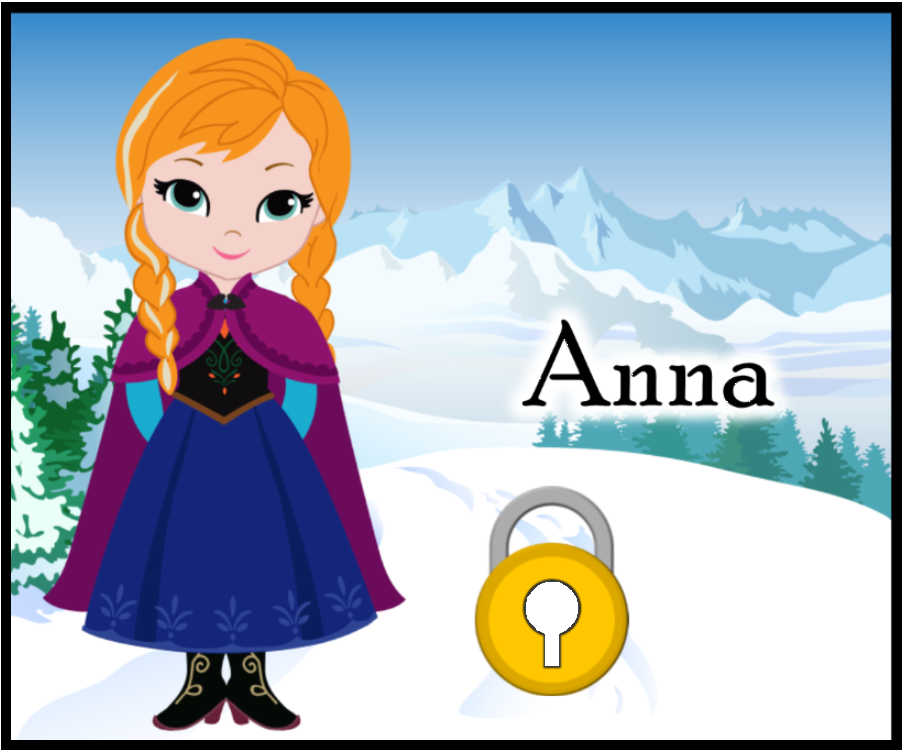 There are 12 Princess CodeBuster Cards to Include:

Merida (shown Above
Rapunzel (shown above)
Elsa 
Anna (shown above)
Snow White
Aurora
Cinderella
Ariel
Belle
Jasmine
Pocahontas
Tiana
Once players find what they believe is the Correct CodeBuster card then they can place that princess image over the code on the riddle card and a letter will be seen through the keyhole on the card.
In the first clue sample you can see the letter S, in the second the letter C, and the letter R in the third - but of course these letters are editable and can be changed to whatever you need them to be to spell. (see next section)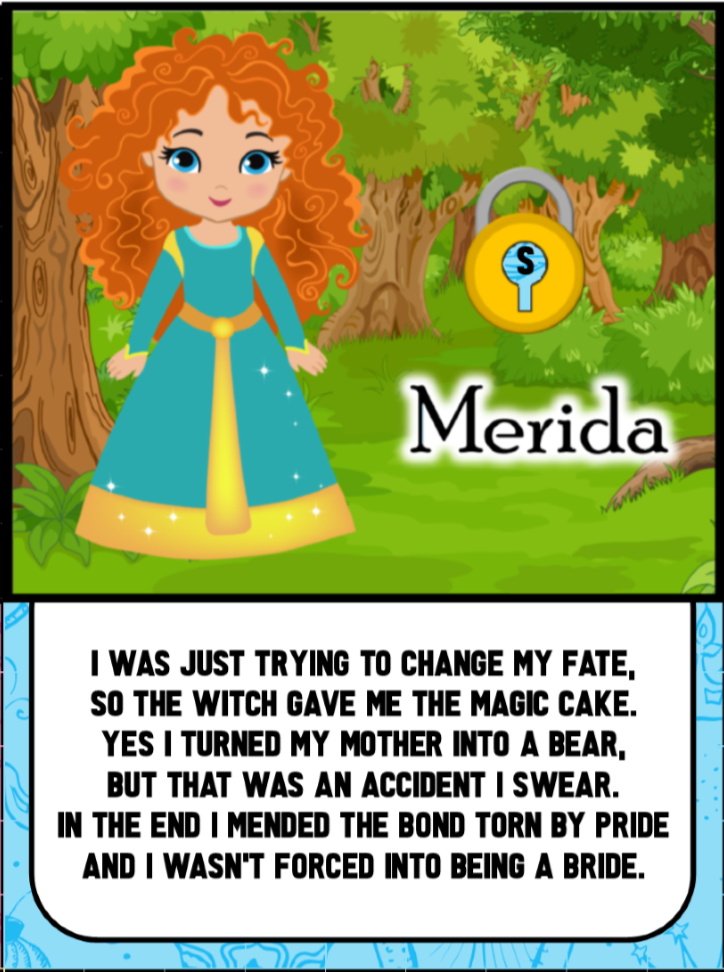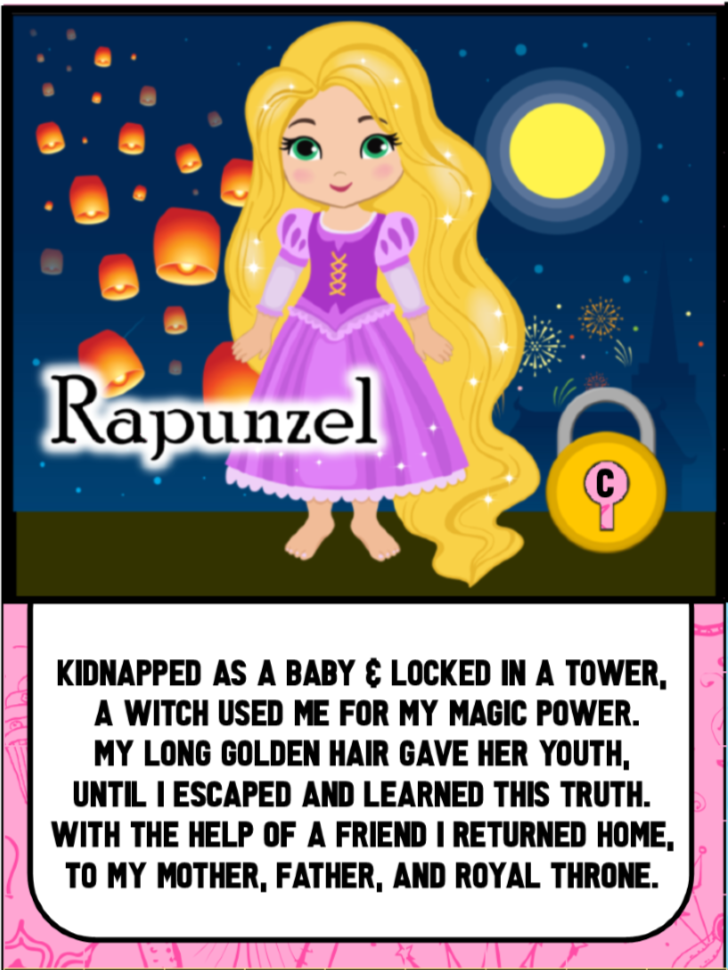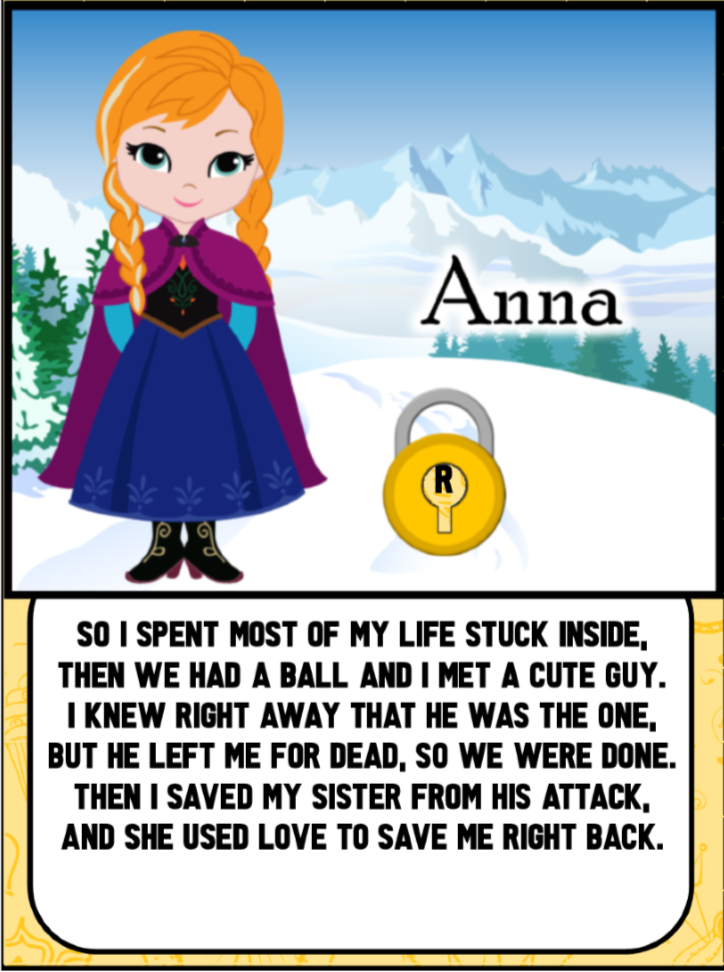 One of the genius things about this game is that YOU DECIDE THE LOCATION, the code is EDITABLE so that host can change it to what they want it to be before printing.  Simply open in adobe reader, click on the default letters you want to change and switch them to the letters you need to spell your Escape Word or Hidden Key Location.
If they are correct that letter will be part of the location where the 'prize' is hidden. The prize can be anything you want it to be, it can even be bragging rights if you want to keep it low budget. 
This hunt has 12 different riddles so your hiding location will need to be 12 letters or less.  If it is less than 12 letters you will need to remove some of the riddles. 
DISNEY PRINCESS RIDDLES DIY ESCAPE ROOM
how to your d.i.y escape room with hidden key
1. Open your download in Adobe Reader. 
2. Decide on your hiding location, it should be 12 letters long(for example IN THE GARAGE) and change the specified letter on each Riddles Code (we show you) to one for your location. 
For example if you plan to hide your hidden key in the garage you might use the letters
L-O-O-K   I-N   G-A-R-A-G-E (12 letters, one for each clue riddle)
Just click on the specified letter on each clues code, backspace, and type your desired letter - DONE.  Now Print.  
3. Print the CodeBuster cards and use a basic hole punch (you can buy these at your local Dollar Store) to punch the hole out of each padlocks on each image.
4. Place your treasure box (the one the key opens) in the center of the playing area.  Fill it with whatever prize you choose and lock it.
5. Hide your key in the location that you used for the code in step 2.
6. Hide the CodeBuster cards throughout your playing area or simply tape them along the wall or spread them over a table. If you want to set it up as a competition divide players in to teams and print out a set of riddle cards for each team.
OPTIONAL: Some Host get creative and instead of giving the players the Riddle Cards they will hide them as well, or give teams a Riddle for every shot a player takes if it's that kind of party.  
Get Your Disney Princess
DIY Escape Room Now!
~ Instant Download $8.99 ~
Your Disney Princess CodeBuster Game Includes the following:
12 Editable Princess Riddle Cards 
12 CodeBuster Cards 
Host Instructions
Your printable game will arrive within minutes in printable PDF files.  This is a digital purchase - No physical product will be mailed.  If you do not see it in your email please check your junk folder before you contact us - that is the usual culprit. If you have any questions or feedback we would love to hear from you!  Contact us at: HappyPartying@gmail.com