---
The Great Christmas Scavenger Hunt Caper!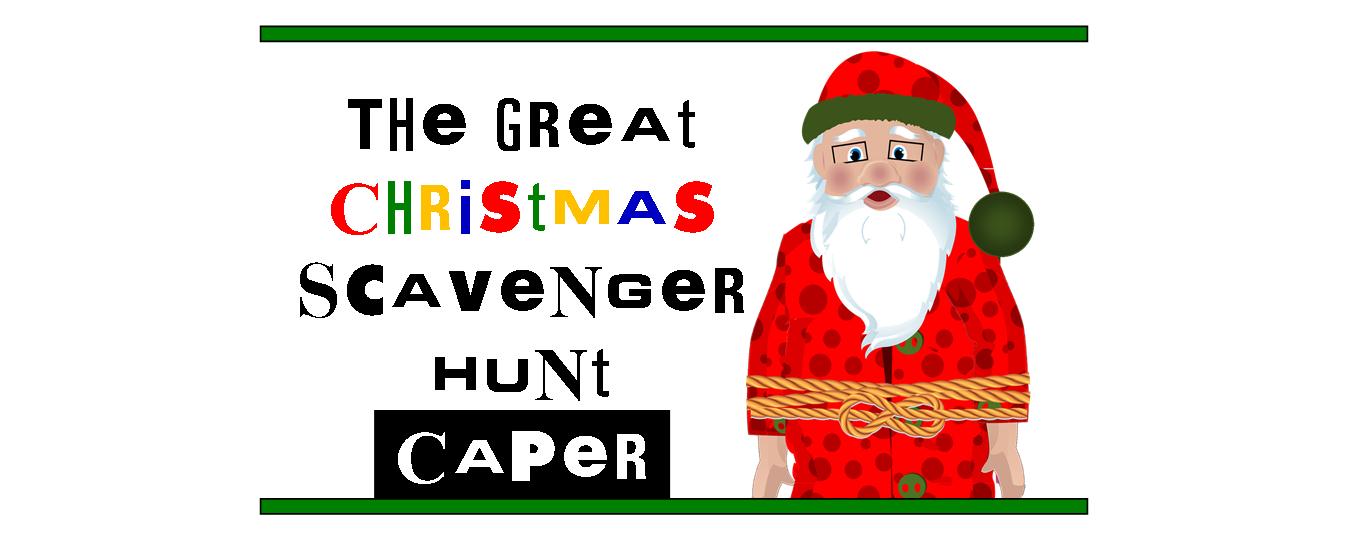 Our printable Christmas scavenger hunt party game is a far cry from the typical treasure hunt. It's a unique mix of murder mystery, treasure hunt, scavenger hunt, and I even threw in a few elements from a game you might remember called Clue. I created this printable Christmas party game for kids, teens, and adults. It perfect for groups. So if you are looking for something to add a little punch to your holiday gatherings this might just be it.
Printable Christmas Party Games for kids, teens, and adults

:


The Great Christmas Scavenger Hunt Caper
What is the Great Christmas Scavenger Hunt Caper about?
| | |
| --- | --- |
| Santa has been kidnapped and it is your guest's job to find who did it, what they did it with, and where they are keeping Santa hidden. We know that a trader elf is behind the crime, and there are six main possible culprits. Was is mail room elf Twinkles who was denied a promotion by Santa just a week before the crime. Or maybe it was Jingle Bella who it has been rumored is planning an elf strike. It could even be innocent looking Newton who was just accused of stealing some of the presents and selling them on E-bay! | |
| | |
| --- | --- |
| | Guests playing the Christmas scavenger hunt will also need to learn what was used to capture Santa. Was it a sleeping potion slipped into his cocoa? Was he temporarily turned into a block of ice by an elf issued icicle gun? Maybe he was knocked out by a shock he received from set of faulty Christmas lights. It will be your guest's job to figure out which of six possible "weapons"was used to kidnap Santa. |
| | |
| --- | --- |
| Finally and most importantly, guests must also discover where Santa is being held captive. Is he being held at the elf workshop? Or maybe he is tied to the North Pole awaiting rescue. He could even be hidden at the local Penguin Nightclub The Fish and Chips. | |
How do you play the great Christmas Scavenger Hunt Caper?
You will print out all the printable game pieces and hide them throughout your playing area, but first you will randomly choose one suspect card, weapon, and location card and secure them in the SOLUTION envelope. Guest will be divided into teams and each team will be given a check list. The check list will include a picture and caption for all the suspects, weapons, and locations. Teams must use their deduction skills to find and mark off possible culprits, weapons, and locations. Once they have narrowed each category's six options down to one they can share their solution with the host. If the team's solutions matches the one in the solution they win the game. It's that simple…or is it?
Hidden Surprises in the Great Christmas Scavenger Hunt Caper....
| | |
| --- | --- |
| Hidden among the rest of the printable game cards are Uh-Ohh cards. These are cards that have funny situations described that the player (the one who finds the card) must act out. Maybe they drank a little too much jingle juice and now they have lost the ability to talk and can only sing Christmas carols. Maybe they fell under the penguin cures and now must waddle around like a penguin. Or maybe they fell into a batch of taffy and now they can only move in slow motion. This game comes with eight Uh-Ohh situation cards and also includes blank cards that you can add your own Uh-Ohh situation too (optional). The only way the player can stop acting out the Uh-Ohh situation is to receive a respite card. They can either find one themselves, their teammate can find it for them, or their team can buy one from another team. | |
How can you get the other teams clues?
So maybe your team is lacking a few suspects that you need to narrow down the choices and you know the other team has them. Or perhaps someone has fallen under a curse (from an Uh-Ohh card) and they want to be released from it and you know the other team has a the respite card you need to release them from it. How can you get the other team to give the card to you? You can do this one of two ways. First hidden among the game cards, uh-ohh cards, and respite cards are also point cards. Point cards can be used like money to buy needed items from other teams. Use your points wisely because the team with the most pints at the end of the game is rewarded. The other way you can receive game pieces from another team is to trade them with a game card that they want from you.
What comes in the Great Christmas Scavenger Hunt Printable Party Game?
When you order our exclusive Christmas treasure hunt you will receive the following in a ready-to-print PDF file.
Complete step-by-step set-up instructions. This includes everything you need to know to set up and play the game.
One game letter which is used to explain the concept and rules to the player.

6 suspect cards, 6

weapon cards, and 6

location cards. Each features full color, fun illustrations.

36 point cards featuring missing presents and pieces of Santa's suit each with it's own point worth listed on the card.
8 Uh-Ohh cards. Each with a unique situation that the players must react to.
4 Blank Uh-Ohh cards that you can edit yourself to include your own situation. (optional)
4 respite cards used to release players from Uh-ohh cards.

Fun 5x7 editable invitation ready for you to type in your party information and get the word out about your Christmas Scavenger Hunt.

(sample seen below)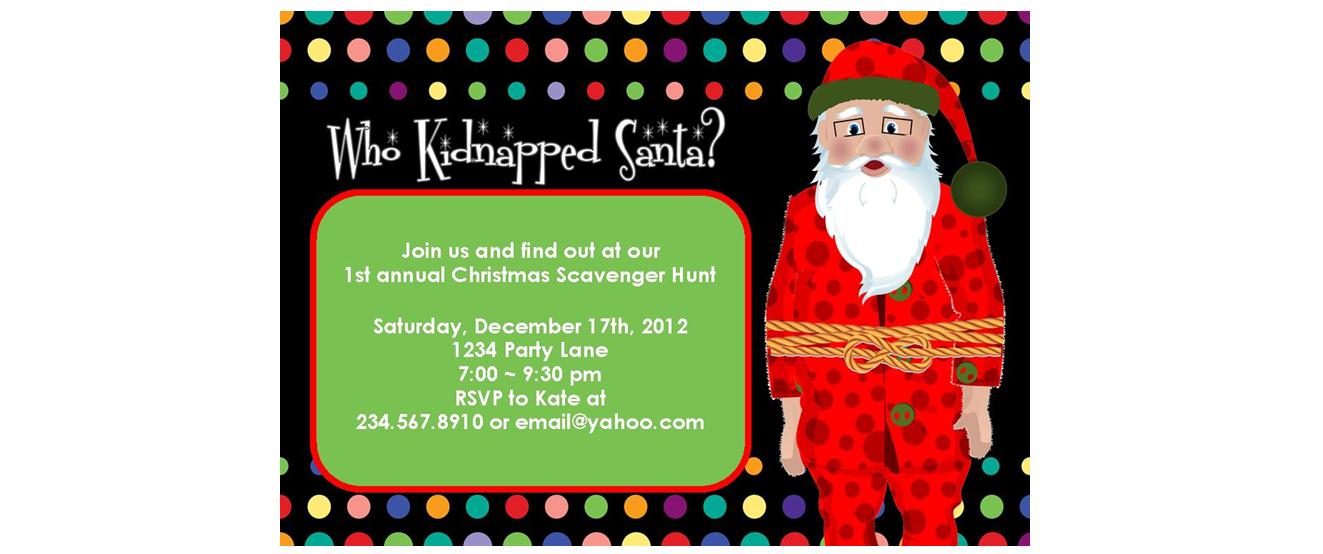 Order The Great Christmas Scavenger Hunt Caper

$14.99 ~ INSTANT DOWNLOAD
You can purchase this printable Christmas Scavenger Hunt Game for $14.99.  Once you complete your order you will receive an email with a download link within minutes. If you have any other questions you can email me at PartyGamesPlus@yahoo.com.
All payments are processed through PayPal secure payment process. You do not have to have a PayPal account to purchase; they accept all major credit cards.


---
---
 CONTENT PROTECTED BY COPYSCAPE DO NOT COPY
Copyright © 2011 – 2017 PartyGamesPlus.com.  All Rights Reserved