Amazing Race Party Supplies 
- Editable for Personalized Printables -


Putting together an amazing race party can be complicated. You need to come up with pit stop ideas and challenges. You need to create teams and organize routes. It can definitely be overwhelming. Hopefully with the Amazing Race Party Ideas & Tips and the printable party supplies below you will feel much more confident putting your party together.
This party printable set is one of out most popular, and now it's even better because you can personalized everything yourself with our editable PDF files. Plus, it now comes in a INSTANT DOWNLOAD! 
---
The Printable Amazing Race Party Supplies includes the following printable items:

Invitations - Choose from 3 designs 
Badges & Car Tags Editable 20 colors to choose from, or use them all! Team names are now editable so teams can choose their own!
Challenge Cards Editable Pit stop, road blocks, detours, and route info cards.
Envelopes Editable
Pennant Banner 
Food Tent Cards Editable
Favor Candy Bar Favor Wrappers Editable
Favor Bag Toppers Editable
8.5 x 11 Signs Editable
PERFECT FOR CREATING A
Customized Amazing Race Event! 
Our Amazing Race party printables are the only one's you will find that allows you to customize your title, and you can do it in so many ways!
One of the BEST things about our printables is how versatile they are. Whatever you want to call your race -these editable files can do it. Do you want to throw an Amazing Race at your church, school, or club. The Amazing Race printables are very versatile.  You can create a so many different race titles for your event using our editable templates. Here are a few fun examples:

Rachel's Amazing Race

Dustin's Birthday Race

Vine Grove's Amazing Quake


Northwood Baptist Church Amazing Race 

St. Johns Church Amazing G-RACE 

Jessica McIntyre's Race to the Alter 
ORDER Your Printable Amazing Race Kit Now!
Instant download
$15.99
You must count how many letters are in your title other than the 11 letters in AMAZING RACE. Examples:
Rachel's Amazing Race (7)

Dustin's Birthday Race (8)

Northwood Baptist Amazing Grace (17).
How many letter in your title:

Your printable party set will arrive within minutes in a ready-to-print PDF file.  This is a digital purchase - No physical product will be mailed.  If you do not see it in your email please check your junk folder before you contact us - that is the usual culprit. If you have any questions or feedback we would love to hear from you!  Contact  Us At: HappyPartying@gmail.com
---
A closer look at everything included
in this AMAZING Party Kit!
---
AMAZING RACE PARTY SUPPLIES


-personalized invitations-
Choose from three fun Amazing Race party invitations. These high resolution invitations measure 5x7 and come two per page.  You can easily personalize the details using adobe reader.  Simply open the file in adobe reader - click on the text you want to change - then type in your desired text to replace it. Once done you are ready to print!

One of the great advantages of printable invitations is that once you have the file you can print out as many as you need. You can print them out on your home printer, at your local print shop like Staples, or your favorite online print site.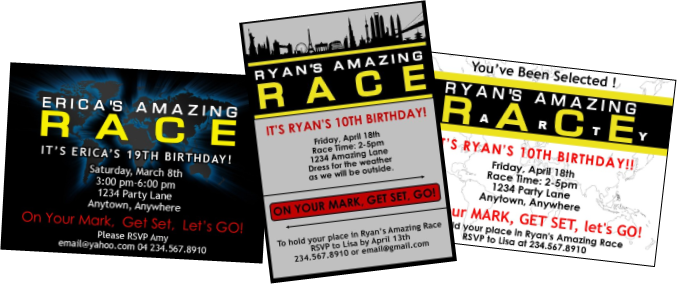 ---
  

 

Team BADGES
These personalized badges are a fun way to identify and unify the teams. Attach a lanyard or colored ribbon to each badge and assign to colors to teams. These are delivered via email in an easy to edit, ready-to-print PDF file.
These Badges come in the 20 team colors!
---
team car tags
Depending on your Amazing Race Challenges, they may involve driving around to different locations around town. Each team will be driving in a different car. These personalized car tags coordinate with the team badges and are a fun way to specify whose car goes with each team. Just print and cut them out and use them to hang from car's rear-view mirror. Delivered in editable PDF file. Not all colors are shown - these car tags come in all the colors as the team badges.
If you don't need car tags you can always cut off the top part and use this item as a team sign or t-shirt iron on decal.
---
pit stops clues, detours,
roadblocks & route cards!


This is what The Amazing race is all about ~ The team challenges. Four different types of printable cards make it easy to organize your race. They include pit stop clues, road block challenges, detour challenge cards, and most recently included - editable Route Info card.
Mix up your race by including all three challenge types or keep it simple with just one or two types of cards. Print out as many as you need to create your perfect Amazing Race party. Perfect for printing out all your pit stop clues.
  These will be delivered in a editable PDF file. These NEW files are easy to type in your own clues and challenges. Just click in the given space and start typing.
---
amazing race challenge detail Cards
Once the team solves the challenge clues to discover where their next pit stop is located you can use these challenge cards to tell the teams exactly what the next challenge entails when the players arrive to the next destination.
For examples check out my Amazing Race party ideas page. these also will be delivered to you in an editable PDF file.

---
Amazing race signs
---
challenge envelopes
---
beverage bottle wrappers
Keep with the theme and keep the contestants hydrated with these personalized Amazing Race water bottle labels! Print these fun water bottle labels out and use double sided tape to attach these to your standard sized water bottle. These cool favors make a great addition to your Amazing Race party supplies. These Come in a ready-to-print PDF file.
---
candy bar favor wrappers
---
amazing race favor bag toppers
---
buffet tent cards
---
Amazing Race printable party banner

---
ORDER Your Printable Amazing Race Kit Now!
Instant download
$15.99
You must count how many letters are in your title other than the 11 letters in AMAZING RACE. Examples:
Rachel's Amazing Race (7)

Dustin's Birthday Race (8)

Northwood Baptist Amazing Grace (17).
How many letter in your title:

Your printable party set will arrive within minutes in a ready-to-print PDF file.  This is a digital purchase - No physical product will be mailed.  If you do not see it in your email please check your junk folder before you contact us - that is the usual culprit. If you have any questions or feedback we would love to hear from you!  Contact  Us At: HappyPartying@gmail.com
Return to Amazing Race Party Ideas
Leave Amazing Race party supplies and GO TO PARTY GAMES HOME PAGE

---