Need Tinkerbell birthday party ideas?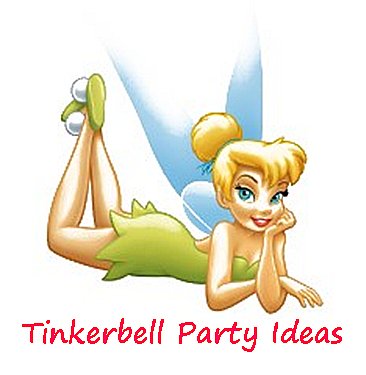 You've found the right place. My Tinkerbell birthday party ideas are full of unique and fun games and activities. I have plenty of D.I.Y games for those creative parents, plus many games and activities that you can purchase for those looking for simple and convenient. I designated a full page to these fairy party games.
Tinkerbell Birthday Party Games
Pass the Poison
Remember the scene in Peter Pan when, in order to save Peter's life, Tink drinks the poison herself. In order to save her all the boys and girls in the world must clap their hands together and say "I believe in fairies". In this game the guests sit in a circle and pass around the "poison" while the music is playing. When the music stops the player that is left holding the poison must fall into a deep sleep. All the other guests must clap their hands and yell out "I believe in fairies" until the poisoned fairy smiles or laughs. The game continues until all fairies have a chance to be brought back to life.
Tinkerbell Birthday Party Games
Tinkerbells Puzzle Hunt
This is great way to turn a tinkerbell floor puzzle into an awesome game. A floor puzzle is an oversized puzzle with giant pieces. In this game you hide the puzzle pieces all around the playing area and the little fairies work as a team to find them all and put together the puzzle. Afterwards they can be rewarded with prizes for all. Plus the puzzle doubles as a gift your child can enjoy long after the parties over. Here is the perfect puzzle for this game.
Tinkerbell Birthday Party Games
Tinkerbells Tinker Challenge
Tinkerbells a tinker fairy. In this fun activity the children must use things they find in nature to create their own tinkers. They can make fairy houses, fairy furniture, fairy tools...anything their imagination can dream of. they can use sticks, leaves, nuts, rocks -anything they can find in nature. You can give out prizes for best creations or just do it for fun.
Tinkerbell Birthday Party Games
Tinker Bell Fairies Mini Tote Coloring 4-Pack
Tinkerbell Birthday Party Games
Tinkerbell Tattoos
Tinkerbell Birthday Party Games
Party Favorite ~ Tinkerbell Pinata
For more fairy games make sure you checked out my main fairy party games page below!
---
Awesome Affordable Tinkerbell Party Decorations and Supplies!!
or check out the deluxe set
Share your Tinkerbell birthday party ideas, games, or fun activities?
Leave Tinkerbell birthday party ideas and return to main kids party ideas Leave Tinkerbell birthday party ideas and return to party games plus home page