---
Secret Agent SUPER Spy Treasure Hunt

I created this printable secret agent / spy treasure hunt because what is a spy or secret agent without a top secret assignment?
This treasure hunt is packed full of a variety of different clues and puzzles for the guests to solve.  I have included 2 different sets of clues one is a bit easier than the other.  You can choose which one is best for the little spies attending your party.
The best part about this treasure hunt is that IT CAN BE PLAYED ANYWHERE! I created it so that you can determine the hiding spots without having to change the clues or create new clues for each different location. 

What does the printable secret agent / spy treasure hunt include?
2 Sets of 10 different spy / secret agent clues plus winners card These clues are all different. No two clues are solved the same way. Some of the clues require players to use Morse code, some the cipher wheel, invisible ink, decoder disk, logic skills, riddles, fingerprint analysis, and more. 
When I first put out my spy treasure hunt I had so many requests for clues that were either easier or harder.  So now I have included 2 different sets of clues, one more difficult than the other so that you can decide which one is best for your players. The clues are also interchangeable so you can mix and match!
NOTE: Each clue measure 5x7  and two clues print out per page.

SAMPLE SPY TREASURE HUNT CLUES
Every clue in this hunt has a numerical answer between the numbers 1-30.  When the player figures out the answer to the clue they look up that number on the clue locator sheet (provided)  to determine where there next clue is hidden. 

You will fill this sheet out beforehand, this is where you write in all the hiding locations.  There is a hiding guide included to instruct you how to do this. Basically if the answer to a clue is number 9.  Then on the key locator you would write the location you hid the next clue next to the number 9.  There are only 10 hiding locations needed.  The rest should be filled in with decoys locations. 


Secret Agent / Spy Treasure Hunt
SAMPLE SPY CLUES FROM EASY SET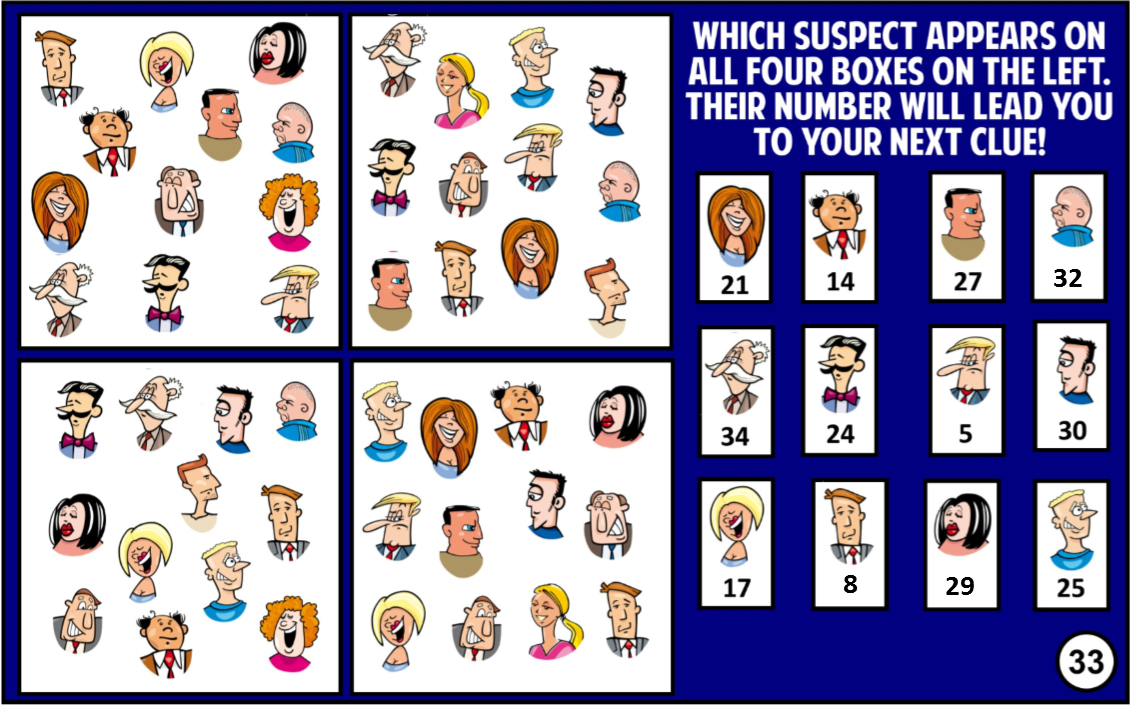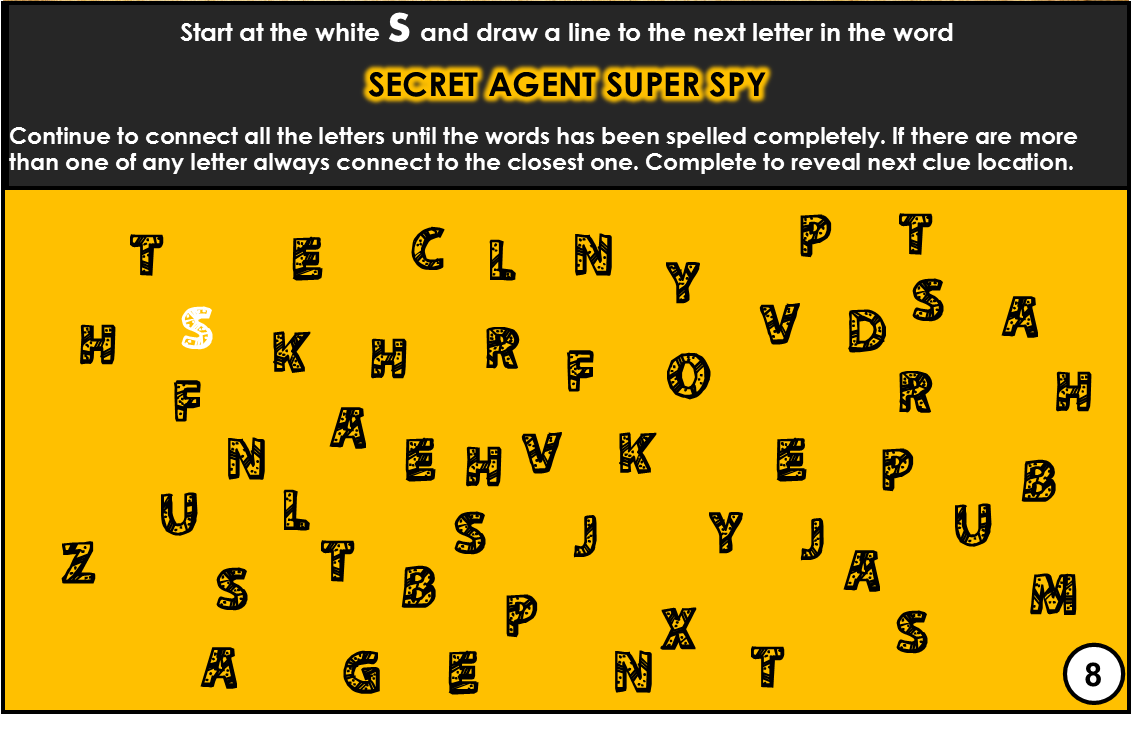 Above is two sample clue. The first clue is a puzzle.  The children must determine which  character appears in all 4 boxes.

The second clue is a connect the dots puzzle.  The young spies must connect the letters to spell out SECRET AGENT SUPER SPY.  Once all the letters are connected a number will appear.  

Secret Agent / Spy Treasure Hunt
SAMPLE SPY CLUES FROM HARD SET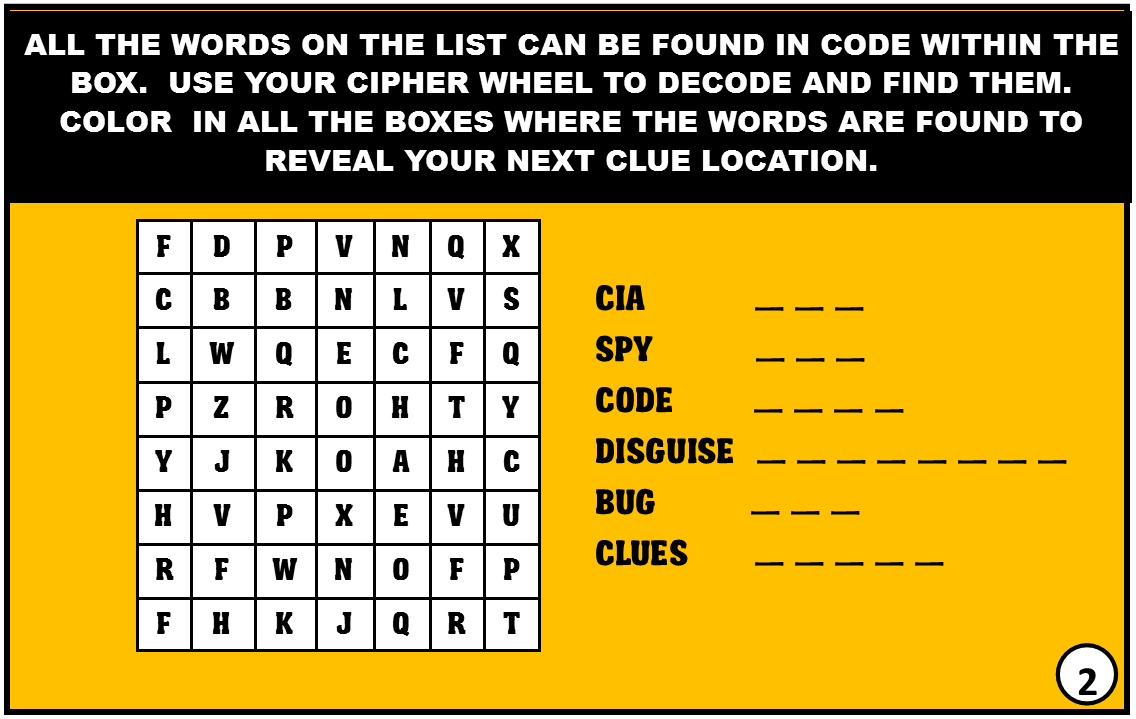 The other set of clues that come with this set use multiple decoders - such as the decoder disk on the left, cipher wheel, and morse code. All three decoders come with this set.
The first clue involves the use of our decoder disk.  Players line up the points on the clue and letters are revealed in the circles. Once all the letter have been revealed from each point then players put the letters together to reveal the secret message - which is where to look for their next clue.  
The decoder disk comes with the hunt, all you do is print it out. Cut out the circle, and use a hole punch to punch out the three circles in the middle. 
Above is two sample clue from the slightly harder set. The hard set uses decoders.  The first clue a word search with a twist. All the letters in the word search are in code.  The players must use their cipher wheels (included) to determine what all the words are in code.  Then they must find them in the word search and color them in.
Once all the words are colored in it is discovered that they form the shape of a number.  This is the number that they will look up on the key locator to determine where their clue is hidden.
Kids LOVE how cool the decoder disk and the cipher wheel (below) are.  After the party they can use them to create their own messages! These also make excellent party favors. 

Secret Agent / Spy Treasure Hunt
ALSO INCLUDED IN YOUR TREASURE HUNT

| | |
| --- | --- |
| | printable cipher / decoder wheels All you need is simple brads to put them together for your guests. It's simple and the kids love these because they can keep them to create their own coded messages later. They make great party favors. Print as many as you need! |
| | |
| --- | --- |
| Decoder Disk:  Slide the points around on the coded clue to reveal it's secret message! The image below shows a picture over the decoder wheel over the clue so you can see how it works.  Point one is lined up with the arrow on the clue revealing the letter E. Every additional point will reveal another letter. | Morse Decoder Cheat Sheets For those spy who haven't memorized their Morse code yet these little cheat sheets come in handy. Another great addition to their spy arsenal (favor bag) |
Complete Set Up Instructions. This set comes with complete step by step instructions for both hunts that makes setting up your spy treasure hunt an easy stress-free experience.
---
FREQUENTLY ASKED QUESTIONS

---
Where can this hunt be played?
That's one of the best parts. This hunt can be played anywhere (indoors, outdoors, ANYWHERE!). this is because YOU decide where the clues are hidden. See Key Locator description above for how this works.

Is this a cooperative game or can it be competitive?
You can play this treasure hunt as either cooperative (all players working together to reach the treasure), or as a competitive game (players are divided into smaller teams or individuals and they complete with each other to be the first to the treasure). You could also choose to play in small teams or individuals but have a treasure for each so that everyone wins.

How does this work?
The answer to each clue is a number between 1-30. Once they figure out the answer to the clue they look at the number that matches it on the Key locator sheet. Next to that number will be the place where they will find the next clue. You fill in the entire sheet beforehand.
If you want to play with competing teams instead of one cooperative group you can simply print out as many copies of the clues as you have teams and hide each teams set of clues in different locations from the other teams. This means that even though each team would be solving the same set of clues they would all be leading to different locations and they all have different Key locators.

What age is the secret agent / spy treasure hunt suited for?

This hunt is geared toward ages 6 – 13. Players need to know how to read and how to add and subtract.
How long does it take to receive my hunt once I order?

Once you have completed your order you will receive an email link that lets you download your printable secret agent / spy treasure hunt INSTANTLY!
How do I receive my hunt?

The download that you receive comes in a ready-to-print PDF file.
What is the best way to print this hunt?

You can print your hunt at home, or at your favorite local or online print shop. I suggest using card stock over standard printing paper simply because he produces a sturdier product with a higher quality look and feel.
---
Receive Your Printable Super Spy Treasure Hunt

$13.99 - INSTANT DOWNLOAD!

---
LEAVE SECRET AGENT / SPY TREASURE HUNT
SEE MORE PRINTABLE TREASURE HUNTS

---
 CONTENT PROTECTED BY COPYSCAPE DO NOT COPY
Copyright © 2011 – 2016 PartyGamesPlus.com.  All Rights Reserved