printable detective party game for kids


(can also be set up as an Escape room)
If you are looking for a challenging fun party game for kids, our printable detective mystery party game may be just the ticket.  The inspiration for this game was to create a murder mystery style game suitable for kids.  This game is not based on murder, but instead someone has stolen the party goodies!  This was done by one of five tricksters. The tricksters are five suspects, and it is the players job to determine who the real culprit is.
NEW! Check out our newest detective mystery game The Case of the Mystery Box!
PRINTABLE DETECTIVE PARTY GAME FOR KIDS
What is included in your download?
We have shown you examples of three of the clues we use - there are 10 in all.  This hunt is available for INSTANT DOWNLOAD.  You will receive the following in a high resolution printable PDF:
Complete set-up instructions with answers to each of the challenges.

10 ready-to-print full color eye-catching challenges.

A statement sheet that features pictures of the suspects where players can record the clues as they find them.

Challenge labels for each of the challenges.

Confession cards featuring pictures of the suspects.  The guilty one is the one where you will write where the culprit hid the goodies.
GET YOUR printable detective game NOW!
INSTANT DOWNLOAD $12.99

Your printable game will arrive within minutes in printable PDF files.  This is a digital purchase - No physical product will be mailed.  If you do not see it in your email please check your junk folder before you contact us - that is the usual culprit. If you have any questions or feedback we would love to hear from you!  Contact us at: HappyPartying@gmail.com

---
DETECTIVE PARTY GAME DESCRIPTION
---
Each trickster has made two statements - one of the statements is the truth, the other is a lie. That makes 10 statements all together.  First things the players have to do is discover what all 10 statements are and record them on their statement sheet (seen on the right).  They must complete a challenge to get each statement.
This game is most suitable for kids ages 8 - 14 and Usually takes a little over an hour to play.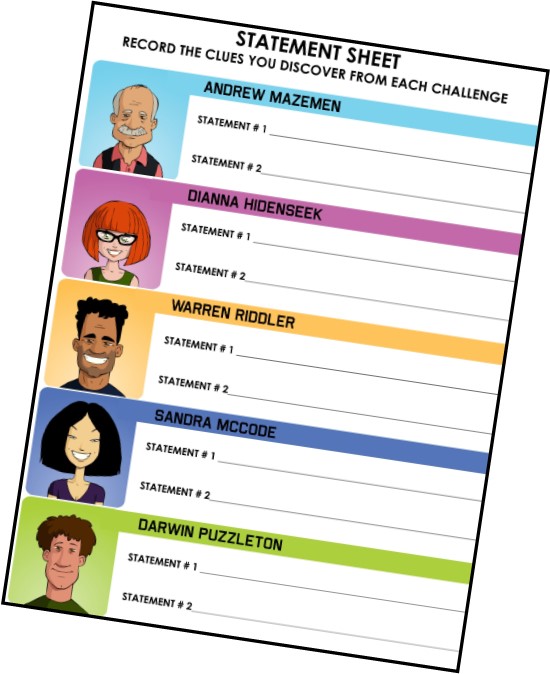 printable detective party game for kids
The Challenges
Each of the ten challenges are different and challenge the kids in different ways. There are puzzles, riddles, word play, mazes, and more.  At the completion of each challenge players will have one more statement to fill out on their statement sheet.  Some challenges require extra props.  Things you will need other than this printable game are:
scissors
glue
empty 2-liter bottle
white rice
pennies
single hole punch
brown paper lunch bags (optional)
apple (optional)
nail  (optional)
dime (optional)
rock (optional)
envelope (optional)
watch (optional)
PRINTABLE DETECTIVE PARTY GAME FOR KIDS
CHALLENGE clue example #1
Here are but a few of the fun challenges players will need to solve in our printable detective game!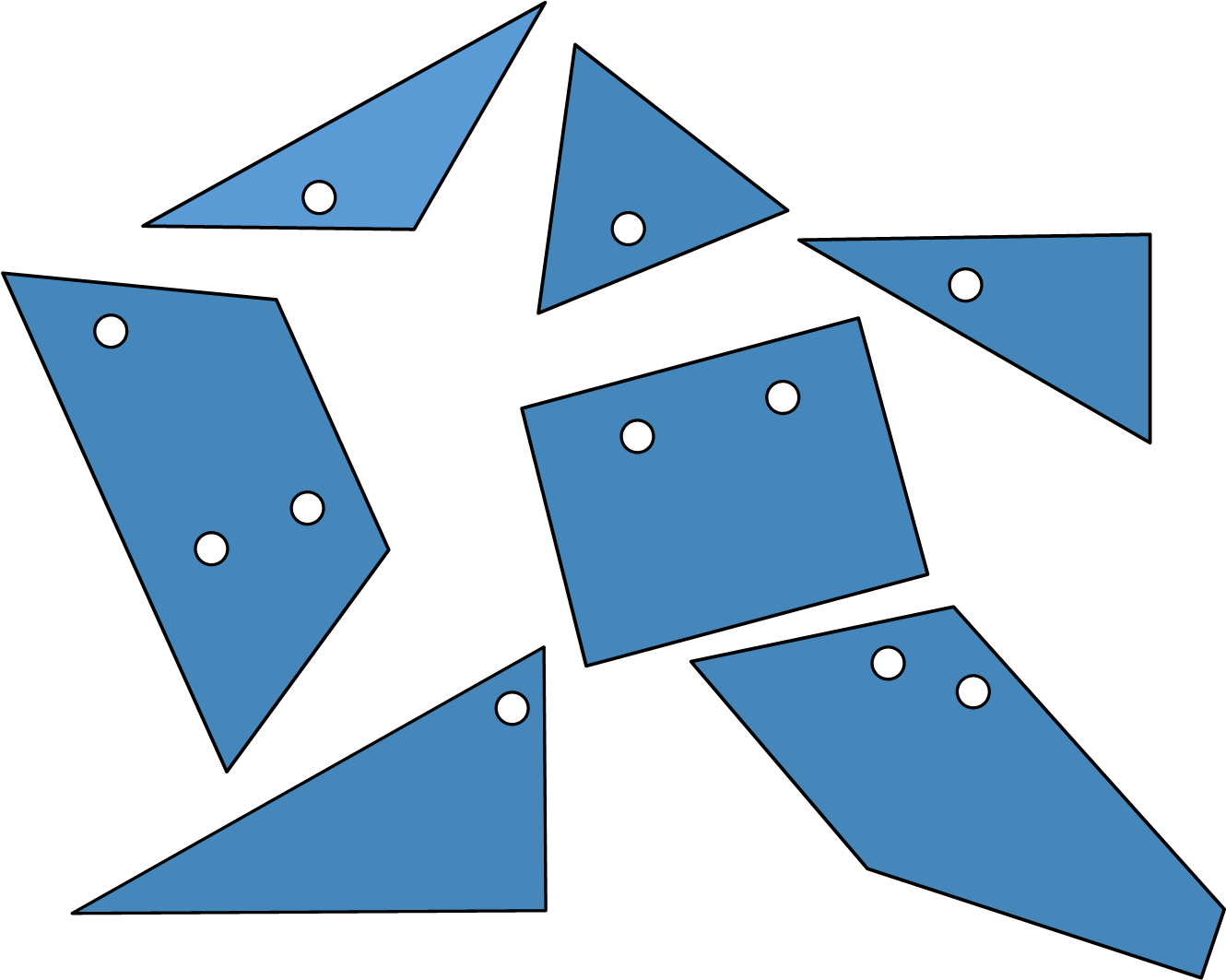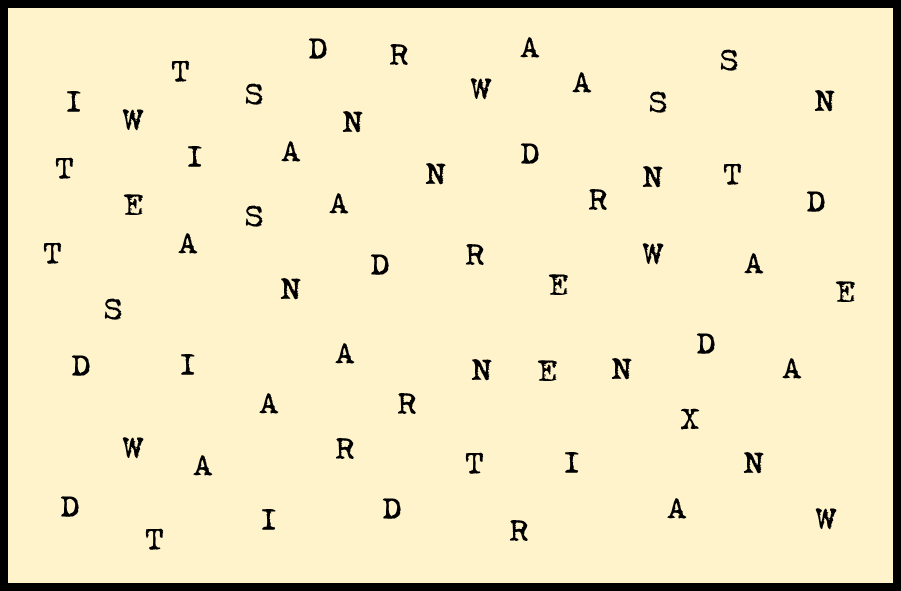 In the above challenge players are presented with a tangram puzzle that have strategically placed holes punched in them.  If they put it together correctly over the picture of scattered letters then one of the 10 clues you need to solve the mystery will appear.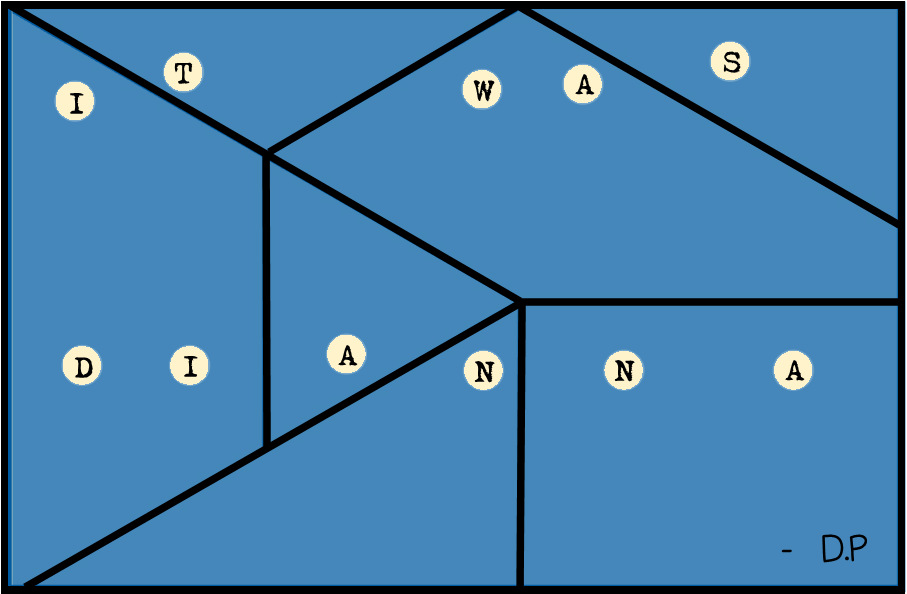 ---
PRINTABLE DETECTIVE PARTY GAME FOR KIDS
CHALLENGE clue EXAMPLE #2
For this challenge players will receive the instructions on the left.  Also included are four fingerprints (seen below) that you will hide beforehand.  Once they find each fingerprint they will know which person Dianna is accusing and will be able to record that as one of the ten clues.

---
PRINTABLE DETECTIVE PARTY GAME FOR KIDS
CHALLENGE clue EXAMPLE #3
Each of the suspects has their own personality, including Sandra McCode.  She adores her cats.  She has insisted that in order to find her clue you must solve this word search that includes all of her 17 cats names.  Once all of them are found the remaining letters will spell out her clue, but there is one more catch - the clue is in code and players will have to use the included cipher wheel to decipher the message.
The wheel is made of two circles that you cut and and place on top of each other.  Spin the inner wheel around to decode her message.  This wheel is also used to decipher her other clue. 
---
---