SEARCH OUR SITE
---
Safari Animal Treasure Hunt

Printable Party Game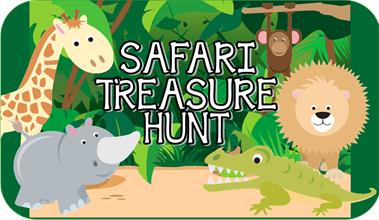 Our printable Safari Animal Treasure Hunt Game makes the perfect complement to your child's safari birthday party. Kids have a blast searching for 12 jungle animals during the safari hunt. Each animal they find will have a fun fact about that animal and a clue to where they can find the next animal. Both are presented in fun rhymes that are fun to read and follow. Once they collect all 12 animals they turn the clues over to view a puzzle. Once they put the puzzle together it will create a fun picture clue that will tell them where to find the winners star! If you choose you can let them trade in the winners star for a fun treasure or reward.
WHO CAN PLAY THE SAFARI ANIMAL TREASURE HUNT GAME?
Boys and girls alike, ages 4-8 are the ideal candidates for this safari adventure. Younger children will need help reading the clues. 
FULL FEATURES OF THE HUNT:
12 eye catching clues featuring a different safari animal on each.
Colorful animal graphics
Rhyming clues and fun animal facts.
Each clue features a piece of the puzzle on the back of the clue. All the clues go together like a puzzle to create the final treasure hunt clue.
One winners "golden star"
Full instructions and easy to follow hiding guide is included to make set up a easy.
Sample
Clue
WHERE CAN THIS HUNT BE PLAYED?
This game is created to be played indoors. All of the clue / riddle locations are ordinary household objects and places. You will have no extra props to purchase.
HOW IS THE SAFARI TREASURE HUNT GAME PLAYED?
This game is meant to be played cooperatively. This is best for younger children. They work together to find all clues and there are no hunt feelings or losers. Everyone is a winner.
You start the hunt by reading out loud the first clue. This will explain the premise of the game and lead to the first of the twelve hidden safari animals. The kids continue to find and follow clues until they collect all twelve. The last animal they find will explain (in a fun rhyme) that they must take all the animal clues they found and turn them over and put the puzzle together to create the final clue. The final clue leads to the golden star.
HOW IS THE HUNT DELIVERED?
Once your order is complete you will be given INSTANT access to download the easy to print PDF file. All you have to do print the materials. No special paper is required, but the thicker card stock paper makes the hunt more durable. Next you simply cut out each clue, and then follow the hiding guide to set up the game.
Order Your Safari Treasure Hunt Below
$6.99 - Instant Download!

---