SEARCH OUR SITE
---

10 Ideas for A Night in Paris Party
by Laura
(Las Vegas, NV, USA)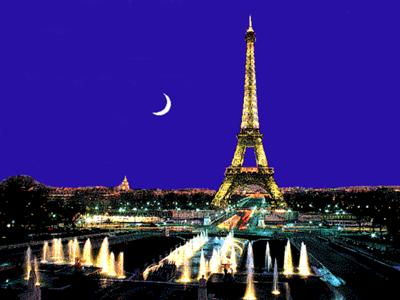 Paris Theme Party
1. Decorate your room with a large Eiffel Tower cut-out. These can be purchased as vinyl clings or metal sculptures or you can create your own by cutting a silhouette out of black butcher paper.

2. Hang plenty of twinkle lights all over.

3. You might also be able to find a city scape of Paris for your wall.

4.Check out a couple CD's of French music from the library to have playing in the background.

5.For dinner, you can serve a nice sit-down dinner on your back patio covered with Twinkle lights or just do it cafe style. Serve French foods such as sandwiches on baguettes, dinner crepes, cassoulet, steak au poivre, or quiche lorraine. For dessert, eclairs, creme brulee, or dessert crepes. A crepe bar with both dinner and dessert crepes could be fun.

6.During dinner, practice your French with each other or try the quiz on this website to see how well you speak the Language of Love: http://french.about.com/library/begin/bl_lovet.htm

7.After dinner, it's time for a trip to the Louvre. You can take a virtual tour of the Louvre on its website.

8. You can play the Piatnik Art Memo Game


9.Or you can create your own art. Some ideas for the art part of this party are to have a station set up with sidewalk chalk for guests to create sidewalk art, hang a large piece of butcher paper outside and have paints where guests can work on a mural, or just have a table with art supplies where guests can create pastel paintings, color with crayons, or create sculptures.

10.Other art related games that could be played are Pictionary or Human Sculptures. To play Human Sculptures, divide the party into 2 or more groups. Have categories printed on slips of paper. Each group will draw a category and then brainstorm a sculpture that goes with the category. When it's their turn, they will use their bodies to create a human sculpture. The other team(s) will try to guess what they have created. There is a pre-set time limit for guessing. Whichever group guesses the correctly or the closest is the winner.


Join in and write your own page! It's easy to do. How? Simply click here to return to Visitor Submitted Ideas.
 CONTENT PROTECTED BY COPYSCAPE DO NOT COPY
Copyright © 2011 – 2018 PartyGamesPlus.com.  All Rights Reserved