What's Missing? Harry Potter Edition

- Printable Party Game -
What's Missing is a printable party game where players take turns using the What's Missing Cover-Up Card to hide one one the Harry Potter Icon images on the Print & Play Game Board. 
Spread out around the board are the Harry Potter Icon Cards - one for each image on the board.  When players find the card with the image they believe is hidden beneath the What's Missing card they slap their hand on it and call out FOUND IT! That player gets to be the next player to pick the hidden image. 

Play as many rounds as you need, perhaps reward a small prize for winners - such as a sticker or piece of candy.
The game board prints out on two separate sheets of standard 8x11 paper. You connect the two sheets to create a 16x22 party game board.

Get Your What's Missing: Harry Potter Game Now!
- Instant Download $5.99 -
The printable Harry Potter party game includes:
36 Harry Potter Icon Cards
Game Board
What's Missing Cover-Up Card
How to Play Instructions
5 Print & Play Pages

Bonus Game: Print out two sets of the Icon Cards and you can also play the match game!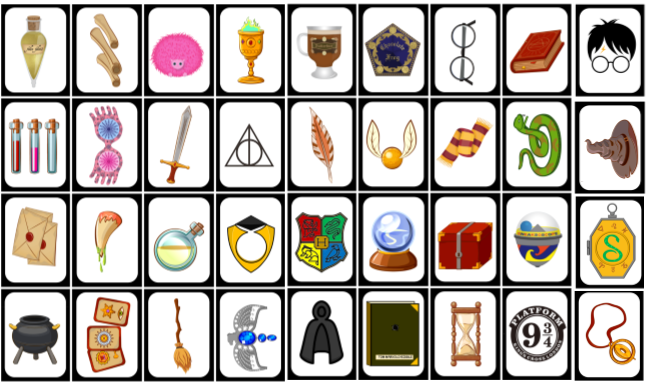 Your printable game will arrive within minutes in printable PDF files.  This is a digital purchase - No physical product will be mailed.  If you do not see it in your email please check your junk folder before you contact us - that is the usual culprit. If you have any questions or feedback we would love to hear from you!  Contact us at: HappyPartying@gmail.com

SEE MORE HARRY POTTER PARTY GAME IDEAS