---
Easter treasure hunt
Biblical Edition!

Our print & play Easter Trivia Treasure Hunt - Biblical Edition is an exciting game that uses biblical based knowledge about Jesus and the Ressurection to challenge players in a fun and epic way.
This printable treasure hunt includes a variety of clues made up of trivia, puzzles, challenges and games.  Each clue leads to the next until all 16 are solved and players reach the end to find the treasure. The treasure can be whatever you want it to be, or just bragging rights.  
This hunt is perfect for youth and families who want to do something a little bit different to celebrate Easter this year. We also have a Junior Edition that is a bit easier and shorter for younger players.
Easter treasure hunt - biblical edition
how does this treasure hunt work?
One of the most unique things about our treasure hunts is that YOU decide where the hiding locations.  That means you can play ANYWHERE!  
This game can be played cooperatively( all in one group) or competitively, where teams compete against each other.  This hunt can be played with as many players as you want - the more the better!
Each team starts out with a Clue Master sheet and the starter clue. The way this hunt works is each clues answer is a number, so if the team determines the answer is for example 23 - then they look on their Clue Master sheet (shown below) and whatever location is written for number 23 is where they look for their next clue.  
The hunt continues like this until all 16 clues have been solved and the final  HAPPY EASTER card has been found.
EASTER TREASURE HUNT - BIBLICAL EDITIOn


sample game clues
There are multiple types of puzzles, games, and trivia cards that are used as clues throughout the hunt.  Each one of clues has a numerical answer.
Players choose which one they believe is the correct answer and look it up on their Clue Master sheet (see DECIDING CLUE LOCATION section for more on how this works) which if they are correct, will tell them where to find the next clue. 
This hunt includes 8 basic multiple choice trivia questions and 8 more in depth challenges, some of which are shown below.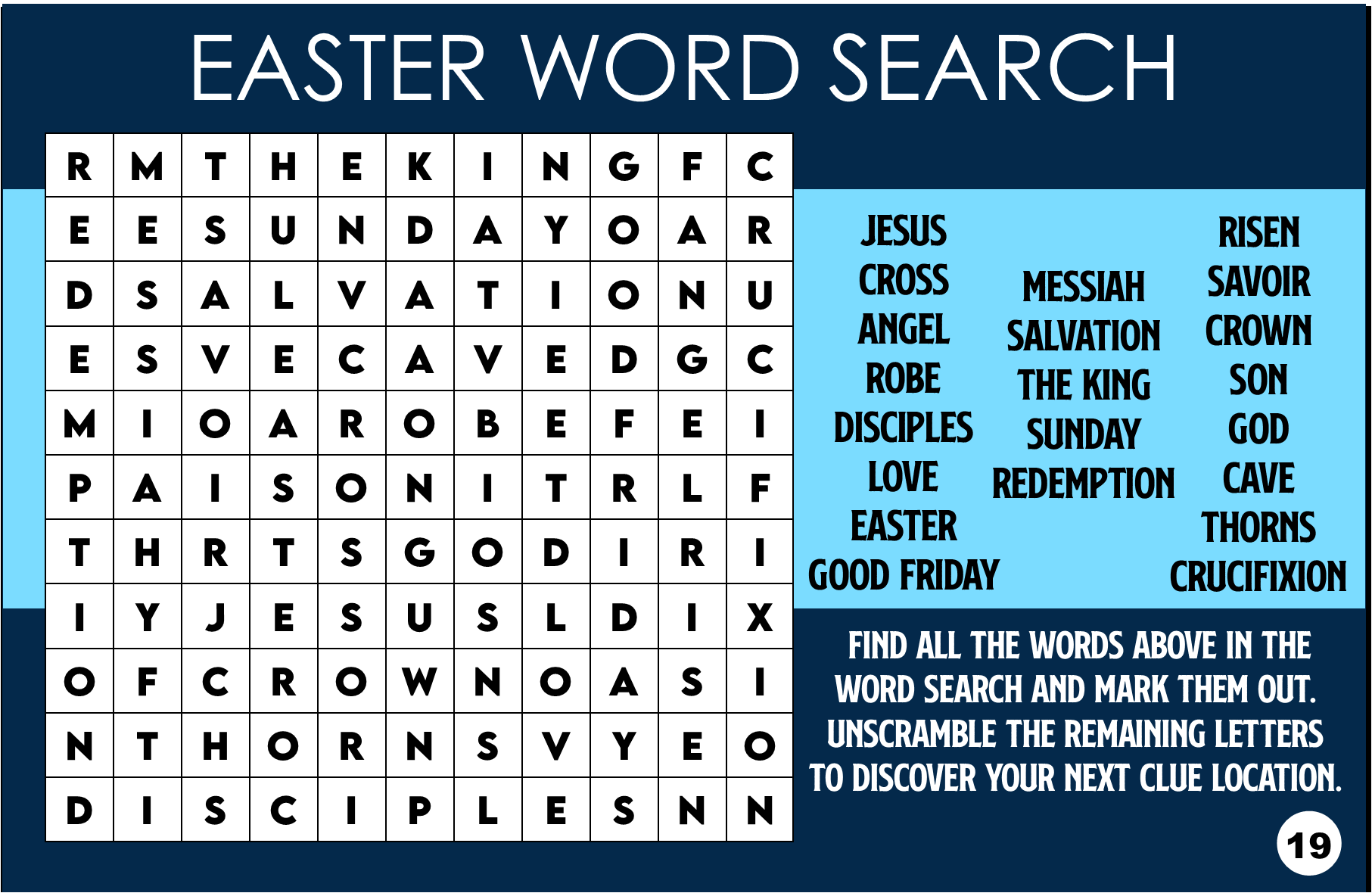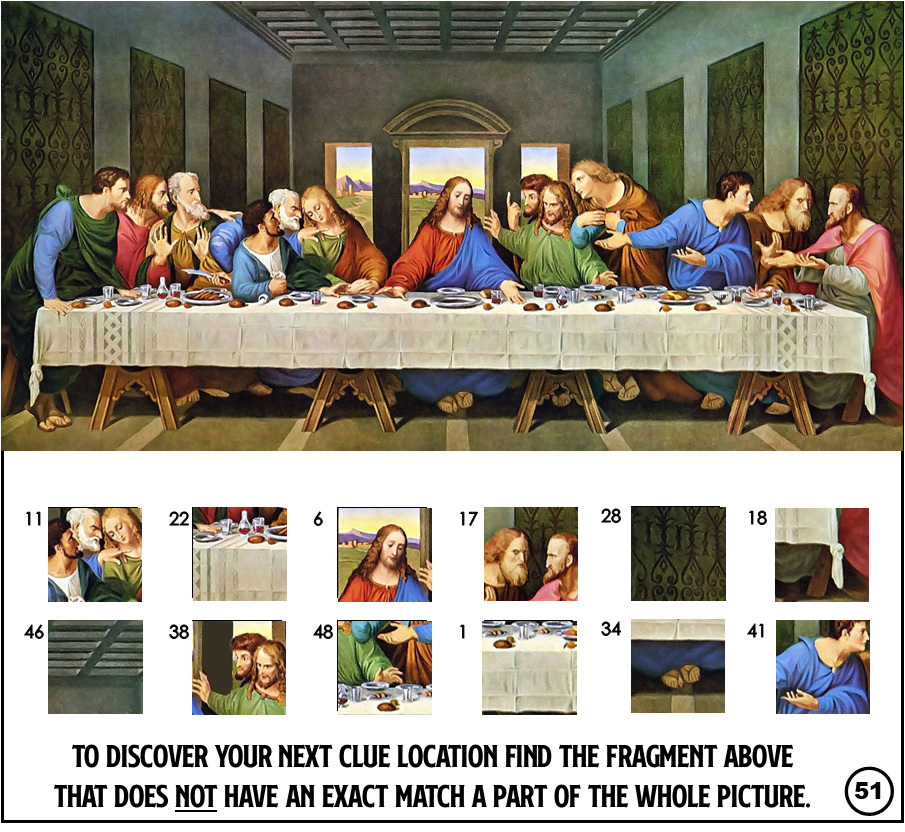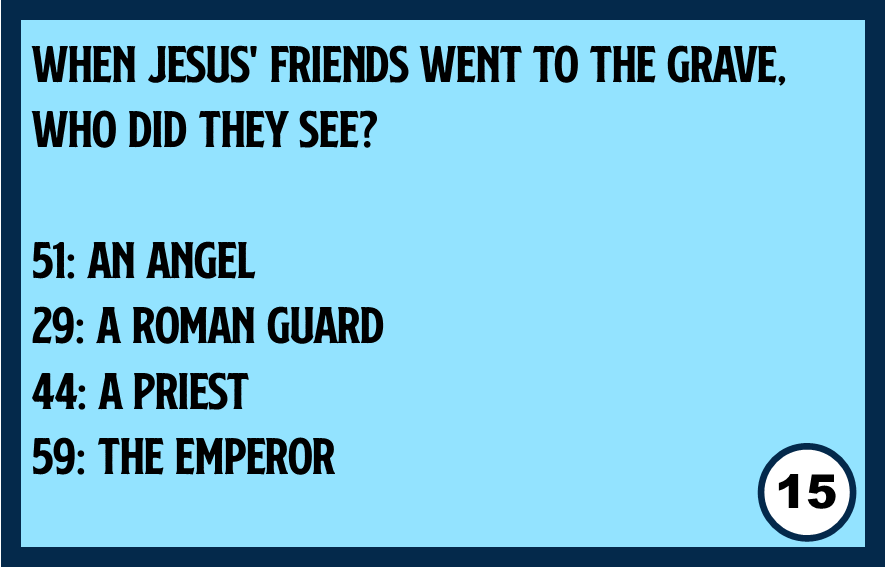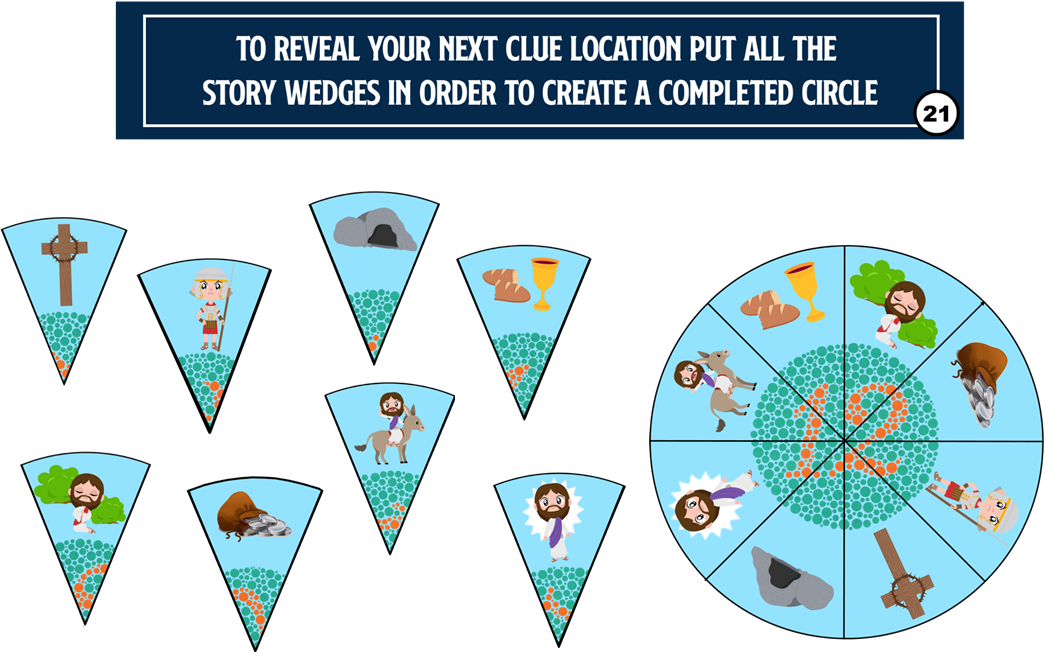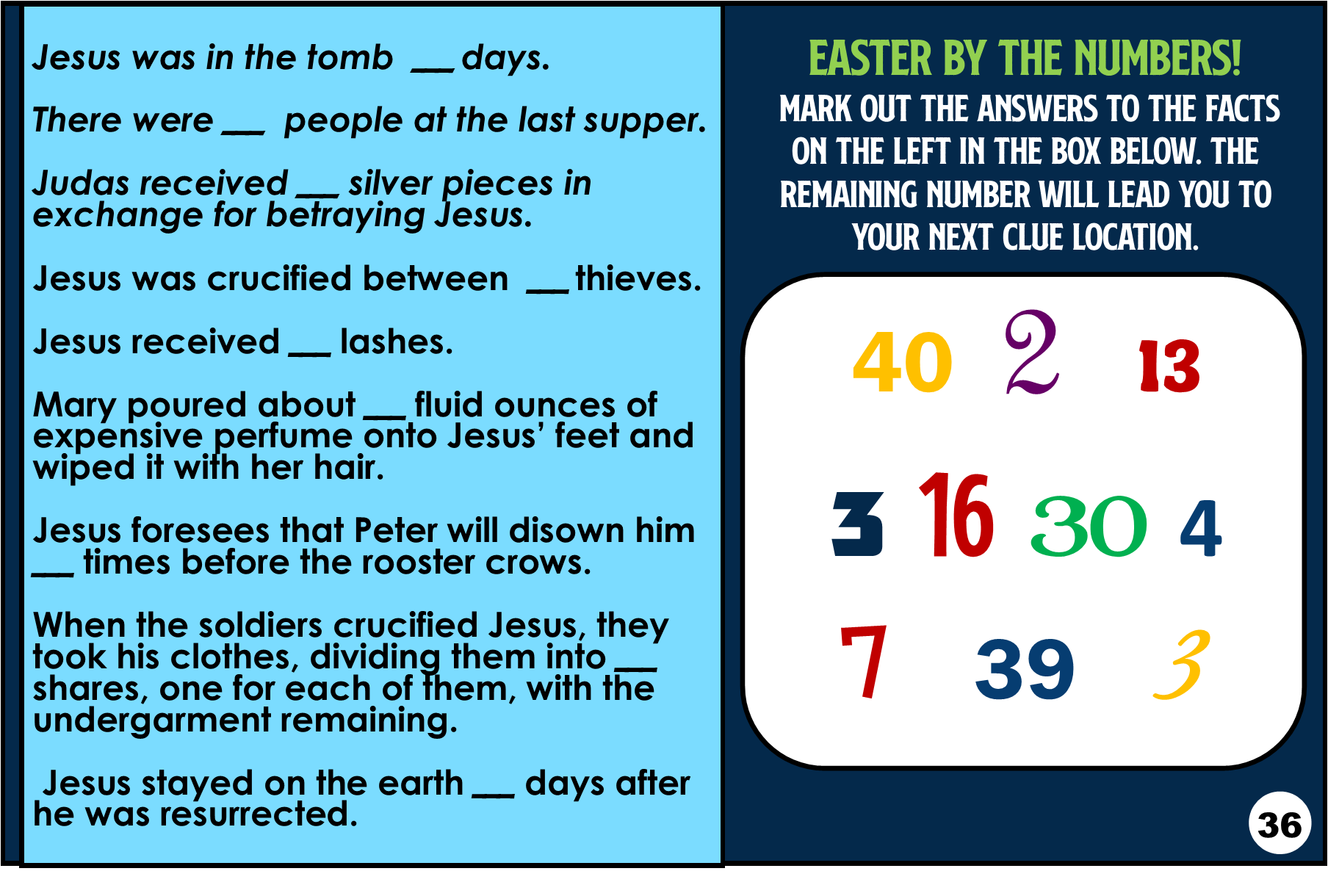 PRINTABLE 
EASTER TREASURE HUNT - BIBLICAL EDITION
deciding clue locations
We created this Easter trivia game so that host could set it up anywhere, and wouldn't have to depend on using generic hiding places.  This way regardless if your event is taking place at home, at church, in a school, or across an entire town - you can play this ANYWHERE.  
There are sixteen hiding places where clues will be hidden, the other 44 spaces are for Try Again cards to be hidden. Once you determine your sixty hiding locations (there is also an option where you can play with only 16 hiding locations) you can edit the Clue Master (shown below) by opening it in adobe reader and typing in the marked spaces the description of the hiding location.  Locations such as MAILBOX, or you can get more creative and type WHERE LETTERS WAIT.  You can hide clues in books, under rugs, in drawers, under tables, under chairs, in cases, the ideas are endless. 
Then you simply follow our instructions to hide each clue and each token. in the corner of each clue is a number - hide that clue in whatever location you wrote for that number.  Hide TRY AGAIN cards (shown below) in all the 46 decoy spaces. 
Voila - you are ready to start the hunt!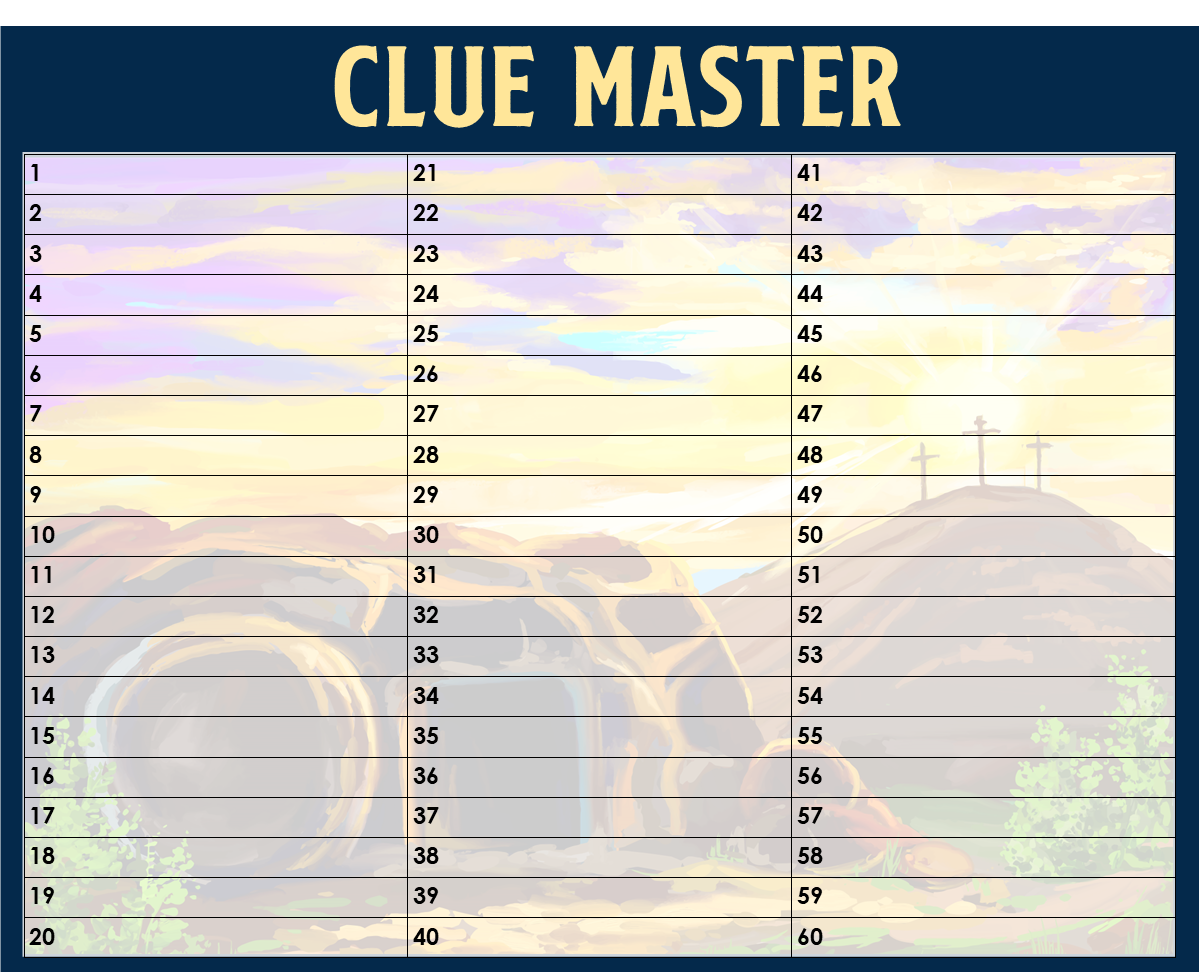 PRINTABLE 
EASTER TREASURE HUNT - BIBLICAL EDITION
try again cards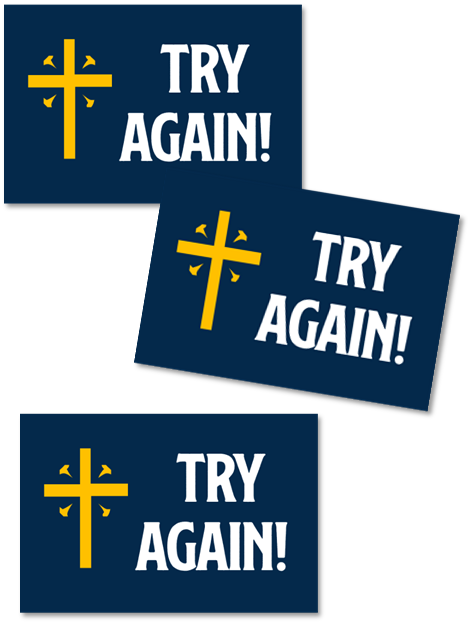 Try again cards are what are found when players get an answer wrong on a clue and it takes them to one of the decoy locations. This stops them for taking too much time seaching for the next clue that isn't there.  
Some host add penelty's for each wrong answer such as an additional challenge players must face, or adding time to their total if they are racing against another team for fastest to finish.  You can do this or not.
Other host don't use the cards at all and only hide the clues.  When players solve a clue they give their answer to person that acts as the Clue Master. If the answer is correct they give them the location of the next clue, if the answer is wrong they tell them to try again or give them a fun challenge to complete before they can move on. 
get your printable EASTER TREASURE HUNT 
instant download $12.99
Your printable game will arrive within minutes in printable PDF files.  This is a digital purchase - No physical product will be mailed.  If you do not see it in your email please check your junk folder before you contact us - that is the usual culprit. If you have any questions or feedback we would love to hear from you!  Contact us at: HappyPartying@gmail.com