top 10 FUNTASTIC
4th of july party games
TOP 10 4TH OF JULY PARTY GAMES
MARSHMALLOW GOLF
Appeal to the golfers in your group with this easy game. Using a large bag of marshmallows, dye a third red, a third blue and leave the remainder white. This can be done by dipping marshmallows into a bowl of water with food coloring and then setting them aside to dry.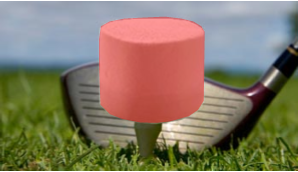 Using a tee and a driver, have guests hit the marshmallows off the tees and mark each spot the marshmallow lands.  Whoever can drive the marshmallow the farthest wins the game.
ALTERNATIVE: FLIP-FLOP FLING
Challenge players to fling flip-flops from their feet and see who can fling their's the farthest.  
---
TOP 10 4TH OF JULY PARTY GAMES
printable treasure hunt game
Our exclusive 4th of July printable treasure hunt will take your celebration to the next level. This hunt enable YOU to choose your clue hiding locations so that you can play anywhere.
To play download the file, open game in adobe reader (you probably already have it on your PC, but if not you can download it for free at adobe.com), then simply type your clue locations where directed.  Print - hide your clues accordingly - and you are ready to play!
Our hunt offers 10 clues that feature a variety of puzzles, games, and brain teasers that players must solve to determine where the next clue is hidden.  Each clue leads to the next until they discover the 'treasure'. 
---
TOP 10 4TH OF JULY PARTY GAMES
watermelon eating contest
Cut several watermelons into fourths and lay them on a table. Hungry guests willing to attempt this game must keep their hands behind their backs while they attempt to devour their slice of melon.

The first guest to finish their slice of watermelon without using their hands wins the game.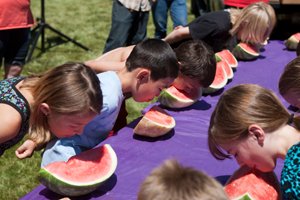 ---
TOP 10 4TH OF JULY PARTY GAMES
water balloon catch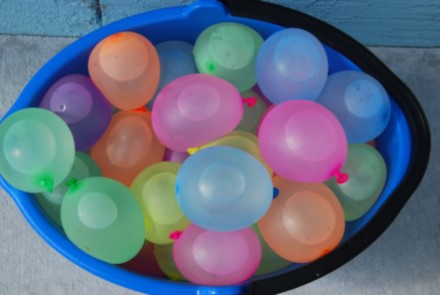 This is a great game for a hot day, especially if guests are not afraid to get wet. Fill up a bunch of water balloons, find two colanders, and divide guests into two teams. Each team picks one person to "catch" the balloon in the colander.

The catcher stands several feet away from the rest of their team and holds the colander on their head. The teammates take turns tossing the water balloons in the air while the catcher tries to catch the balloons in the colander.


If the whole team wants to get wet, play the game as a relay where the catcher returns to the team and the thrower then becomes the catcher. The team that catches the most balloons wins.

---
TOP 10 4TH OF JULY PARTY GAMES
american history jeopardy
Make history entertaining with this educational game.  Compile a list of interesting facts on Independence Day and the history of the American flag. Divide guests into teams and read your facts as statements such as, "The fifty stars on the flag are representative of this."

Guests must answer in the form of a question - "What are the fifty states of the United States?"  If not answered as a question, the player does not receive a point. The player with the most points at the end of the game is the winner.

---
TOP 10 4TH OF JULY PARTY GAMES
flag tag
If you have at least 8 guests and a large area to play, this is a game is a lot of fun. Divide guests into two teams.
Stick 5 handheld American flags into the ground on the far side of each teams territory. Using cones mark a center line to divide the area in territories.
 The object of the game is for each team to capture as many flags as they can and bring them back to their territory and stick the flag pole into their territories ground, but if a player gets tagged while in the other teams territory they must forfeit any flags they may have on their person and sit where they were tagged until they are freed by one of their team mates tagging them.
Play 15 minute rounds.  At the end of each round whichever team has the most flags staked in their territory wins that round.  Play as many rounds as you desire.

---
TOP 10 4TH OF JULY PARTY GAMES
balloon pop
Liven up your festive party décor and provide entertainment by creating a balloon flag. Blow up red, white and blue balloons and use thumb tacks to secure them to a piece of plywood arranging them to make an American flag.

Set it against a fence as a beautiful backdrop for your party. Then when you are ready, have guests throw darts to pop the balloons.

---
TOP 10 4TH OF JULY PARTY GAMES
red, white, and blue shout out
Have everyone sit in a circle. The first person names something red, the next names something white, and the next something blue. If a player repeats an answer that has already been called or takes more than 5 seconds to think of an answer, they're out of the game.

---
TOP 10 4TH OF JULY PARTY GAMES
water gun cup race!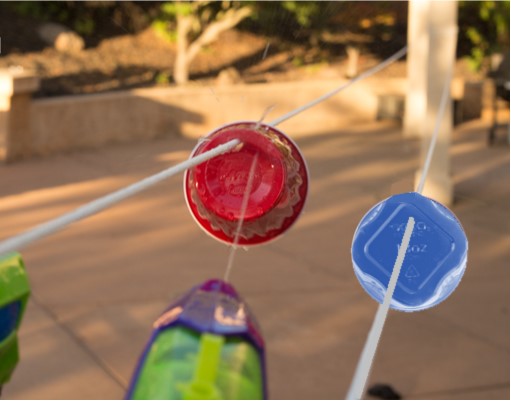 For this game you will need a red solo cup, a blue solo cup, string or thin rope, two trees or poles 8-12 feet apart and two decent water guns.

Take the red cup, cut a small hole in it and string it through your string or rope. Tie each side of the rope taut between the two trees or poles. DO the same with the blue cup by putting it on a new string, but make sure to tie that string parallel to the one with the red cup.
Two players face off against each other at a time. Start with the cups on the same end close to the players. Each player shoots their water gun into the cup to propel it down the string to the other side. The first player to get their cup there first wins!

---
top 10 4th of july party games
football toss
What a perfect time to toss around the ol' pig skin - actually this activity can be done with a baseball as well.  Purchase a few hula hoops in patriotic colors (or paint them that way) and hang them from trees in your backyard.  Assign a point value to each and give each player six tosses to earn as many point as they can.  It help if you have multiple balls.

ALTERNATIVE:  Purchase a blue tarp, cut different size holes and shapes in it and give it a festive makeover with paint. Assign those point values and play the same.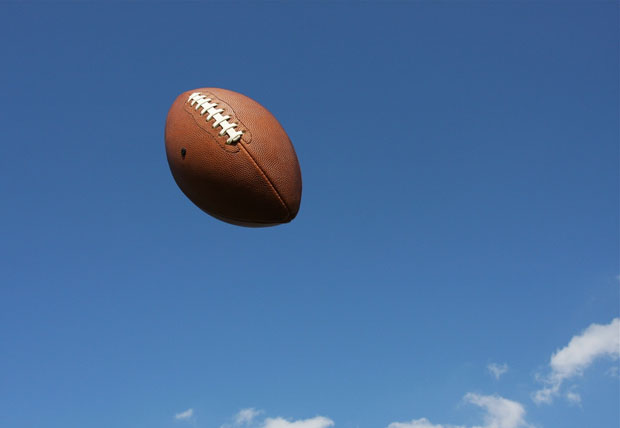 ---
MORE POPULAR 4th OF JULY PRINTABLES!
Looking for an activity for your 4th of July party? This Door to Door Patriotic Scavenger Hunt is a perfect addition to a 4th of July home event. A game for all ages, this instant download will have you racing the neighborhood in minutes.  
Please note that this is for an INSTANT DOWNLOAD file. No game sheets will be mailed. Instead you will receive a PDF that you can print on your home printer using regular printer paper.  There is no limit on how many game sheets you can print for your personal use. However, you may not redistribute the file or sell printed items for profit.
INSTANT DOWNLOAD $1.99
This file contains 1 high resolution PDF file formatted to fit an 8 ½ x 11 sheet of paper. Due to differences in computer monitors and printer ink, exact colors are not guaranteed. The watermark shown on the picture will not appear on the PDF you receive.

---
Our Independence Day themed Scattergories game is perfect for your 4th of July festivities. If you are familiar with the original Scattergories game, this version features 7 categories that spell out the word FREEDOM down the side. Across the top are the letters U,S, and A.  Whether you are having a BBQ party or just getting together to watch the parade and fireworks, this is easy and fun to play anywhere while waiting for things to kick off.  
HOW TO PLAY
Give players a specific amount of time to write a word for each category that begins with each of the three letters. I recommend 5-10 minutes. Once the time is up players take turns calling out answers. Any player that has a duplicate answer of another player must cross it off.  After all answers have been shared the player that has the most original answers WINS! 
HOW IT IS DELIVERED
This game is delivered to you within moments of ordering.  You will receive an email with a link to download this PDF file. Simply print enough copies so each player gets a sheet and enjoy.
INSTANT DOWNLOAD $1.99
---
Get your party started with these adorable personalized coloring pages perfect for those young and young at heart at your 4th of July party.  When young guest arrive this can be a great way to ease them into the 4th of July mood.  Have a space set up with these coloring pages and crayons so that each guest can color their own.  You might even have some adults join in the coloring fun because, after all, who doesn't like to color? 
HOW DOES IT WORK?
This coloring sheet arrives via email within moments of ordering. Open the file in adobe reader and type in your message.  You can then print as many as you need for your event!
INSTANT DOWNLOAD $1.99
NOTE: The font shown should be the one that your message type will appear in.  Some times this does happen for some computers.  For these cases I have included the font with the file.  If the font doesn't automatically convert to the one shown simply place the font file included in the file into to your computers font folder and then re-open the coloring sheet file.  

BONUS:

Check out these Awesome DIY 4th of july treats!