Paint Party Games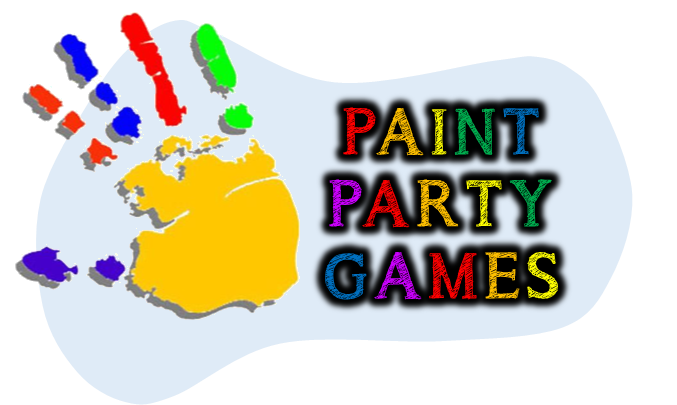 Throwing your child a paint party has never been easier with our creative games, ideas, and paint /art party supplies!
Stepping "outside the box" of a traditional birthday party has become more tedious than enjoyable. Finding things to suite the "out of the box" ideas that either you or your little one has envisioned can be…we'll say complicated. That's why we are here. So if you are planning a Paint Birthday party for your little artist, our invitations, printables, and games will help to accomplish the vision for your theme. So please lets us do some of your handy work, you just enjoy the smile on their little faces. For a paint party you will need to prepare a little. It can off pretty easy by choosing a designated area for the activities to occur. Clean up will be much easier if you cover most areas in plastic sheeting or cheap plastic table covers that way all you have to do is gather them up and throw them away. After prepping you will need some good ideas for activities and games. So here they are……
Paint Party Games
Paint & Pass

This activity will help each little artist to understand the meaning of group effort. Using a medium sheet of paper, have the children gather in a circle. You will need finger paints, markers or any drawing utensil you please and a timer. Someone can be named official timer or you can take the position yourself. Each person will take a turn with thirty seconds on the clock to draw/paint something. After time is up the circle will move to the left. The next person will turn the page a quarter turn add to the art. This will continue until everyone has had a turn to add to the art.

Art Party Games
Frozen & Posin'

This game will take four people at a time. Two participants will be the ones posing and the other two will be the frozen. The audience will shout out a scene from a painting, movie or an everyday activity. Now it is the job of the posers to put the frozen in a position to act out what has been requested. They will mover their arms and legs for them, sit them down, move their heads…etc. This game is very entertaining, especially when parents are the frozen ones.

Paint Party Games
Water Balloon Pinata

Tie a piece of cotton twine to a tree, one branch to another, like a clothes line. Fill a bunch of water balloons up and hang them from the line. Have each kid line up and take a swing at the water balloon piñata with a plastic bat to see how many they can pop. This is good for a hot summer day or a little clean-up for your artists. If you prefer something less wet and messy you can do a regular piñata but instead fill it with art supplies like pencils, paintbrushes, glitter pens…etc.

Art Party Games
Blow Painting

This requires very little supplies and children love it! Hang a blank sheet of paper up for each child. Now give each child a party blowout. Put several colors of paint on a plate for the children to use. Have them dip their blowouts in the paints and blow them onto the paper. This makes for a cool project and a good party favor to take home.

Paint Party Games
Face Painting

This classic never fails in the fun department. Get a face painting pallet or any face paint you can gather up and let the kids paint each other's faces. Most creative takes a small paint set home with them.

Art Party Games
Splat!
This is one you will have to prepare your guests for. Note in your invitation that they will need to wear clothes they can get very messy and bring a change of clothes if they like. You will need plenty of paint, a water gun for each guest and an area you can get messy. Fill each water gun with paint, use a variety of colors. Place the "paint guns" in a pile. Have the guests stand side to side at least fifteen feet from the guns. On go, they will run and grab a paint gun and begin spraying one another. Just make sure to note, no one is to get anyone above the shoulders with the paint. It's a fantastically fun mess to end your party with.

Paint Party Games
Pose-a-Palooza
You will need paint, chalks, markers, whatever you like and paper. Have the children take turns being the model and the rest the painters. Each child will pose in a funny position while the others draw or paint them. After everyone has taken a turn they can share their art with one another.

Paint Party Games
Brush, Brush, Paint

This cute game has the same concept of duck, duck , goose, but made for the artist. You need an easel and jar filled with paintbrushes. Have the children gather in a circle and put the jar in the center of the circle. Have the girls sit down and choose one child to be the leader. Give the leader a paintbrush. Now they will go around the circle tapping each person saying brush, brush…until they choose someone and then they will save paint! The chosen person will to the easel and paint whatever they like for thirty seconds. When their time is up, they will get a fresh brush from the jar and begin brush, brush, paint. Once everyone has had a turn, the birthday child can keep this painting as a keepsake.

Paint Party Games
Musical Spritz

You will need some upbeat music and enough white shirts for each guest. You can usually find a good deal at craft stores on plain white t-shirts. Hang each shirt on a clothes line. Fill several spray bottles with watered down paint. Each child will take a spray bottle and stand in front of a shirt. When you start the music the guests will spray the shirt in front of them and be sure to let them know dancing is encouraged. When the music stops they will stop and move to to the next shirt. This will continue until each shirt is full of color. Now each guest can take a shirt home as a party favor when they are dry.

Paint Party Games
Art Scramble

With this game all you have to do is make a list of at least ten different art supplies.( Paper, pencil, chalk, paint, clay….etc.) Now jumble the words up and print the jumbled words on a piece of poster board and hang it on the wall. Give each child a piece of paper and a pencil. With five minutes on the clock, ask the children to unscramble as many words as possible. The fastest with the most unscrambled, wins a prize.
Printable Paint Party Supplies
Personalized for your little artist!
Finding paint party supplies isn't the easiest thing to do. I created the following printable paint party supplies to make throwing your child's dream party a little bit easier. From invitations to a party banner, this set comes with all the decorations. Purchase plates and utensils in matching solid colors from your local dollar store and you are set to paint and party!

Our paint party invitation comes ready to print and send with your child's party info all ready on it. Invitations are 5x7.

| | |
| --- | --- |
| | Turn a regular hershey bar into a fun favor with our personalized candy bar wrappers. |
| | |
| --- | --- |
| Personalized cupcake toppers. Simply cut out attach with coffee stirer, toothpick, or lollipop stick and mount into cupcake. | |
| | |
| --- | --- |
| | Starving artist? More like thirsty artists. Hydrate your little painters with these fun water ( or juice) bottle labels. Simply print and tape, or you could print on adhesive paper and attach it to the bottle like a sticker. |
| | |
| --- | --- |
| Double sided favor bag topper. Fill your favor bags with goodies and close with this personalized topper to make it fun and unique. | Editable paint cards make it oh so easy to add an themed element to your buffet table. Simplt type your menu item onto the card and it will automatically show up on the reverse side. Print, fold in half, and use for easy table placement. |
| | |
| --- | --- |
| | Our paint party banner lets you print each letter on a seperate sheet so that it is easy to print out from home. Banner reads " Happy Birthday". |
Order your printable paint party supplies below for $14.99
Fill out the form below.

Once you submit your order you will be taken to a PayPal's secure checkout page. You do not have to have a PayPal account to purchase.

Your printables will arrive via email in high resolution PDF files within 3 days. If you need a rush order ($3.99) please contact me at

partygamesplus@yahoo.com

. No physical product is mailed.

If you need any changes made just let me know. I aim to please : )

If you do not see your order in your inbox within 3 days make sure to check your junk folder before contacting me.
ALTERNATIVE ORDERING

You can also order by emailing us at partygamesplus@yahoo.com.  Make sure you include which item that you want to order and any  information I need to personalize your set.  I will email you back with a link for payment.
 CONTENT PROTECTED BY COPYSCAPE DO NOT COPY
Copyright © 2011 – 2014 PartyGamesPlus.com.  All Rights Reserved