Monster High Party
Check out these awesome Monster High Party Game & Activity Ideas. These ideas are perfect for a DIY Monster High Birthday Party. PLUS I have added some printable Monster High printables and party favors at the end of the page. These party printables can make your MH theme completely and uniquely YOU!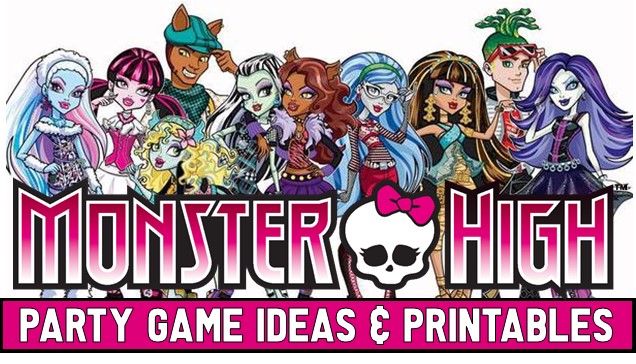 Monster High Party Games
Monster High Dance-Off

Play the monster high theme song and let all the girls show off their awesome mad monster dance moves, but when the music stops everyone must freeze. Any player caught moving is out until the next round. Keep playing until only one dancer remains. She is crowned Queen of the Monster Ball.
Monster High Party Games
Mr Hackington's Mad Science Experiment

This activity is so much fun and it doubles as a cool party favor. Let the party guests each create their very own batch of Monster Slime. Follow the instructions below and let each guest add food coloring to turn it to any color they choose. Monster slime is a type of slime that flows when you pour it, but hardens when you squeeze it. Slime is non-toxic and simple to make. Monster Slime Ingredients
1/2 cup of glue
1 cup of liquid starch
(optional) food coloring
You can make monster slime in any container, but a zip-loc is recommended becauseit can be used to mix the slime in and store in when finished. To make the Monster Slime simply combine the corn starch and glue together. Next, add a few drops of food coloring, if desired. Using a spoon squish the ingredients in a zip-loc bag. Voila! Slime will last for a couple of weeks in baggie or even longer if kept in the refrigerator.
Monster High Party Games
Mr. Where's Wacky Skits!

In Mr Where's Drama class being a Drama Queen is encouraged. Let the players test their creativity and drama skills in the hilariously fun party game. Fill bag with three or four different props. These props can be ANYTHING! Random household items work perfectly. An example would be a brown paper sack with a spoon, a neck tie, a roll of toilet paper, and a can of corn. You'll need to create a separate bag for each team. To play divide players into separate teams with 2-3 guests on each. They have ten minutes to look though their bag and come up with a short skit using all items. After the ten minutes each team performs there skit for the others.
Monster High Party Games
Fierce Fashion Funk

Let the guests show off their design skills in a funky and fabulous Monster High Fasion Show. To play divide the players into teams and provide each team some raw materials. These material can include aluminum foil, trash bags, and tissue paper. These fashions are obviously not for long term wear, just for fun and creativity. Each group should also receive scissors and tape. To play have each team choose one model for their team. The other players are the fashion designers. Allow each team 20-30 minutes to complete their outfits. After the design time is up pop some funky music on and let the models walk down the "runway" ( anywhere will do) and show off their stuff. If you want you can add a competitive element to this game by judging the outfits on style, creativity etc…
Monster High Party Games
Free Monster High Trivia Printables

Let guests test their Monster High knowledge with this awesome printable Monster High game. Print it out and test the players knowledge to see who the Monster High Expert in the group is. You can have guests call out answers or you can have them mark their answers on a sheet of paper. This Monster High Printables game comes in an easy to print PDF you can get
here!
Fear Squad Try-Outs

Get your pom poms ready, it's time to try out for the fear squad. Everyone know on the fear squad What Cleo De Nile , the Fear Squad Captain, goes! In this party game players take turns playing Cleo and making up cheer moves. The other players must see who can duplicate the move. This could also be played in a Simon says adaption. Where players must do as Cleo says when she starts her commands with "Cleo Says" of course.
Monster High Party Food Ideas
I found this fun little blog that has some really cute DIY Monster High party food and treat ideas.

Monster High Party Invitations & Printables
Our printable Monster High Party supplies comes with everything you need to throw an awesome MH party. It includes everything you see below!
Your choice of Personalized Monster High Invitations!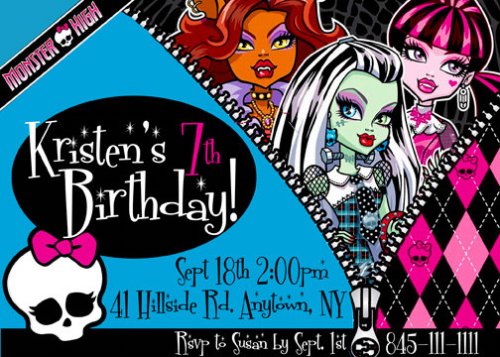 Monster High Invitation 1

| | |
| --- | --- |
| Monster High Invitation 2 | Monster High Invitation 3 |

| | |
| --- | --- |
| Monster High Invitation 4 | Monster High Invitation 5 |
| | |
| --- | --- |
| printable candy bar favor wrapper ready to customize with your child's name. | Cupcake Topper rounds also customizable with your child's first initial and age. |
Favor bag toppers customizable with a personal message.

Wrap these fun bottle wrappers around your party beverage to add some fun. Print on regular paper and attach with tape or print on adhesive paper.


Editable Monster High Student I.D badges and Diary cover print so that you can add each guests name before printing. Laminate the badges for a cute party favor. Diary covers can be printed out on adhesive paper and applied to the front of a regular composition notebook to create an affordable but fun favor (one that guests will actually use).

Above: Printable party banner. Each page prints on one full 8x11 sheet.

Left: chapstick wrappers. Add a short personal message before printing and voila! another instant personalized party favor.

Order Your complete Printable Monster High Party Kit below for $15.99
Fill out the form below.

Once you submit your order you will be taken to a PayPal's secure checkout page. You do not have to have a PayPal account to purchase.

Your printables will arrive via email in high resolution PDF files within 3 days. If you need a rush order ($3.99) please contact me at

partygamesplus@yahoo.com

. No physical product is mailed.

If you need any changes made just let me know. I aim to please : )

If you do not see your order in your inbox within 3 days make sure to check your junk folder before contacting me.
ALTERNATIVE ORDERING

You can also order by emailing us at partygamesplus@yahoo.com.  Make sure you include which item that you want to order and any  information I need to personalize your set.  I will email you back with a link for payment.
•♥• C O P Y R I G H T •♥•
You are paying for the creative services and time spent designing and personalizing your invitations and/or other printables, which is permitted for one-time personal use. The characters used are free and in no way are they being sold. I do not sell or claim ownership over the licensed character clipart or graphics, as they belong to their respective copyright holders. Items purchased are for one-time personal use only and are not to be resold for any reason. Many customers have chosen to have their invitations printed at their photo lab and have done so without any issues but please be aware that some photo labs refuse to print copyright protected images. If you choose to have them printed at a photo lab and they refuse to print them we will NOT issue a refund. We suggest finding another photo lab. By purchasing any of our printable designs you acknowledge your understanding of the terms.
 CONTENT PROTECTED BY COPYSCAPE DO NOT COPY
Copyright © 2011 – 2014 PartyGamesPlus.com.  All Rights Reserved