SEARCH OUR SITE
---
secret hitler!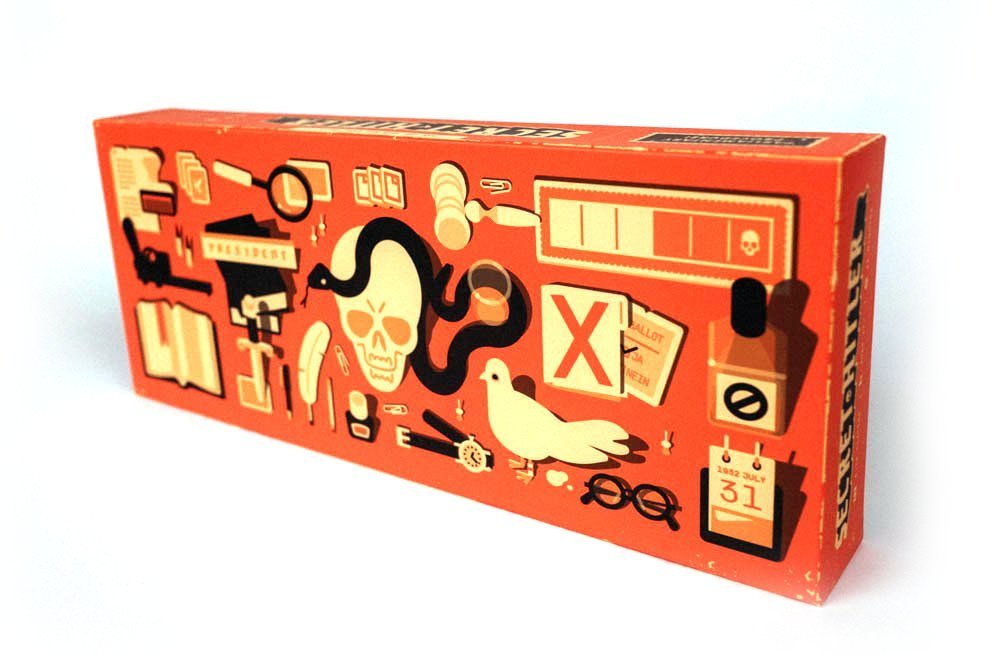 Secret Hitler is an intriguing game of political scheming and betrayal set in 1930's Germany. Players are secretly divided into two teams - liberals and fascists. Known only to each other, the fascists coordinate to sow distrust and install their cold-blooded leader. The liberals must find and stop the Secret Hitler before it's too late.
A fast-paced game of deception and betrayal
Beautiful wooden components
Solid game boards with foil inlay
Hidden roles and secret envelopes for five to ten players
what people are saying about this game...

This is an awesome game. Great for groups, easy to pickup and tons of fun. I have taught this game to a few groups, and I have never played less than 3 or 4 rounds. This is one of those games that guarantees new players will have that "oh I see" moment and then beg to play another round because they "know how to win this time". Part of the fun comes from the conversations after the game itself where we are all talking about why we made the decisions we did, and how we could've done better.
A lot of people have left great reviews on the game play though, I just wanted to mention the amazing quality of this game. I've been playing the print and play version for awhile, and grabbed the real version as soon as I could. The components are awesome. The game boards are embossed with gold overlay and the policy cards are thick cardboard to prevent any bending or creasing that could give away information after multiple games. Even the president and chancellor placards are wood and labeled amazingly well. I usually am pretty disappointed in component quality of games, and I can honestly say this has greatly exceeded expectations.

This a surprisingly fun party game. Even people who normally don't play board games hear the laughter along with the accusations and want to join in. Gameplay is simple - I would recommend a walk-through once with new players so they understand at a high level how to play. The rules are simple which leads to some interesting game play strategy. This has been one of the most enjoyable games that I've bought over the last few years


This game is just fantastic.
QUALITY OF MATERIALS: 5 out of 5. Wood construction of President and Chancellor markers, heavy construction of policy cards, and a very cool design that matched the feel of the era in which it is supposed to take place.
IDEA DEVELOPMENT: The creators of this game did a remarkable job explaining a very complex game in a simple and straightforward manner. So many aspects of this game were considered to make it as challenging as possible, with variations depending on the number of players.
GAME PLAY: Such an interesting and challenging concept that requires quick decision-making and the ability to modify strategy as the game goes on.
OVERALL: A perfect game for an evening in with like-minded friends.


Wow. Great game of political intrigue. My first run-through was with 5 players, and though it seemed complicated at first, we all quickly realized that there was nothing tricky about the rules themselves. However, figuring out who Hitler is can be quite tricky. This is a "werewolf" style game, where one player is Hitler, who plays on the fascist team. The other players are either all liberals or fascists. Each side can achieve one of two win conditions to secure a victory. The fascists win by passing 6 fascist policies OR electing Hitler Chancellor after only 3 fascist policies have passed. The libs win by passing 5 liberal policies OR assassinating Hitler. Let me just say that there is a LOT of speculation flying around the table about who Hitler might be, especially since lying is encouraged in this game.
This game has a print and play version available, and has a Creative Commons license, but the purchased game is beautifully made. I especially like the gold foil that is used on the game boards, and the wooden President and Chancellor office plaques. This game was funded on Kickstarter.

I fell in love with this game the first time I played it. So naturally I had to buy it. You can play for hours and still have fun since the game is different every time you play it. You quickly figure out your friends mannerisms and how good of a liar they are. This has become my favorite game by far


Check out the rest of the reviews at Amazon.com ( over 300!)
---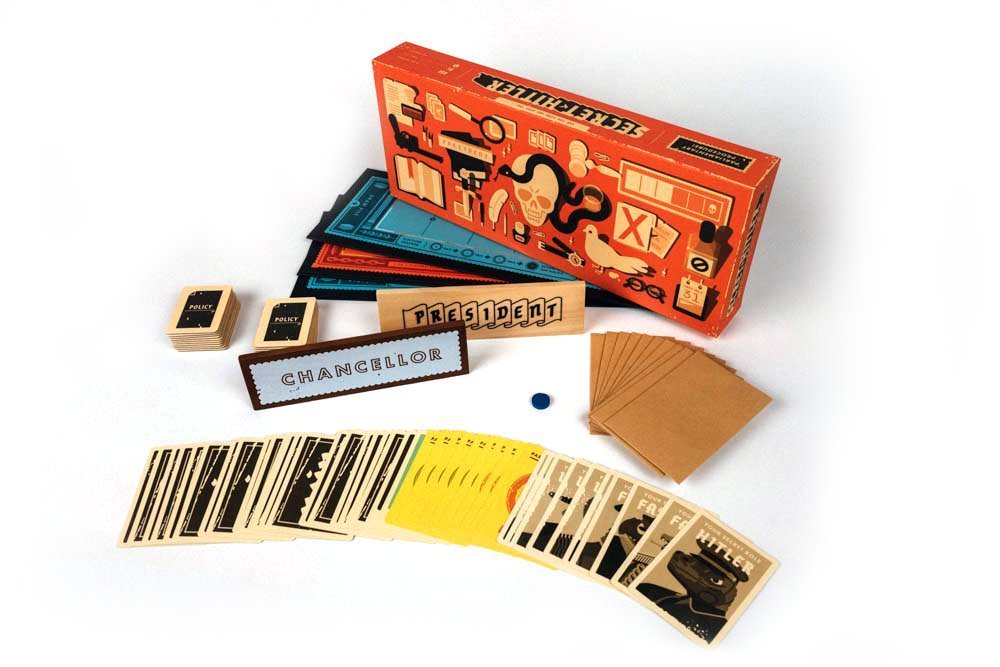 ---
Pick THe joking hazard game up at your local department store or order it right now from Amazon.com(free shipping)!
---
---