Periodic Table Pop Culture Game
-Science Treasure Hunt-
 This Periodic table treasure hunt game uses fun pop culture icons as the clues and the periodic table as the decoder to crack all the codes and solve the clues.
A printable periodic table is provided with this game, so the players DO NOT have to have knowledge of the table to play. If you are trying to use this as a learning tool for older kids (high schoolers) then you can simply by not letting them use the periodic table to help. With the periodic table it is much easier and can be played by children that are old enough to use a calculator to add and subtract and look up information on the periodic table of elements.
The science treasure hunt features pictures of recognizable people, icons, cartoons, toys, candy. They have to fill in the blanks with the name of the picture and then use their copy of the periodic table to find the numbers that match the letters or symbol - see examples below. 
Printable Periodic Table Science Treasure Hunt
-how to solve the clues-
Clue Samples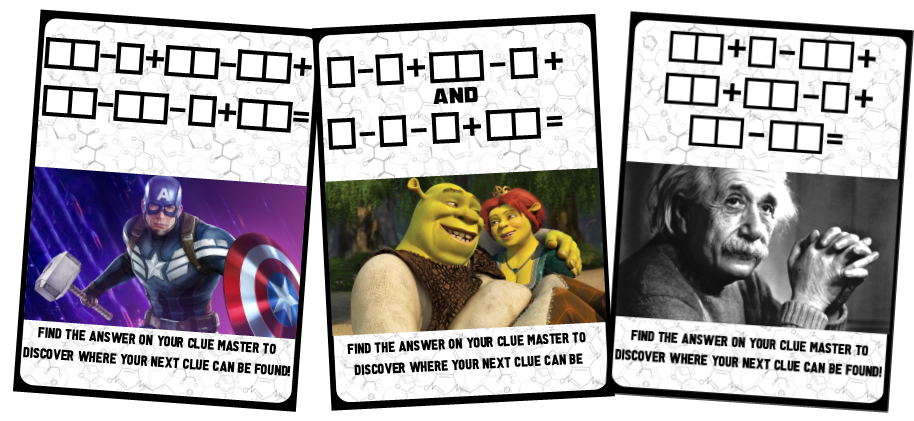 Above are examples of just a few of the clues included in this hunt (there are 17 in all).  We are going to solve one of them to illustrate how to play the game.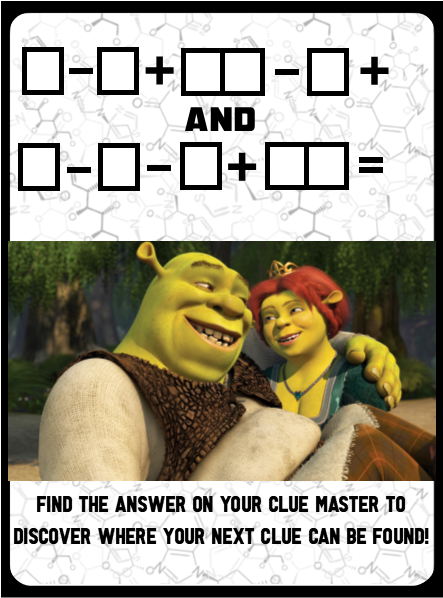 Let's take Shrek and Fiona.  When players discover the clue the first thing they must do is identify the image - in this case it is a picture of Shrek and Fiona from the movie Shrek.  Players fill in the spaces provided.  Now each of the separated sets of letters are all symbols from the periodic table. 

Players must then look up the symbols on their Periodic Tables and discover what the atomic number is for each symbol. 
Once they decipher this they use a calculator to add and subtract the numbers as the clue indicates to determine the answer to that clue.  In this case it is the number 30!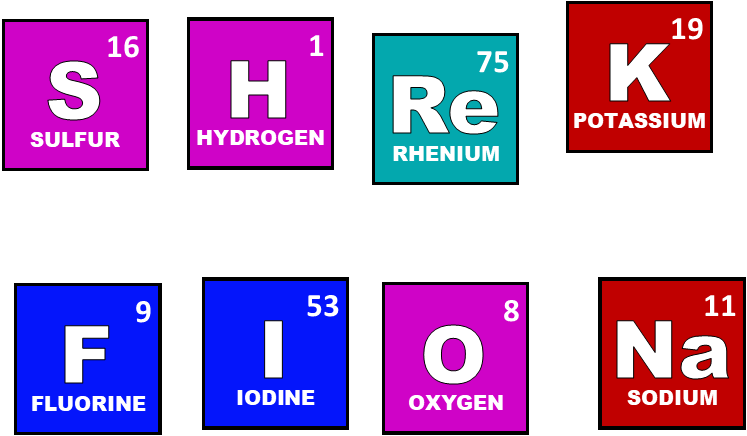 Printable Periodic Table Science Treasure Hunt
-Using the Clue Master-
The answer to the clue is what players need to discover where the next clue is hidden.  They will then look up their answer on their provided Clue Master.
The Clue Master is an editable sheet that you will fill out before the game with whichever hiding locations you are planning to hide the clues.  That means YOU CAN PLAY THIS GAME ANYWHERE!
You decide the locations and hide your clues accordingly.  So for the Shrek and Fiona example players would look at the location that you typed in for number 30 and they would go to that location to discover the next clue that you have hidden for them.  This continues until all the clues have been found and discovered and the end has been reached.  
Notice there are 60 hiding locations and only 17 clues.  You will only need at the most 17 locations - the other locations are decoy locations.  In these locations you can either not hide anything, or you can hide our provided TRY AGAIN cards that let players know they got the answer wrong and need to well... try again.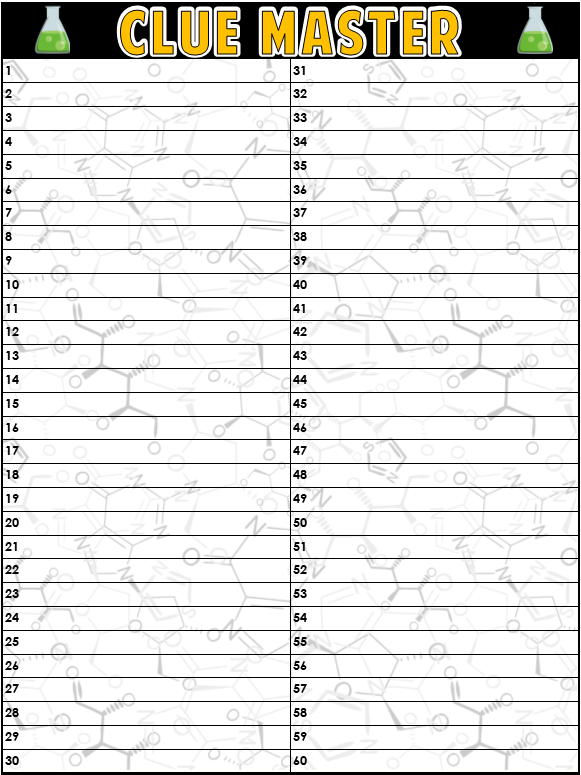 Printable Periodic Table Science Treasure Hunt
-Common Questions-
How many players can play this game?
This printable Periodic Table treasure hunt can be played by one player or a whole group.  If you have more than five players you may want to consider trying the competitive version where players are divided into teams to compete to see who can get to the end first.
Should this be played indoors or outdoors?
This treasure hunt can be played indoors, outdoors, a mixture of both, at your house, at the park, really anywhere that has hiding places.  You decide where the clues are hidden so it is up to you where it is played.
What age is it best for?
This Periodic Table Treasure hunt is perfect for players 11 and up. 
How long does it take to play?
That depends on how long it takes the players to solve and find the clues, on average this takes between 30 minutes to 1 hour.  It also depends on how hard and far apart you hide the clues. 
What items will I need other than the printed hunt itself, to set up and play this game?
scissors
pencils / pens
Calculator
envelopes to hold clues (optional)
Do all players play together or race against each other?
It is up to you! It can be either!  You can have players work together to solve the clues and find the treasure or you can divide them into teams to play against each other.
Cooperative play:  This is when players all work together to find the clues together.  You can have them hunt for all 16 clues, or you can play with less clues for a shorter game.
Competitive Play:  You can set up a competition by dividing players into two teams.  Each team will receive eight clues to hunt for.  Seven of them will be different from the other teams, and the last one (the bonus challenge clue) will be identical to the other teams last clue.  This is because the last clue will lead to the winners ticket and whichever team gets to it first claims victory!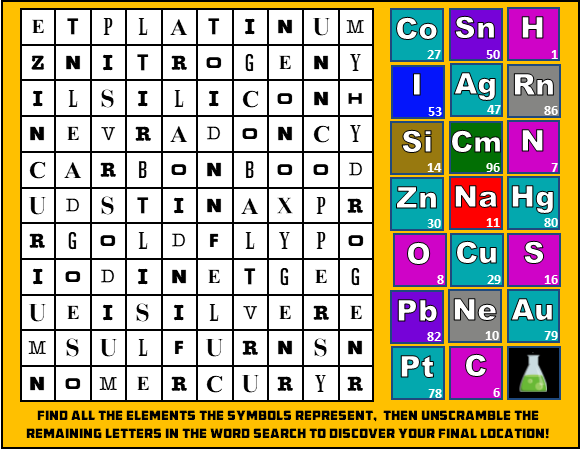 Do I need to use all 17 clues?
No, you can pick and choose whichever clues you want or use them all.   I suggest you laminate the clues so that you can use the game again and again. 
Get Your Periodic Table Science Treasure Hunt Now


- Instant download $10.99-
Your Periodic Table Treasure Hunt Includes:
16 Clues 
1 Bonus Challenge Clue
Victory Card
Easy Set-Up Instructions
Editable Clue Master Sheet
2 Periodic tables to Choose from 
Try Again cards
Your printable game will arrive within minutes in printable PDF files.  This is a digital purchase - No physical product will be mailed.  If you do not see it in your email please check your junk folder before you contact us - that is the usual culprit. If you have any questions or feedback we would love to hear from you!  Contact us at: HappyPartying@gmail.com

---