One Direction DIY Party Ideas
by Carissa
(Arkansas, US)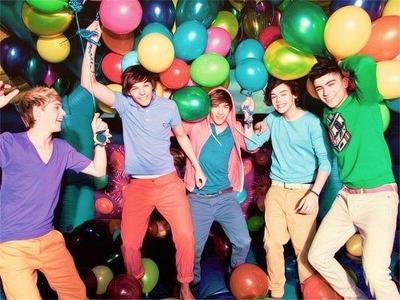 My daughter's 14th birthday party is in 10 days and i have been scrambling trying to find One Direction party supplies. As usual, my daughter chose the one party theme destined to be missing everywhere when i need it. so as the future mother of the year to the future Mrs. Niall Horan, i came up with a few ideas for party essentials and favors.
For the cups with one direction I bought regular plastic cups at Wal-Mart and printed out pictures of one direction. I bought a roll of laminate contact paper and "laminated the pictures to the outside of the cups. Now we have one direction cups for the party. I did the same with disposable plates. Just laminate your pictures to the underneath part of the plates and display them bottom side up at your party. Same thing with the tablecloth and the party favor bags.
For the party favors, since I cannot find them anywhere, we are making magnets and collage foam message boards. I also plan on making candy bar wrappers. I made stand up table decorations by printing out pictures of one direction and gluing them to cardboard (the moving/packing boxes available for purchase at Wal-Mart work great cause it is a heavier cardboard) and once again laminating the whole thing. (the laminate contact paper is $6.00 per roll at you guessed it Wal-Mart)
We also bought the hello my name is name tags and wrote the future Mrs. One direction member's last name for each girl. I made 15 of each name that way they can each be whoever they want. I made up a One Direction quiz. (and answer sheet. i am not a directioner) i made a cd of one direction songs to play at the party i randomly chose different songs from the different 1D cds my daughter owns.
My daughter specified no spoons since one of the band members are scared of them? so instead of spoons we have sporks. we are having the 1D members fave foods (we are also grilling at her party) Harry likes sweet corn, Zayn likes chicken, Louis likes carrots, Liam likes chocolate and Niall likes Nandos. as an activity we are making 1D foam board message boards and picture frames.
I will be taking a group picture of the girls at the party to put in the frames. both will be decorated with pictures of 1D, glitter, cut outs and of course 1D duck tape (i found it at walmart for $6.97 a roll duck brand duct tape)another party favor to be put inside the party favor bags are magnets (laminated pictures of 1D with magnet tape on the back side)as for the rest i am sure there will be lots of "fan girling" as my daughter calls it. "omg mom i totally just fan girled!" whatever that means......