Margaritaville Party
by Donna
(Ontario, Canada)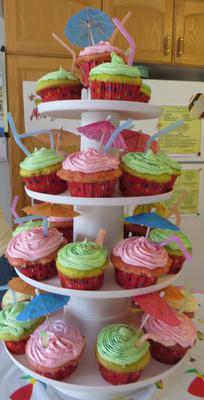 Margaritaville party cupcakes
Recently, we held a Margaritaville party for our adult son and daughter's joint birthday party. It was a lot of fun and it didn't cost very much to create an atmosphere like in one of the famous bars and restaurants, and although the name is commercial, the theme is just a laid-back, simple, relaxing lifestyle.

MARGARITAVILLE PARTY DRESS CODE

We made bright-coloured iron on t-shirts with some fun sayings such as "Fins Up", "It's 5 O'Clock Somewhere" and "I Am the Woman to Blame". Some people just wore their own bright-coloured shirts.

MARGARITAVILLE PARTY DECORATIONS

The house was easily decorated with seashells and rocks we had collected on vacation. Beach themed napkins, straw beach mats, raffia type placemats and tablecloth were all found at the dollar store. We dug out our colored Christmas lights and strung them up all around our open kitchen / living room area. We even hung a bikini on the bathroom door just like they do at Margaritaville! A wreath hanger over the door and clear plastic pants hangers from the department store made this quite easy.

We printed off a bunch of different posters with photos of beaches, margaritas, parrots, palm trees, flip flops and included sayings which referred to the leisurely lifestyle the theme is based on.

We found some Margarita recipes in menu form on the internet and printed them out. They were stuck up randomly all over the walls, in the bathroom, and on the front door, using the sticky tack you can buy at the dollar store.

MARGARITAVILLE PARTY FOOD & DRINKS

Snacks included salsa and tortilla chips, and hummus and pita chips.

My son acted as bartender and mixed Boat Drinks (Margaritas, Mai Tais, Hurricanes)in the blender. We also had Landshark Lager beer and provided tropical juice for those who didn't want alcohol.

For dinner we made Fish Tacos, Volcano Nachos, and a delicious Chicken, Mango and Avacado salad. All the recipes are available on the internet, so it's really easy!

For dessert, we made fancy little cupcakes in two flavours:

Strawberry Daiquiri which we made from a white cake mix with strawberry sundae topping and some coconut rum added in place of some of the liquid. They had coconut rum and strawberry flavouring added to the icing which made it a nice pink colour.

We also made Margarita cupcakes which were made from a lemon cake mix with some lime and a bit of tequila added in place of some of the liquid. We also added some lime and tequila to the icing, and had to add a bit of green and a drop of yellow food colouring to get a nice lime green colour. We decorated them with coloured sugar, coloured straws (cut short) and some fancy little umbrellas (the type you put in drinks).
The cupcakes were a huge hit and added to the décor, because we put them on a 3 tiered cupcake tree!

MARGARITAVILLE PARTY GAMES & ENTERTAINMENT

A Jimmy Buffet DVD from one of his live concerts played on the TV and we also had one of his CD's for background music.

We played Two Lies and a Truth, because it seemed like a fun game to play when you have had a drink, but wasn't a "drinking game" as we are not really very heavy drinkers.

It was a lot of fun, easy and inexpensive!