Lego Themed Party
by Kristina
(Lancaster, PA, USA)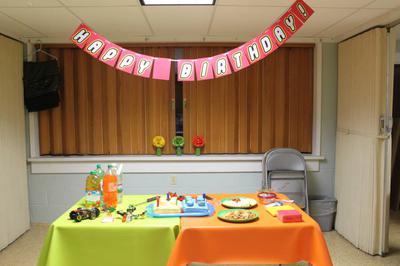 A Lego Themed party is not new, but a classically fun idea. The toy itself always re-invents itself with your imagination.

For the Lego themed party invitation, I just made up a Lego postcard and passed them out. But I've seen where you can make a puzzle out of lego bricks with the party info, too.

Decorating was easy. We just stuck with the basic Lego colors (red, blue, yellow, and green). So, flatware, tablecloths, cups, napkins, and balloons were all the corresponding colors. I downloaded a free "LegoThick" font and made a banner and labels for party bags and treats. I printed out minifigure heads to go onto the straws. And, as the guests arrived, they got to design their own minifigure on paper and decorate their own minifigure head (yellow) cup to drink out of. We also used any large Lego kit creations we built and the big Sort-and-Store head.

Our time was in between meals, so just snacks were served. Build your own Lego crackers -- Club crackers with mini pepperoni and cheese circles made from cut up string cheese; snack mix; and of course a Lego cake. The cake was made with one 15x9 sheet cut in half and stacked, and two 9x9 sheets stacked. For the Lego knobs I cut a jumbo marshmallow in half. All was covered with Buttercream frosting tinted a basic color.

For Lego themed party games, we did an opener where they had to build a birthday related item and tell us about it. Then we got them moving with two relays -- (2 teams) Putting Lego Duplo blocks into a bowl across the room using chop sticks, then taking them out; and then balancing the Duplo figure in a spoon to the end of the room and back. Next there was a building challenge for the tallest tower. The last game was reading a made up Lego story fashioned after the Left/Right game, where you pass an item to the left and right whenever you heard the words. After each event, they got to go to the prize table and pick something out to go into their take-home bags. These items were m&m's lables as minifigure poop, play-doh, crayons, a home-made Lego coloring book, bubbles, and a party favor Lego set. The Lego sets were used during the Left/Right game.

After that it was free build time till they got picked up.