Baby Shower Creativity Games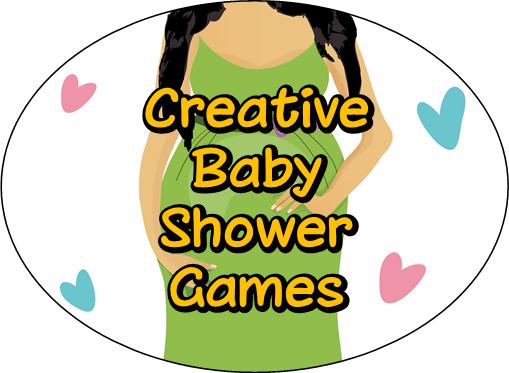 Creative Baby Shower Games are a great way to help break the ice at your baby shower! Although everyone does not have the crafty bone or talent for the arts, we have provided some easy, inexpensive, and thoughtful ideas that should get everyone involved with the activities and having fun! 
Also, depending on which of the creative games you choose, some will leave the parents to be with great mementos to cherish, long after the activities of the day are over! 
---
Baby Shower Creativity Games
Mix & Match Baby Face
This game is sure to have momma and guests laughing.

You will need to obtain a picture of the parents to be that show their facial features. They will need to measure around 8x10 in size. Make a copy of the parent's pictures for each of the guests. Supply them with scissors, glue and a paper plate with an outline of a baby's face. Have the guests cut out parts of the parents face like eyes, ears and so on. Have them paste them on the plate to create what they believe baby might look like. Have the Mommy to Be judge which is her favorite and the winner gets a prize. 
---

Baby Shower Creativity Games
Baby Sketch Off
Baby Sketch Off will bring out the creative side of your guests, along with some giggles.

Give each of your guests a simple white paper plate and a few markers. The objective of the game is to sketch a picture of a baby to the best of their ability on the paper plate. The catch, they must do this while the plate sits on top of their head! Make it even more fun and add a timer! After everyone is done have the Mommy to Be judge which sketch is the best.




---

Baby Shower Creativity Games
Baby First Year Bucket List

Being a new parent or a parent starting over again after a few years can be so overwhelming! There always seems to be twenty million things to do, and time, well it just seems to fly. This game is a creative gift that the Parents to Be will be able to go back to time and time again throughout the first year, as a gentle reminder to stop and enjoy life. 
Using a decorative container, mason jar, or a keepsake box, have your guests write down something the Parents to Be should do with baby in the first year. Anything from what sort of trips to take, a new food to try, when to get pictures made, reminders to fill out a page in the baby book, there are so many ideas that come to mind! 
Once the party is over the Parents to Be may take their time reading them throughout the year or sit down and read them all at once before baby comes. 
---

Baby Shower Creativity Games
Celebrity Baby
Most people keep up with celebrities and their births. Now is the time to put their knowledge to the test. Print out pictures of celeb mommies and pictures of their offspring. Put them on a board and number the mommies and letter the babies. Have your guests write down who they believe belongs to whom. The one with the most correct answers wins a prize.
---

Baby Shower Creativity Games
Baby Changing Contest

For the guests that feel confident they are the most skilled in baby changing this is a great game. 

What you will need to play this game, a couple of baby dolls wearing diapers, fully dressed, swaddled in a blanket, and finally a timer.  

The object of the game is to see whom can un-swaddle, un-dress and change the baby's diaper and then re-dress and re-swaddle baby the fastest! 

The one with the best time wins. 



---

Baby Shower Creativity Games
Place Baby on the Mommy

There is always a way to put a spin on a classic game we all love and this one is no different. Spinning off of Pin the Tail we have Place Baby On Mommy! Blow up and print a picture of the mommy to be, along with a picture of a cute little baby. Have your guests take turns being blindfolded and trying to place the baby on the mommy's tummy. The closest to the tummy of course wins.

---

Baby Shower Creativity Games
My Water Broke!

At your local craft or party supply store purchase several (one for each guest) of the plastic tiny babies. At your local retailer you will also need to pick up a few ice trays. 
Place the babies, one per each section, into an ice tray, cover with water, and freeze. Once all of the guests have arrived hand them an ice cube in a clear plastic cup. They are not allowed to touch the ice cube but may use other methods to melt the ice. Once the ice cube is melted they have to shout " My Water Broke!". The first to do so wins! 
---

Baby Shower Creativity Games
Onesie Graffiti!


Break out the fabric pens and/or puff paints and lets start designing! 
For this activity you will need to purchase several packs of onesies, we suggest getting them in different sizes so that baby can wear the artwork through out the first year, fabric pens, and/or puff paints. If a mature crowd an iron on station would also be great, but be careful if little ones are around!! Last but not least cardboard cut to fit inside the onesie so that craft materials do not bleed through. 
Everyone gets a onesie stretched on a piece of cardboard. Their task is to design a masterpiece! Whether an abstract, a cute little bear, a name, or maybe even throw in a team logo to please the sport fan! It's up to them and their creativity to decide!
The best thing about this activity is the Parents to Be get to keep the onsies and baby gets to wear the one of a kind outfits out and about. How exciting and thoughtful!
---

Baby Shower Creativity Games
Dough Babies
For this creative game you will need Play-Doh or Clay in a variety of colors and a timer. 

You will give guest five minutes to sculpt a baby the best that they can using the Play-Doh or Clay that is provided. 

The great thing about this game is that there can be many categories for the babies to be judged, for example, most creative, most realistic, funniest, and maybe even the scariest. There are so many creative ways that this game may be played! Have fun with it! 



---
Baby Shower Creativity Games
Time Capsule Birthdays
How Fun! A birthday card from a family or friend each year on their birthday! Such a sentimental way to continue to celebrate baby beyond the first year! 
For this activity you will need blank note or greeting cards, envelopes, and ink pens or markers. 
Place the blank cards inside of the envelopes and number them 1 to the number of years that you would like to reach or number of guests that you have present. For example 18 years so there will be 18 envelopes numbered 1-18. 
Hand out the cards to each guest and have them write a birthday note to the baby to be for whatever age is written on their envelope. They could include their favorite quote, a note of a memory they have from that age, or what a huge milestone say a 16th birthday is! 
The parents to be and baby will have so much fun every year opening the envelopes to see what is inside! 
---
Baby Shower Creativity Games
Wishes for Baby
I wish, I wish, I wish for you… This is a sentimental activity that the guests will surely enjoy! 
There are many ways this activity may be done. First up, we have created some Wishes for Baby sheets to match some of our Themed Baby Shower sets. Let us help you make your party theme come to life with our sets or individuals! To check them out, hop on over to our Baby Shower Themes page. 
Second, a less themed option, have a small box or jar, pen, and notepad ready. Have a table set up that the guests may go to throughout the party or maybe as a stop on their way out the door, and have them write down something that they wish for the baby to have in their life or advice that they have for them! 
Some great examples: to laugh as often as possible, go hiking in as many national parks as possible, visit Hawaii, or never go to bed angry. 
At the end of the party seal the box or jar so that the parents to be may give it to the baby when they reach an age that they may understand the meaning of the wishes. 
---
Leave Baby Shower Creativity Games 
RETURN TO PARTY GAMES HOME PAGE