Super Mario Party Game Cubes

Print & Play Party Game
Party Cubes is an original game creation so you will not find it anywhere else. 
It combines the awesome elements from classic games such as Yahtzee, Bingo, and Spot It, and in the case of this version, Super Mario characters and brings you this wild and addicting  party game that is great for ages 5 to 102! 
WHAT IS A PARTY CUBE? 
Party Cubes are printable cubes (you print and fold) that feature four different images on each side.  The Super Mario version features the Nintendo characters that we have come to know and love.    Each side of the cube measures 2.25 inches so they are pretty big and pretty fun.
We have created two different games you can play with your party cubes as described in the next section.
WHO CAN PLAY?
One of the great things about Party Cubes is that it can be played and enjoyed by all ages - so if you are looking for something that could work for a vast age range this could be, dare I say, The One!
HOW TO PLAY:
There are two different ways to play Party Cubes.  The first involves speed (Flip & Spot) the second (CUBO version) involves luck and a bit of strategy. You choose which works best for you and your crowd.
Printable Super mario Party Cubes
- Flip & Spot Speed Game -
The Flip & Spot party cubes game is quick and easy to both learn and play. Players face off one on one. Each player gets a set of five party cubes.  A  calling card is flipped so that both players can see it simultaneously.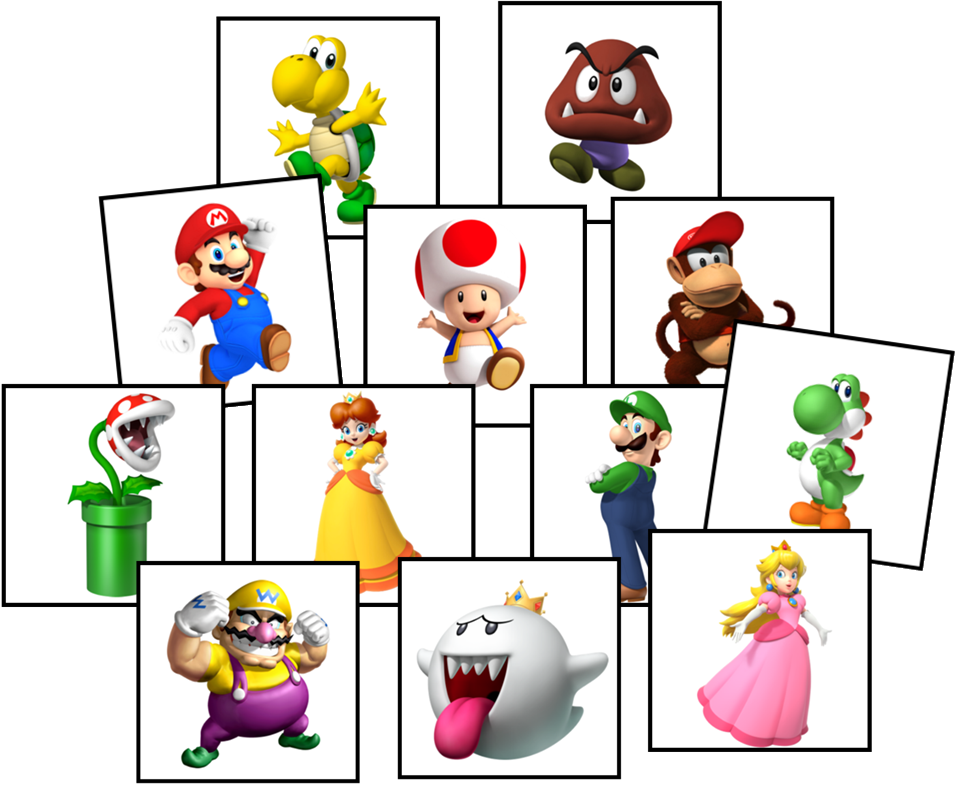 The Calling Cards are printable cards that each feature a different Super Mario character.
The Super Mario Party Cube game includes 24 different Calling Cards.
The first player to flip all their party cubes where the image on the calling card is facing up on each of the cubes wins. 
The player that wins best out of three rounds stays and another player comes to challenge the winner.  Continue until all players have a chance to play, you may even want to do it tournament style. 
ALTERNATIVE: You can print out enough sets of cubes so that each player has their own set and hold up a calling card.  The first player who flips all their party cubes the right side up gets a point.  Play through all the game cards and the player with the most points wins.
Printable Super mario Party Cubes
- cubo Game -
Cubo is a wild combination of Yahtzee, Bingo, Spot It! and in this case, the Super Mario theme.  Depending on how many players you have you will play one of two ways.  They involve the Party Cubes,  the calling cards, and the awesome Super Mario Cubo Cards shown below.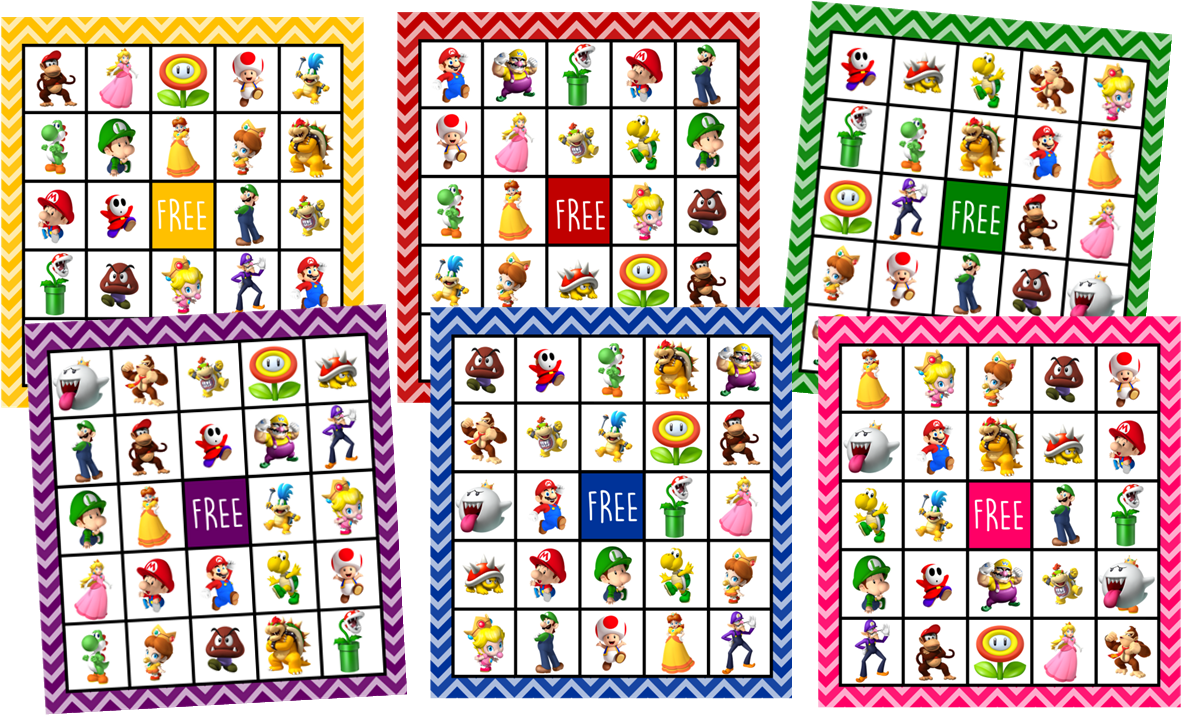 2-6 PLAYER VERSION: Each player gets a CUBO card.  Players take turns rolling all five party cubes.  I suggest using a hat or something similar to roll them with as they are too big to comfortable roll them all with hands.  Players get 3 rolls just like in Yahtzee.  If at the end of three rolls a player has FOUR of one image showing (on the top of the cube) they can cover up that image on their Cubo card.   If they have all FIVE images rolled they can cover up that image AND roll the Cube of Fortune!  

The Cube of Fortune is an additional cube that has different commands that mix up the game and keep players on their toes. These might include:
Losing their next roll


Choosing another player to switch boards with


Rolling a cube and choosing an image to cover on your board.


Rolling a cube and choosing an image that, if other players can also roll it, they get to cover on their board.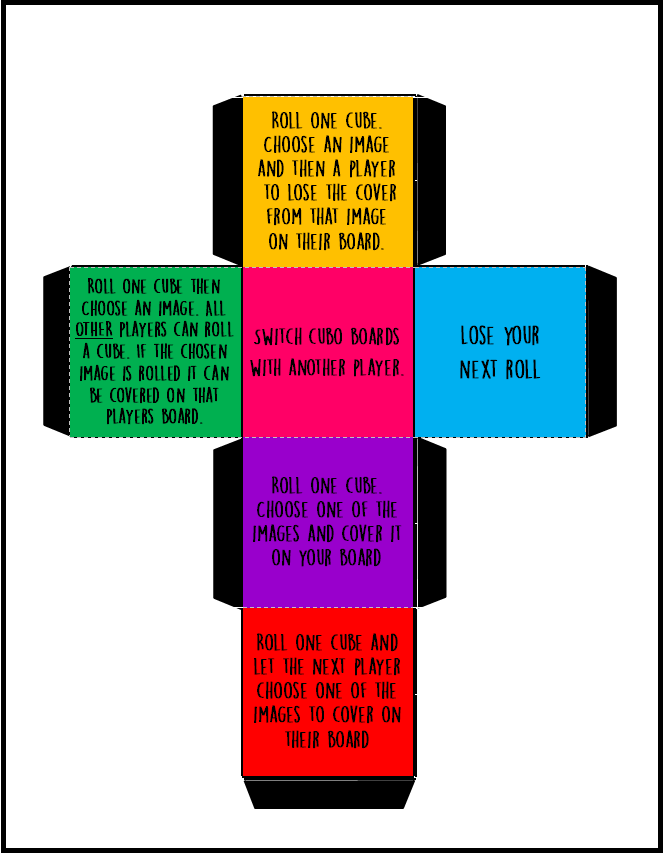 When a player get five images covered in a row (either vertically, horizontally, or diagonally) they call out CUBO!  If at the end of the round nobody else has called out CUBO they win, if their is a CUBO tie they play a quick Flip & Spot Speed Game to break it. 
7 OR MORE PLAYERS:  Each player gets a Cubo card (print out as many cards as you have players, some players will have matching cards, this doesn't effect game play)  Each player is given two cubes. 
The caller calls out a calling card and each player rolls both their cubes:
If they roll the called image on either of their cubes they get to cover it up on their card. 
If they roll the image with both cubes then they must roll the Cube of Fortune and follow the special command.
  Just like in the 2-6 player version when a player gets a row of five images covered they call out CUBO! If by the end of that round they are the only one who called it they win!
IF another player(s) also made Cubo in that round they have to battle by playing the Flip & Spot Speed Game.
Printable Super mario Party Cubes
- printing & preparing the Game -
1.  Open your game file in Adobe Reader. 
2. Print out your 2 sets of Party Cubes and 1 Cube of Fortune. They will give you 10 cubes all together.  If you are planning on playing Cubo with more than 5 players you will need to print out enough cubes for each player to have two.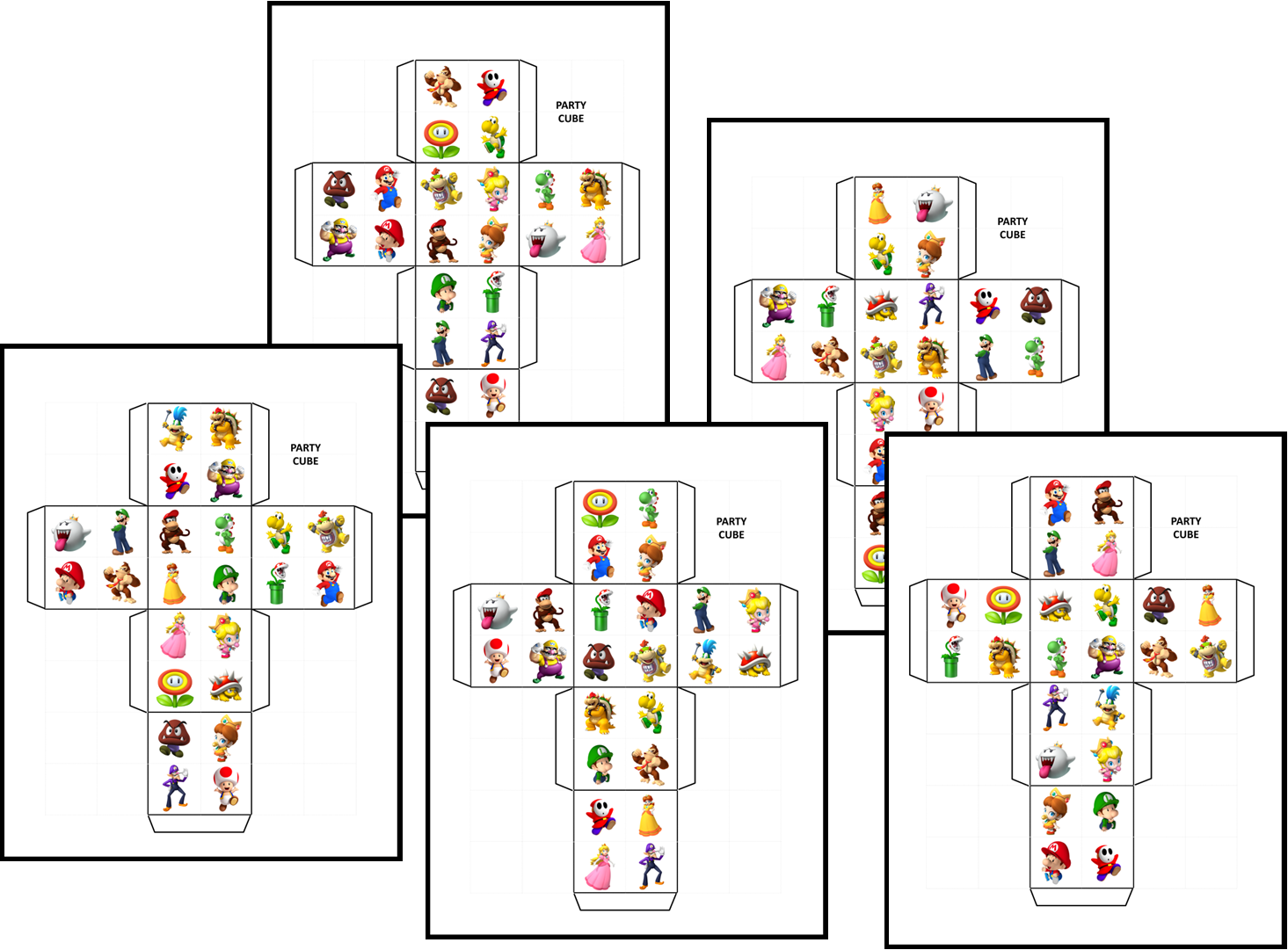 3. Create Cubes: To create the party cubes from the print out you simply cut out the shape and fold, using the flaps and glue to secure it.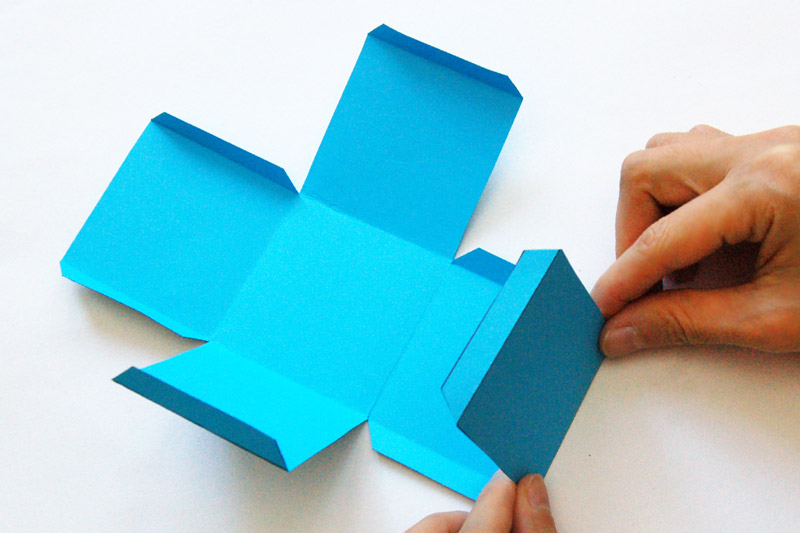 4. Print out Calling Cards and them cut them into individual cards. 
Note: Each sheet prints on full page.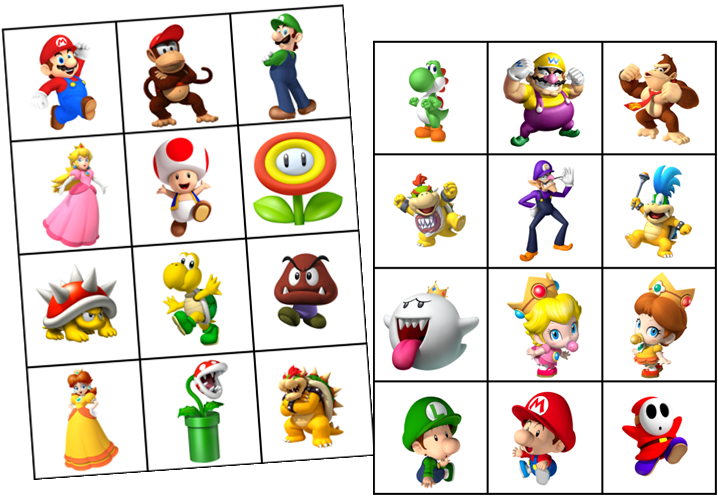 5. Print out Cubo Cards.  Note if you are playing with more that 6 players simply print more cards.  It does not matter if players have identical cards, technically you could just use one version of the card for everyone. Prints 4 per page.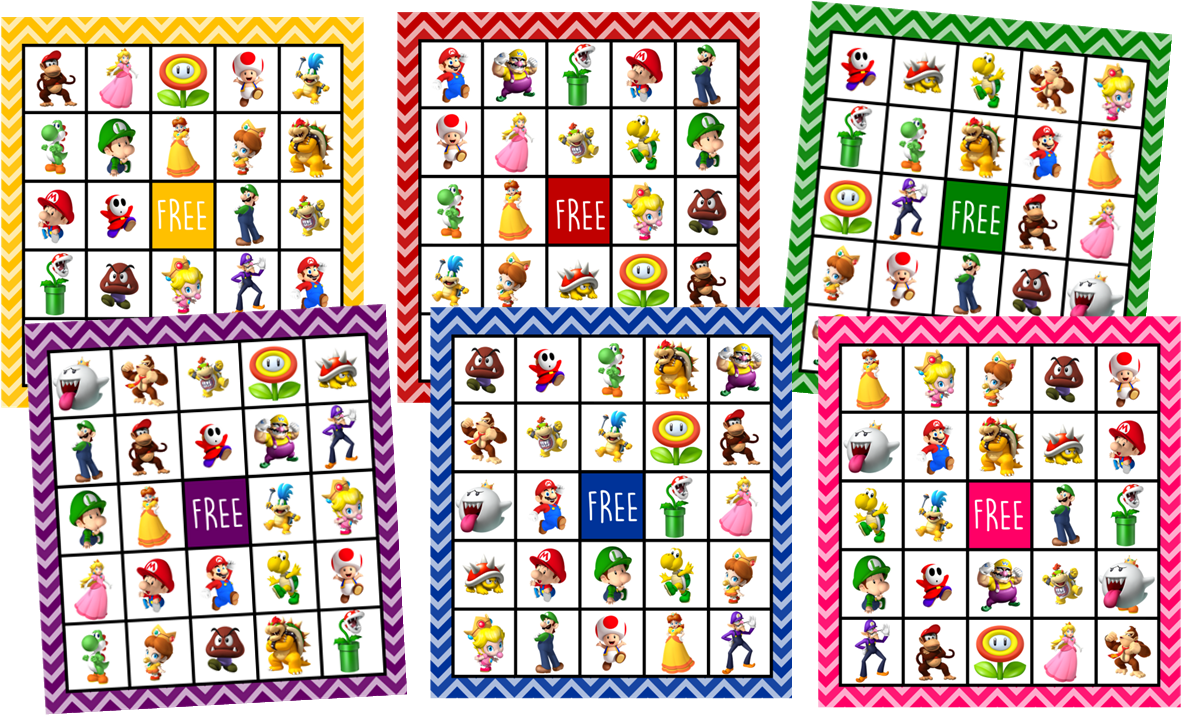 WooHoo! You are now ready to play!  Just follow the instructions for game play above which is also included in your download. 

Get your Super mario Party Cubes Now!
instant download $5.99
Your printable game will arrive within minutes in printable PDF files.  This is a digital purchase - No physical product will be mailed.  If you do not see it in your email please check your junk folder before you contact us - that is the usual culprit. If you have any questions or feedback we would love to hear from you!  Contact us at: HappyPartying@gmail.com