---
Printable Treasure Hunt
Riddles, Clues, and party Games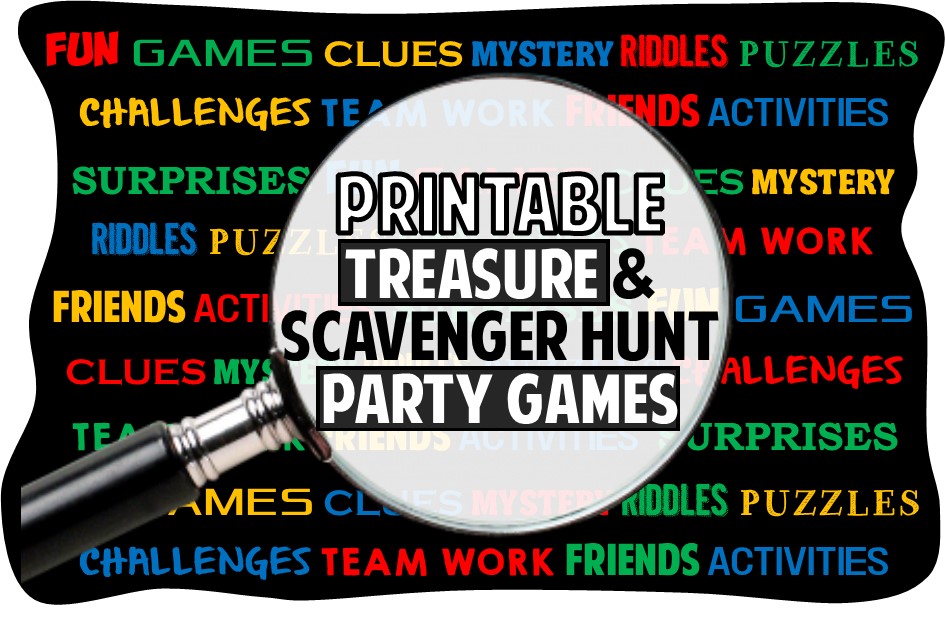 Ever growing selection of printable treasure hunt riddles, clues, and games for your printing and playing pleasure!  Treasure hunts are fastly growing in popularity and are making a HUGE come-back. We have taken treasure hunts to the next level with unique clues, fun themes, and combinations with other games to make our hunts something new and different. 
When I started creating my printable treasure hunt riddles, clues, and games it was only for a few children's party.  Since then I have expanded into printable hunts for teens, as well as adults and mixed groups. 
Below you will find a list of my scavenger hunt and treasure hunt printable games.  Some of them will allow you to decide where you want to hide your clues.  This will allow you more control over the game, but it will also require a little more prep time.  Others will already have specific hiding locations that you will need to use. This makes set-up and play super easy. Simply print out the pieces, hide them where instructed, and let the fun commence!   All the hunts come with set-up and play instructions so no matter which type of hunt you choose you will have easy to follow step-by-step instructions.  Most treasure hunts come with 10-15 treasure hunt riddles or clues.  Scavenger hunts games can vary depending on how the hunt was created. 
Click on any of the hunts below to get details on what each entails.

Still have questions email me at partygamesplus@yahoo.com
PICTURE TREASURE HUNTS


Each of the hunts in this category are for pre-readers.
They all use pictures instead of words or riddles. 

Cowboy Hunt
Little Cowboys hunt down all the cowboy gear that coordinates with their cowboy and collect the clues needed to find the grand prize!

Fairy Scavenger
Enchanting game where each little fairy must find the fairy items that belong to their personal fairy. Fun cooperative printable game can be played indoors and out.

Blue's Clues Treasure Hunt
This treasure hunt is perfect for pre-readers because the "Blues Clues" (riddles) are pictures and not words. The Blues Clues party pack includes personalized invitations, favors, coloring sheet, and two Blues Clues party games!

Dora the Explorer Treasure Hunt
This is a complete printable set that includes a fun follow the map treasure hunt, PERSONALIZED Dora the Explorer party invitations, and a personalized Dora the Explorer coloring page!
CLASSIC INDOOR TREASURE HUNTS
Each of these treasure hunts come with specific locations that are needed for each clue. They are all common places found within the household. If you are looking for our
play-anywhere hunts where you determine the hiding location see our signature hunts below.
Animal Safari
Search for animal clues while learning about each one as you work your way to the final treasure!

Ages 4-8

Nursery Rhyme
Fill in the blank of your favorite nursery rhymes to find the next clues. Fun eye appealing indoor hunt.

Ages 3-6

Ultimate     Treasure Hunt Riddles and Clues
Over 19 treasure hunt clues, riddles, puzzles, code breakers and more. Two teams complete in the ultimate indoor hunt to see who can reach the treasure first!

Ages 5-12

Princess Hunt

This treasure hunt uses Disney princess riddles for all of its clues. The answer to each riddle leads to the next princess clue. Your child will have a ball figuring out all 10 riddles that lead to the final treasure key.

Ages 5-12
OUR SIGNATURE TREASURE HUNTS


THESE PRINTABLE TREASURE HUNTS CAN BE PLAYED ANYWHERE!
WE PROVIDE THE CLUES - YOU DECIDE THE HIDING LOCATIONS!
EACH OF OUR HUNT CLUES MUST BE SOLVED IN A DIFFERENT WAY
AND FEATURES UNIQUE CLUES, PUZZLES, AND CHALLENGES.
Super Spy  Treasure Hunt
Perfect for a Spy or Secret Agent party. Decipher codes, solve riddles, analyze fingerprints and MORE!  

Ages 7+

Super Slueth  Treasure Hunt
a girlier version of the super spy treasure hunt for those Nancy Drew fans. Perfect for a Nancy Drew theme party or even just a pink and purple detective party.

Ages 8+

Pirate Hunt
It comes with tons of pirate party goodies including 10 swashbuckling pirate riddles (filled with fun pirate lingo), printable pirate lingo translator, pirate party maze, and pirate party word search.

Ages 7+

Superhero Hunt
This hunt is packed full of treasure hunt riddles all about your child's favorite superheroes.  Kids will have a blast hunting down the treasure while testing their superhero knowledge.

Ages 7+
Periodic Table Treasure Hunt
Players use the periodic table and pop culture knowledge decipher clues. This hunt can be played anywhere because you decide the hiding locations.

Ages Tweens +

Halloween Treasure Hunt Game

This hunt is perfect for parents or teachers looking for something new to do this Halloween. Kids solve one clue after another to find the treasure.

Ages 6 - 13
SIGNATURE SCAVENGER HUNTS
In scavenger hunts clues are not hidden in specific places, but instead they are hid sporadically around the playing are such as in an Easter egg hunt. 
Survivor Island!
Printable Scavenger Hunt
Players race to collect what they need to "survive" while at the same time trying to find clues to solve the mystery all while avoiding the native curses.

Ages: 8 - 99

Clues, Spells, and Curses Scavenger Hunt 
It combines the fun of a murder mystery (minus the murder, scripts, and complicated set up) with the scavenger hunt and treasure hunt style games to create a unique and fun party game.

Ages: 6 - 99
Halloween Scavenger Hunt Mystery Game
Who kidnapped Jack the King of Halloween?  Search for clues to discover the who, what, and where of this mystery. Beware of curse along the way. Perfect for an active Halloween party!

Ages 7+

Younger ones may need help

The Great
Christmas Scavenger Hunt
Santa has been kidnapped by a disgruntled elf! In this unique scavenger hunt it is the players job to discover who did it, what they did it with, and where they have Santa held captive

Ages 7+

Younger ones may need help
NEW! TRIVIA TREASURE HUNTS


THESE TREASURE HUNTS CAN BE PLAYED ANYWHERE JUST LIKE OUR OTHERS. THE NEW TWIST IS THAT THESE HUNT INCORPORATE TRIVIA, ALONG WITH OUR SIGNATURE CLUES ON SPECIFIC THEMES, MOVIES, OR SUBJECTS.  DO YOU WANT US TO MAKE A TRIVIA TREASURE HUNT FOR YOUR SPECIALTY THEME. EMAIL US AND LET US KNOW.

Harry Potter Trivia Treasure Hunt

How well do you know your Harry Potter trivia. Find out in this fun filled treasure hunt - be careful wrong answers will get you CURSED!

Ages 10-99

Zombie Survivor Hunt

Do you and your friends have what it takes to survive a zombie apocalypse? Solve the clues before your get turned into a zombie yourself!

Ages 13-99
---
The difference Between Scavenger Hunts and Treasure Hunts
Many people do not understand the difference between a treasure hunt and a scavenger hunt. In a treasure hunt each treasure hunt riddle or clue will lead to the next treasure hunt riddle or clue until the game ends with the finding of the 'treasure". The treasure can be anything from an actual treasure box filled with goodies, a cake, goodie bags, or a special occasion such as a proposal or a surprise party. Scavenger hunts on the other hand, do not have progressive clues. Players can find the game pieces in any order.
A traditional scavenger hunt involves a list of items and players have a specific amount of time to locate and collect as many of those items as they can. Most of my scavenger hunts are created a bit differently, and often include a goal besides collecting as many items as you can. That might be solving a mystery, completing fun or funny task, solving clues, etc. For the hunts I create for teens and adults I try and incorporate more than one type of element into each game to keep it interesting. For younger kids, I try and keep it as simple and straight forward as possible. 

---
 CONTENT PROTECTED BY COPYSCAPE DO NOT COPY
Copyright © 2011 – 2017 PartyGamesPlus.com.  All Rights Reserved