SEARCH OUR SITE
---
Printable Halloween Scavenger Hunts

INSTANT DOWLOADS!
Our printable Halloween party games, scavenger hunts, and treasure hunts has a little something for everyone - kids, teens, adults, or mixed groups of all ages.  We have games for those looking for something tame and safe, and those looking for something gruesome and horrific.  From witches and pumpkins to mayhem and murder - you can find something for all taste and ages.
---
most popular!
The classic board game Clue comes off the board and into a murder mystery scavenger hunt. Players bribe, blackmail, gamble, and steal all to be the first to figure out who did it, with what and where.
Solve the mystery while trying to avoid getting cursed - laugh-out-loud as your fellow players act out their curses.  Find magical ingredients and help break the curses.  This is all part of the fun in our Clues, Spells, & Curses Scavenger Hunt!
---
printable halloween party games
This hunt is perfect for the kiddo's that enjoy solving riddles, puzzles, and clues.  One clue leads to the next and finally to the grand treasure! Perfect for your Halloween party!
 Our Clues, Spells, & Curses hunt was so popular we created a new version: Bewitched! Has all the fun of the original with clues, curses, and spells - but this version you can play again and again because each time the mystery is different!
Who Kidnapped Jack the King of Halloween? That is the question your guests will be trying to figure out. They will doing that by searching for the game pieces hidden around your party location.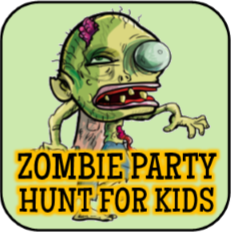 NEW! KID'S ZOMBIE HUNT: This is a cooperative scavenger hunt where players race to find their assigned zombie's, collect the clues, and work together to discover where the treasure is hidden!

How well do you and your friends know the Winchester brothers.  Test your Supernatural knowledge with this exclusive printable game.
Test you and your friends knowledge of the instant classic show Stranger Things while hunting for scavenger hunt clues full of puzzles, trivia's, and games.
---
 CONTENT PROTECTED BY COPYSCAPE DO NOT COPY
Copyright © 2011 – 2018 PartyGamesPlus.com.  All Rights Reserved