Looking for western party games for a rootin' tootin' cowboy themed party!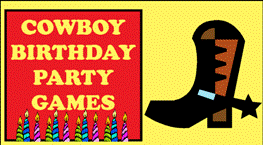 Your child dreams of being a cowboy or cowgirl. Now you need the perfect western party games to make that wish come true. I have just what you're looking for to throw your child the perfect cowboy themed party. I make sure to provide a variety of different western party games to suit the variety of different parents needs. So if you're the creative D.I.Y type or just looking for simple pick and click to purchase games, you'll find what you're looking for here. Take a look-
Boot Tossing
Do you have a couple pair of old cowboy boots lying around, or can you borrow them from a friend? Set up some hula hoops for targets and have a fun boot tossing contest. Just place hoops on the ground and assign a point value for each. Stand back and give each guest a try at cowboy boot tossing.
Another fun way to use boots in your western cowboy games…
There's a Snake in my Boot
This idea came when I through a Toy story party for my son's 4th birthday. He is a big Woody fan. One of Woody's catch phrases is "I've got a snake in my boot". So I decided to create a game from it. I set up a bunch of assorted cowboy boots (luckily I had a friend who was a big cowboy boot fan) and I placed a rubber snake in one of them. The Children took turns trying to guess which boot the snake was in.
Relay Race with D.I.Y Hobby Horses
Another great game to include in your cowboy themed party is a relay race. Take a broom or mop stick and stick a horse head on one end. The horse head doesn't have to be anything fancy. The easiest way is to cut two horse head shapes out of poster board, staple them together around the sides and slide it on the broom stick from the bottom. If you want to be extra creative you can add some yarn down the sides for a man and draw on a face. To play this cowboy game, divide the guests into two teams. One person from each team races on their horse around the finish line and back. They then pass the horse to the next teammate in line. The team whose members finish the race first is the winner.
More western party games to play with your D.I.Y horses
Cattle Wranglers
In this cowboy themed party game guest must wrangle up the cattle into their pin while riding their hobby horse. The cattle are balloons laid out over the party space. The little cowboys "ride" their horse and use a stick or baton (these can be found at the dollar store) to steer the balloons in their pen (the pen can be anything from a large laundry basket to a garbage can).
You can either time each guest to see who can corral the fastest, let two go at a time and battle to see who can get the most, or just put a lot of balloons out and let everyone work as a team to wrangle the cattle. Add a bit of whimsy by using white balloons and drawing black cow spots all over them. Or if you prefer you can buy actual cow balloons try
Cattle Wrangler Relay
This cowboy themed party game is similar to the one above, but with a few changes. You won't need the horses. Guests divide into two teams and one member from each team must use a cattle wrangler (sticks or batons) to weave the cattle ( a balloon) around four or five cones ( or similar item) to the corral. They then run back to pass the cattle wrangle to the next player. The game is won by the first team whose members all corral a cow.
I have so many ideas for western party games that I couldn't fit them all on one page!
GO TO NEXT PAGE FOR MORE WESTERN PARTY GAMES
---
Do you have some cowboy party ideas? Party Theme Forward below.
---
Leave Western Party Games and Return to Party Games for Kids Leave western games and return to party games plus home page