Minute to Win It Party Supplies and Printables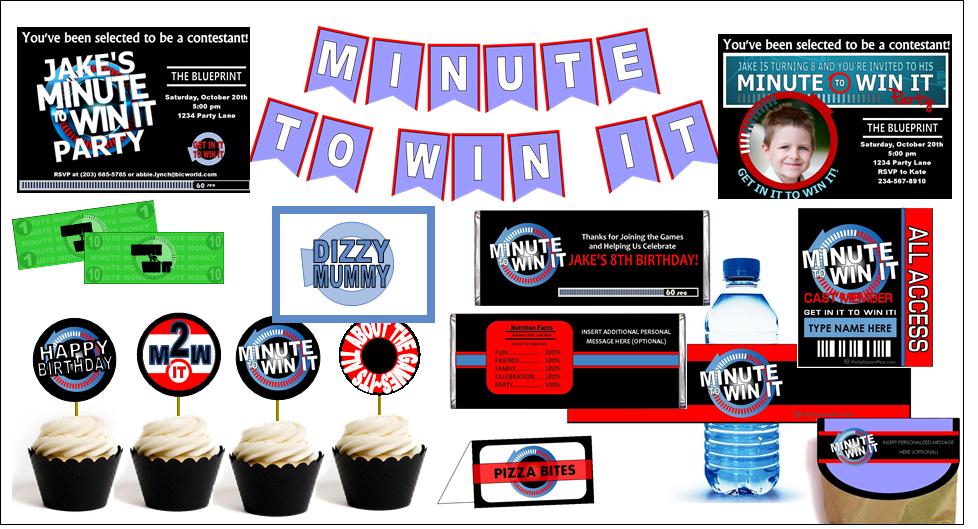 All NEW Minute to Win It Designs!
Ultimate Minute to Win It Party Supplies includes tons of printable items such as Minute to Win It party invitation, candy bar wrappers for favors, contestant badges, minute money for prizes, cupcake toppers and MORE! Browse below for details on the Ultimate Printable M2WI Party Kit! Matching game labels are included from my Minute To Win It Party Games and Ideas.
Minute to Win It Printable Kit Includes:
Minute to Win It Party Printables
Personalized Minute to Win It Invitations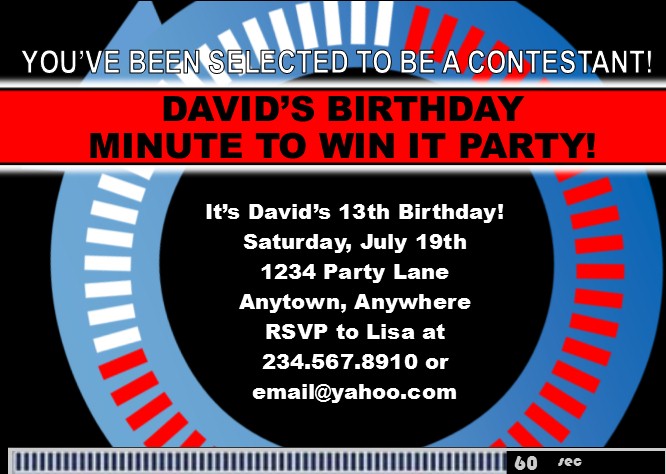 These personalized invitations are sure to set the tone and get guests excited about your Minute to Win It party. Choose between original invitation or the NEW photo invitation. Just fill out the form at the bottom with all your part information and the invitation will arrive to you via email ready to print in a high resolution 5x7 jpg file.
If you choose the personalized photo invitation you'll need to email me your chosen photo to partygamesplus@yahoo.com. Please make sure it is high resolution (300dpi+) so that it will print crisp and clear.
Minute to Win It Party Printables
Water Bottle Wrappers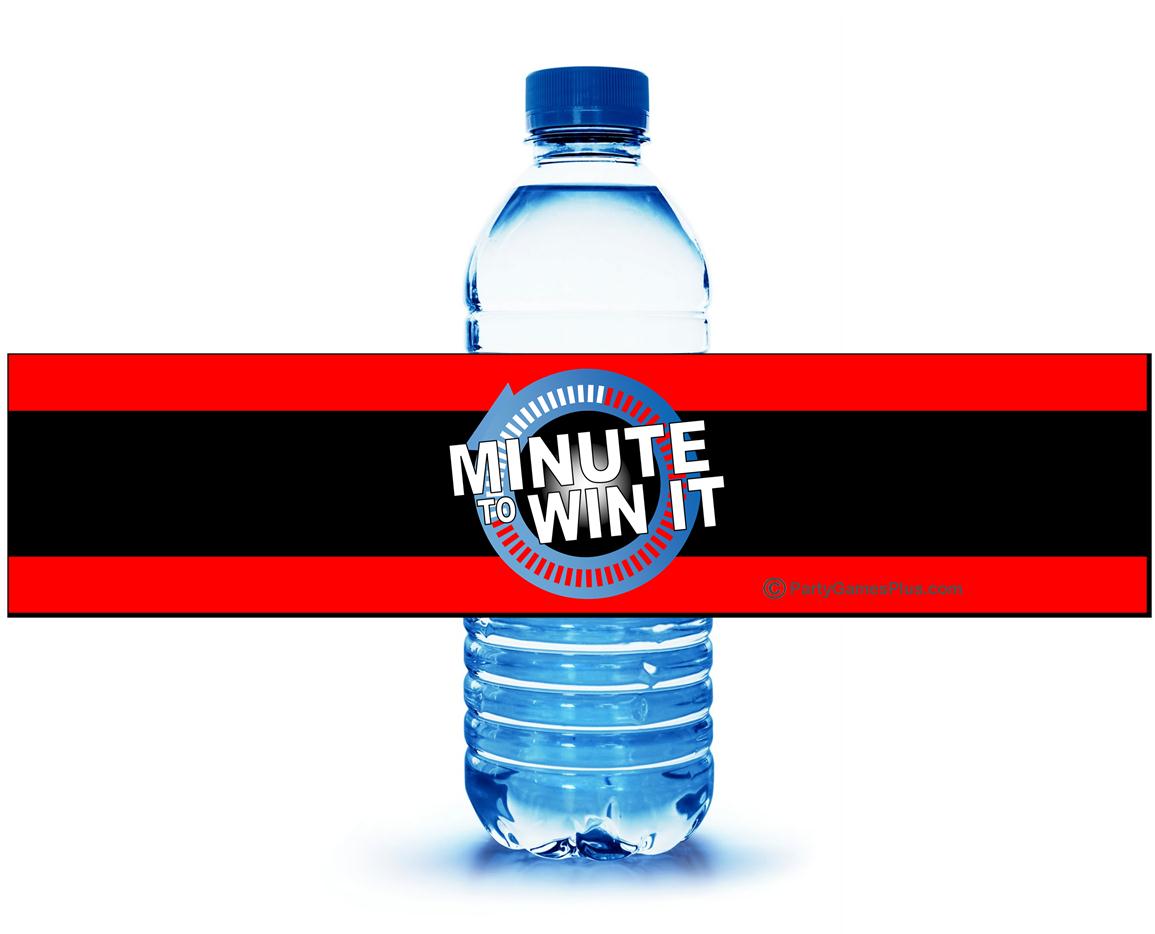 Keep the contestants hydrated with these awesome water bottle wrappers. Just print them out on adhesive paper (or regular paper and attach with double sided tape) and attach to your water bottles to create an instant party favor / thirst squicher!
Minute to Win It Party Printables
Cupcake Toppers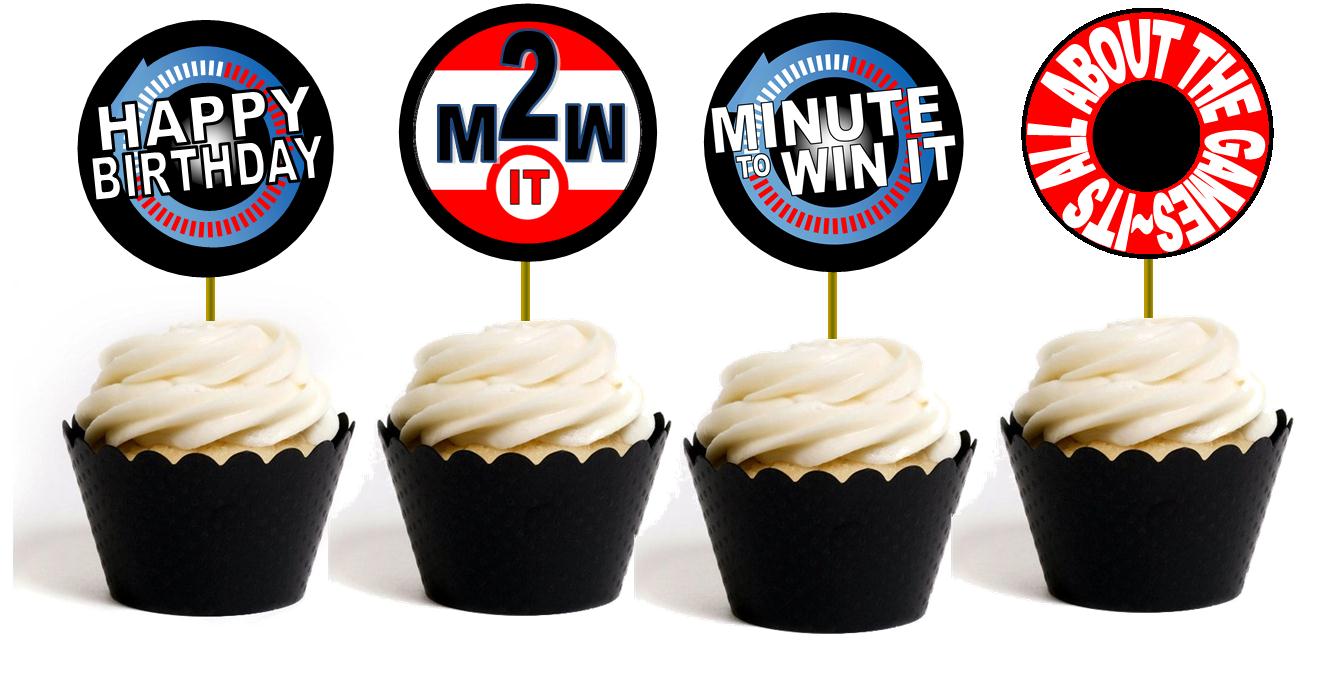 These cupcake toppers make it so easy to tie your birthday cupcakes into the minute to win it theme. Just print out and attach to short kabob sticks or toothpicks. Stake them to the top of your cupcakes and voila! Instantly themed cupcakes!
Minute to Win It Party Printables
Chocolate Bar Wrappers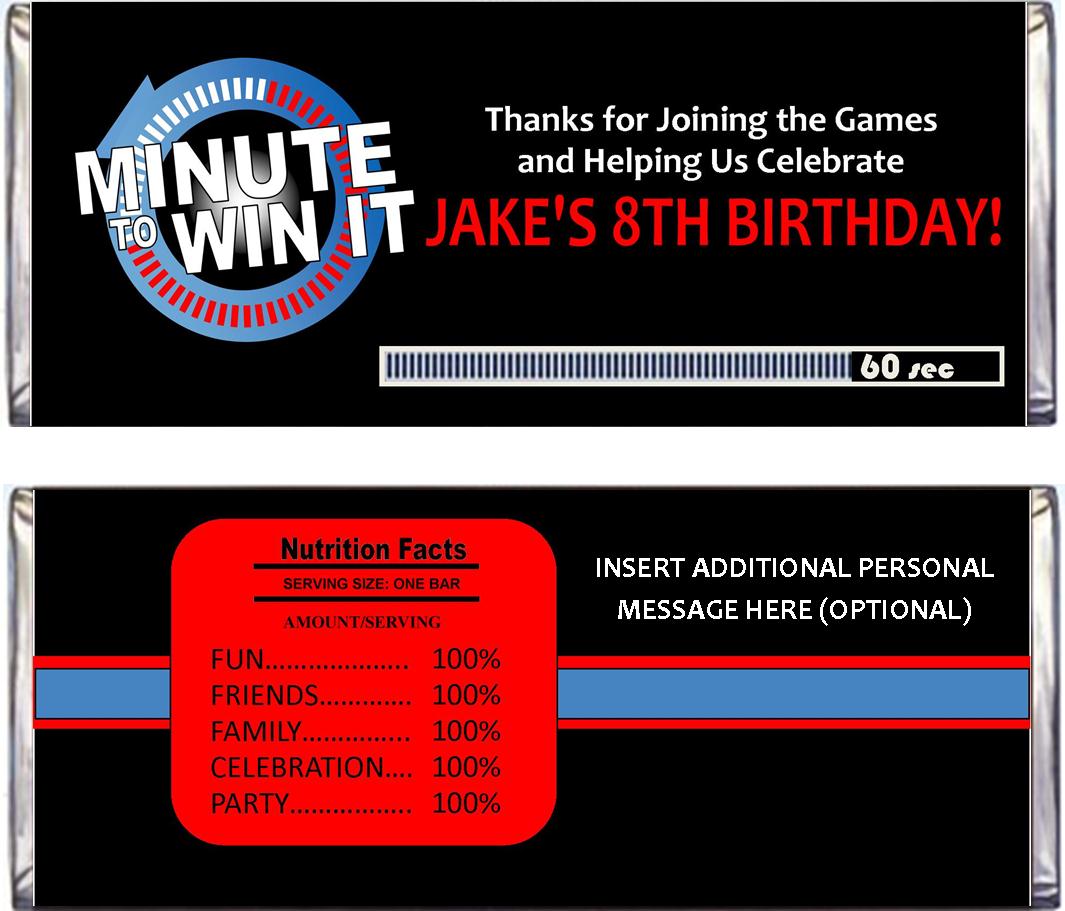 These printable candy bar wrappers are easy to print out and fit over standard size Hershey bars. They slip right over the existing wrapper and turn those regular bars into a themed party favor for your Minute to Win It Bash! They come in an EDITABLE PDF so you can easily type in your personalized message. You can even edit the ingredients to include your own.
Minute to Win It Party Printables
Game Labels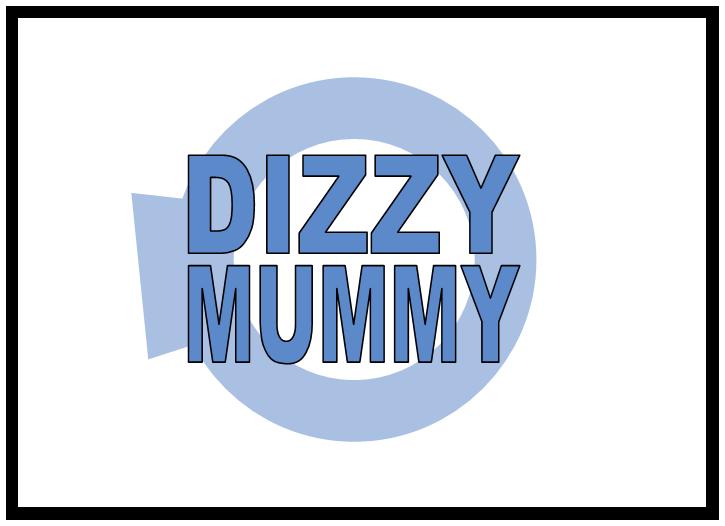 Included are EDITABLE game labels. Create your own games or use the ones used in my Minute To Win It Party Games and Ideas.
Minute to Win It Party Printables
Minute Money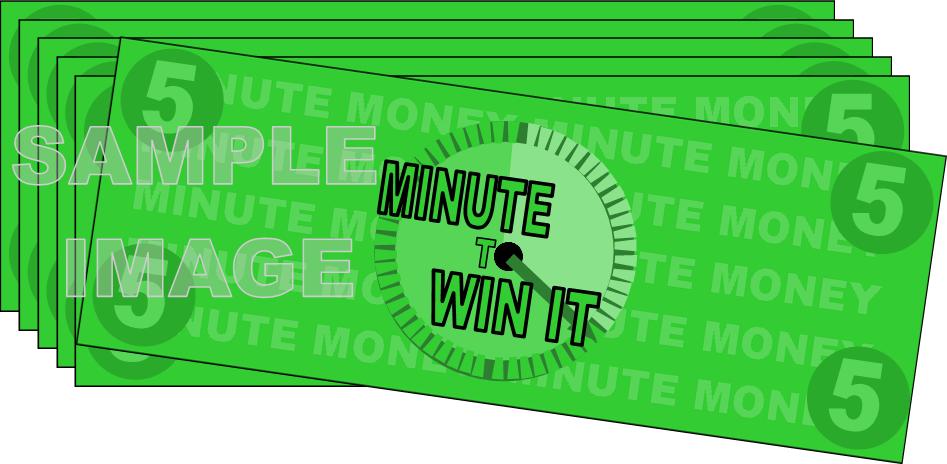 Minute money is fake money that I invented to give out as 1st, 2nd, and 3rd place prizes for each of my M2WI games. After all the games were over we had an auction where everyone could bid on prizes and fun items using their Minute Money. This goes into further detail on my
Minute To Win It Party Games and Ideas page
. Included in the kit are minute money bills for $1, $5, and $10. Print out as many sheets as you need to accommodate your players.
Minute to Win It Party Printables
Contestant Badges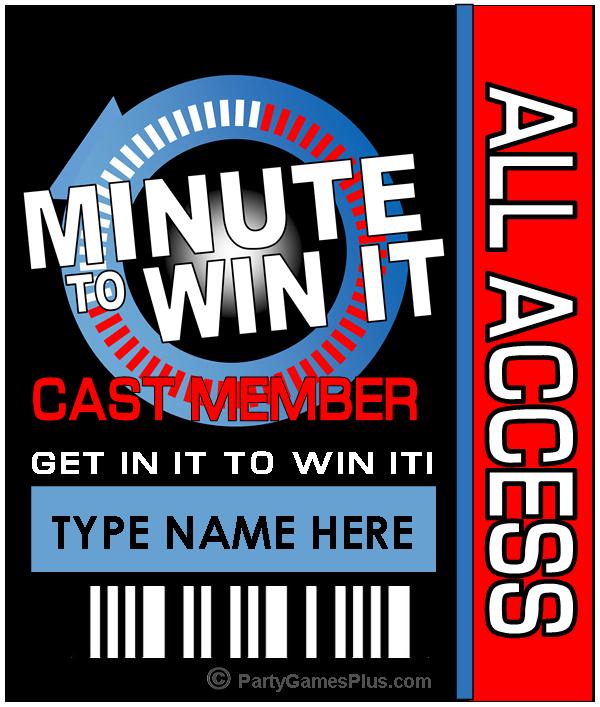 Get the guests in the spirit as soon as they walk through the door with these fun contestant badges. Guests have a spot to write their name or you can type in their name before printing to have badges ready when guest arrive. Get creative and make up fun party names such as "Unstoppable Pete" or "The Hulk". Attach a lanyard or a ribbon to these and their ready to go! You could even choose to have them laminated.

Minute to Win It Party Printables
Editable Tent Cards
These editable tent cards make it easy to label your buffet and have your refreshments coordinate with the theme.

Minute to Win It Party Printables
Editable Favor Bag Toppers
Edit these toppers to include your personal thank you message and then simply print, cut, and fold them over your favor bags. Perfect for turning regular lunch bags into fun favor bags. This is a fold over style and the backside is an identical image of the front.

Minute to Win It Party Printables
Printable Party Banner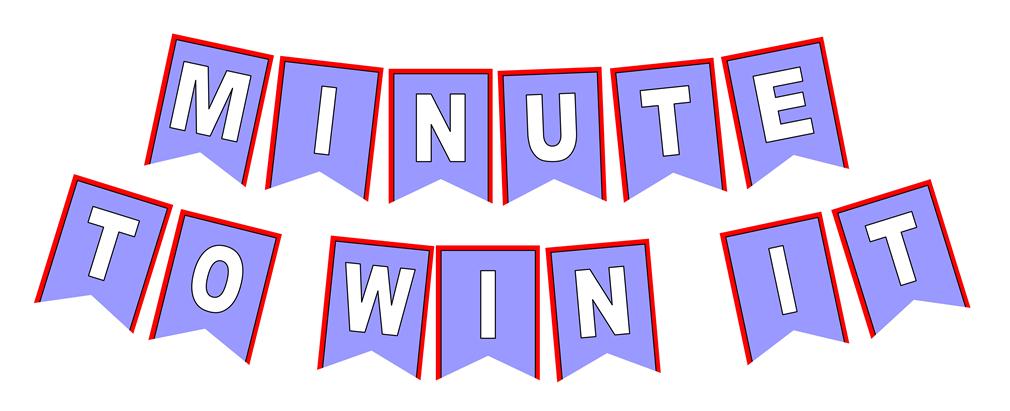 Simply print and hang to set tone for your party. Each letter page is one full size page.
The Minute To Win It Printable Party Kit comes with everything listed above in EDITABLE PDF files, all except the personalized invitation which comes in a jpg file. You get everything for only $15.99. This will be delivered to you within 3 days of ordering. Payments are processed through paypal, but you don't have to have a paypal account to purchase. to get started fill out the form below. If you have any questions please email me at partygamesplus@yahoo.com.
More Minute to Win It Party Supplies
As you may have noticed if you have been researching this party there is not a lot of Minute to Win It party supplies available. I have not found an actual themed set yet. My suggestion is to use the Minute to Win It color scheme with the printables above to tie it all together. You can find tons of patriotic party supplies that will go well with this theme. Below you'll find some fun red, white, and blue, party supplies that would mix perfectly with this theme. Also shown are some M2WI gift ideas for perhaps a GRAND PRIZE. Take a look and Have a Blast!
HAPPY PARTYING