Disney Princess Printables
Princess Treasure Hunt and Invitations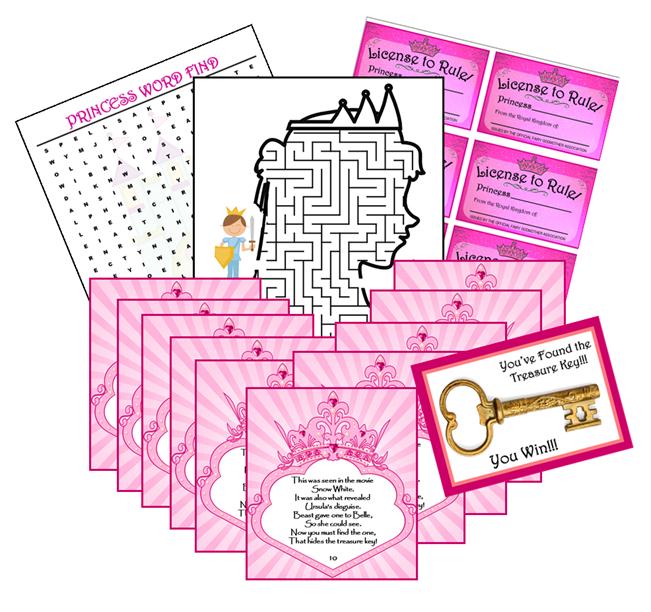 This Disney Princess Printables set come with 10 exciting treasure hunt riddles that involve the Disney princesses. Each clue is a riddle about one or more of the Disney princesses, and the answer to the riddle will be where they look to find the next clue.
The party guests will have a blast figuring out the riddles and following the clues. The Disney Princess party game is easy to print and play. It includes printable instructions and is simple to set up. This game requires no extra props, all the riddles will lead to regular household objects you already have! The final clue will lead to the grand treasure key in which the girls can trade in for the real treasure.
Sample Princess Treasure Hunt Clue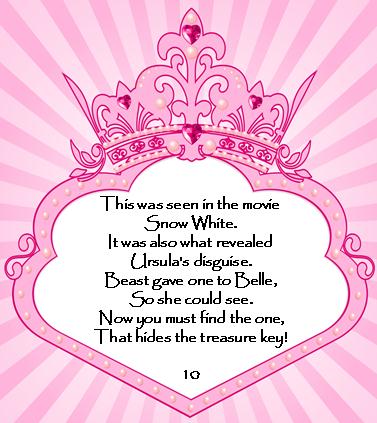 When you order the Disney Princess Treasure Hunt Printables set, we will include 3 FREE princess printables with it.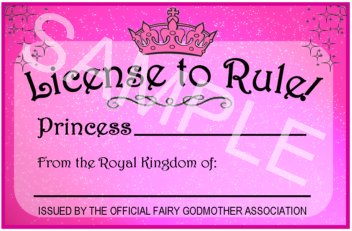 10 fun princess riddle clues
Winner's Key Card
Printable Princess Maze
Disney Princess Printable Word Search
Licenses to Rule
Complete Set-up, Hiding Guide, Play Instructions
The princess maze and word search are perfect icebreaker activities for when the royal guests start to arrive, before you start the hunt. The license to Rule are adorable cut out play licenses that has places to fill in each child's princess name and royal kingdom. They are pink and sparkly, and perfect for an all girls royal bash!
You can receive the Printable Disney Princess Treasure Hunt and the FREE extras for only $11.99! They will be delivered to you INSTANTLY in a PDF download was you have completed your order.
Order Now and Get Your Princess Treasure Hunt Game Today! $11.99
Personalized Disney Princess Printable Invitations
For $9.99 you can add our personalized Disney princess printable party invitations! They are personalized with your daughter's name, age, and upcoming event information. They feature nine Disney princesses; Ariel (the Little Mermaid), Belle (Beauty and the Beast), Tiana (The Princess and the Frog), Pocahontas , Cinderella, Aurora (Sleeping Beauty), Mulan, Snow White, and Jasmine (Aladdin).
These invitations are delivered in both high resolution jpg and tiff file. Once you receive your printable file you can simply print them out on your home computer ( regular paper can be used but the sturdier card stock paper is recommended) or you can take it to your favorite photo lab and have them print them out in 5x7 cards.
The Personalized Disney Princess Invitations will be delivered within 48 hours. Please fill out the order form below with your girl's party information to get this order started.
NOTE: When you purchase the Disney Princess Invitations you are purchasing our design time. The Disney items offered by Partygamesplus.com are custom designs made from publicly available images. These products are not licensed products and all images of Disney characters used in the designs are free and not being sold. Partygamesplus.com does not claim any ownership over the characters or persons used in your personalized invitations. Ownership belongs solely to the respective copyright holders. The displayed designs are all created by Partygamesplus.com for your one-time personal use and are not to be re-sold.
Leave Disney Princess Printables and
GO TO PARTY GAMES PLUS HOME